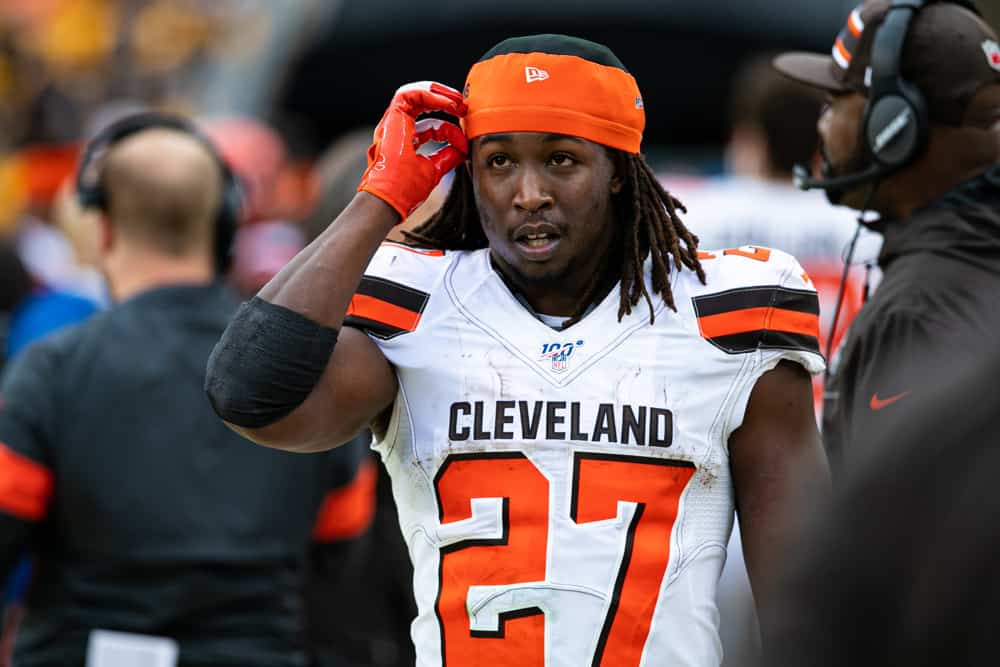 Cleveland Browns new WR coach Chad O'Shea hinted at a recent press conference that Kareem Hunt could be a WR threat in 2020.
Though new to Cleveland, O'Shea has worked with Head Coach Kevin Stefanski in the past in Minnesota, and each admires the other's work ethic.
While the majority of the virtual press conference focused on the recovery of star WRs Jarvis Landry and Odell Beckham Jr., O'Shea did entertain a series of questions about Kareem Hunt's role in the passing game.
O'Shea commented that he has admired Hunt's work as a dual-threat but stopped short of saying that Hunt could beat out Rashard Higgins or rookie Donovan Peoples-Jones and line up as the 3rd WR.
#Browns O'Shea said no decisions have been made as to who the 3rd receiver will be, whether it's Rashard Higgins, Kareem Hunt or someone else. "It's ongoing and constantly evolving and when we get on the field, we will narrow it down."

— Fred Greetham (@FredGreetham) June 17, 2020
But he did say that Hunt has been participating in virtual meetings with the WRs.
Before we read too much into this, it should be noted that a lot of crossovers are occurring among position players in the Zoom meetings.
Weeks ago, it was reported that Baker Mayfield is sitting in on RB and WR Zoom meetings.
O'Shea admits this is one of the positive elements to come from this year's preparations.
If players were in the building, they may not necessarily have the time or opportunity to jump into these meetings.
Kareem Hunt
Browns and Chiefs fans know how explosive Kareem Hunt can be when the ball gets in his hands.
Hunt caught 37 balls out of the backfield in 2019 (during a suspension-shortened season) for a total of 285 yards.
Hunt is eager to put his past offseason issues behind him and is ready to do whatever the Browns ask of him.
In addition to the Zoom meetings, he is running outside and working out in his basement using his Peloton bike.
Hunt is doing weight work with his high school track coach in Coach Matt Luck's garage.
Nothing is deterring him from his goal.
3 playbooks in 3 years is no big deal; it's part of the job.
Kareem Hunt is itching to get out on the field and block, run, and catch.
Beating his guy is what it's all about for him.
O'Shea's Comments
Chad O'Shea remained as vague as possible about the plan for this year's WR corps.
He stated the obvious which is the Browns have a lot of weapons to work with.
Because the offseason preparation is different, he emphasized that virtual instruction has been important (particularly for rookies).
The foundation of the offense is being taught virtually, and players need to pick it up.
When the team gets on the field, there will likely be less opportunities for players to prove themselves.
He summed it up by saying the WR goal is "to get open and catch the ball".
Whether plays are designed for 2 or 3 WRs does not change the goal.
It is amazing that Kareem Hunt has been somewhat under the radar this off season.
That is indicative of the amount of talent the Browns have this season.
Hunt prefers this.
He wants the team's performance on the field to do the talking.