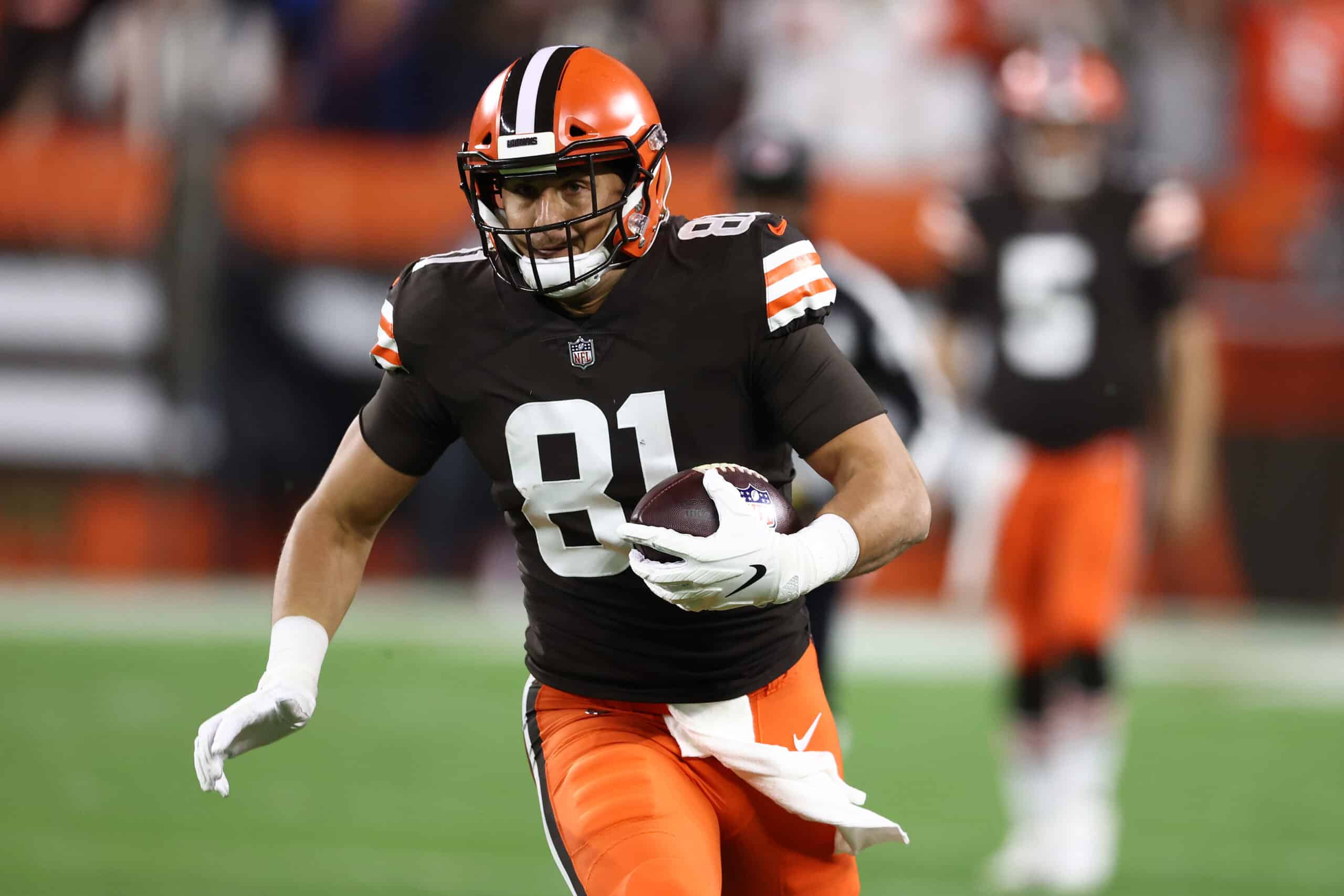 Another day, another Cleveland Browns player is shown the door.
This time, it's tight end Austin Hooper. Jeremy Fowler of ESPN reported that the team will release Hooper as a post-June-1 resignation.
Source: The #Browns are going to release TE Austin Hooper as a post-June-1 designation.

A 27-year-old dual-threat tight end and two-time Pro Bowler will be on the market.

— Jeremy Fowler (@JFowlerESPN) March 16, 2022
What does that mean? Well, if the team released him right now, the team would only save $2 million in cap space.
With the post-June-1 designation, the team ends up dispersing his salary over two years.
This is what allows them to save the full $9.5 million, however, they only get access to it after June 1st.
This could be useful when it comes to signing draft picks.
Disappointment in Cleveland?
When the Browns signed Hooper to a four-year, $42-million deal in 2020, many believed this would put the Cleveland offense over the top.
Many assumed the same dominance from Hooper that we saw for years in Atlanta.
Unfortunately, he never reached that same level of play in Cleveland.
His targets and yardage both dropped over the course of his two seasons in Cleveland compared to his final two seasons with the Falcons.
His catch percentage also hit a career-low at 62.3%, per Pro Football Reference.
He still performed fine in the red zone where his massive frame and pass-catching ability are supposed to shine.
AUSTIN HOOPER TOE-TAP ON 4TH DOWN 🙌pic.twitter.com/RQF3aRDBST

— PFF CLE Browns (@PFF_Browns) November 14, 2021
Still though, the production fell well short of what he did in Atlanta.
Not all of that is his fault.
The drop in targets could certainly be accredited to poor quarterback play or an offensive system not catered to getting Hooper the ball.
However, there were plenty of wrongdoings that fall squarely on Hooper.
For example, in the Tweet below, you'll see a critical catch that Hooper did not haul in despite having space and two hands on the football.
Austin Hooper is still out there doing 2020-Austin-Hooper things. These may not be easy catches but the #Browns made Hooper the 3rd highest paid TE in 2020 NFL to handle these balls. Good TEs make these catches. At this point I'd rather see what Njoku can do. #HandleTheseBalls pic.twitter.com/Ukxk8LclMr

— Roberto Shenanigans (@Rob_Shenanigans) October 4, 2021
Highly paid tight ends simply must make that catch.
As the Tweet mentions, seeing David Njoku in those situations may better serve the offense.
Browns fans may see more of Njoku in 2022 after the team placed a franchise tag on him earlier this month.
Whether someone wants to label his time in Cleveland as a "disappointment" or not is up to the individual.
Objectively looking at the numbers and eye test though, it's safe to say he should have made more plays.
Next Up at Tight End
As mentioned, David Njoku is back after being franchise tagged by the Browns.
Harrison Bryant, heading into his third season, has been a pleasant surprise and will fit in nicely alongside Njoku.
Bryant had just as many touchdown receptions as Hooper last season and tallied a yards per reception average two yards above Hooper.
Stephen Carlson is also back with room for development.
The tight end spot is still in a decent place heading into the 2022 campaign.
Plus, the money saved from releasing Hooper could help with future moves as well.