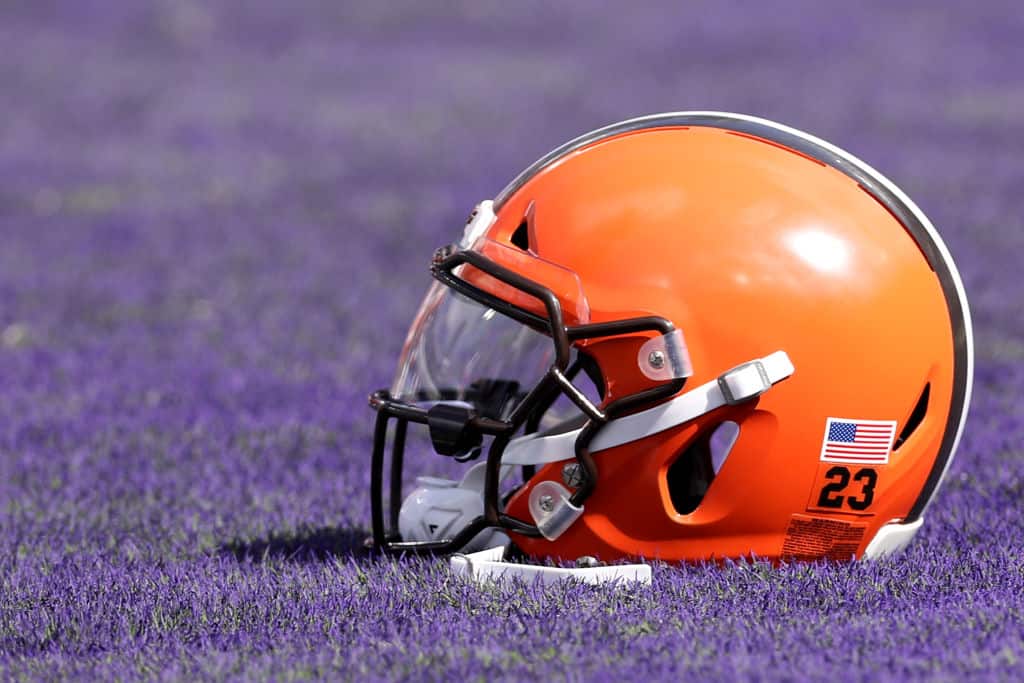 NFL players can be ferocious on the field, using emotion along with their strength to excel.
But many have gentler personas off the field, as Camryn Justice discovered about a Cleveland Browns player.
Cleveland's (ABC) News 5 Browns reporter recently interviewed defensive end Ogbo Okoronkwo.
And he shared his interest in photography, sparked and enabled by his father's habit of leaving cameras around.
"I'm a guy with a lot of interests, but I love football, and I love Cleveland. And I'm ready to win a Super Bowl."

From football and photography, fashion and poetry, get to know #Browns DE Ogbo Okoronkwo https://t.co/c0VIcHGyQZ

— Camryn Justice (@camijustice) July 12, 2023
With plenty of practice, he refined his talents enough to become an in-demand photographer.
Okoronkwo cites poetry, fashion, and art as other areas he likes to explore as he meanders the Cleveland streets.
But, as he assured Justice, the player is focused on football and is ready to menace opponents.
And he wants fans to know he is ready to win a Super Bowl.
Creative On The Field, Too
Ogbo Okoronkwo might not be a household name, even among the most ardent NFL fans.
When a player breaks out in Houston, the word doesn't spread as far as it might from more successful teams.
But he can boast the 13th-best pass rush win rate in the NFL last year.
And playing just under half the defensive snaps, "Obo" as he is known, had 5 sacks and 17 pressures.
Grant and Ogbo brought some serious drip to Paris Fashion Week 🔥@realgrantdelpit | @OgboOkoronkwo pic.twitter.com/ezA09xg5Sr

— Cleveland Browns (@Browns) June 26, 2023
And in what appears to have been a consideration for Andrew Berry this year, he is a sure tackler.
Pro Football Focus credited Okoronkwo with 44 tackles and zero missed tackles.
There is much talk about how Okoronkwo's presence will help Myles Garrett to a career season.
But more than one insider suspects Garrett's bookend will make another big leap himself in 2023.
Is It Time To Win A Super Bowl? 
Cleveland is long overdue for NFL glory, despite the little tease of Kevin Stefanski's first season.
That 2020 playoff appearance bought some goodwill, but the pressure is mounting for a return.
With a ton of capital invested in a franchise quarterback, ownership should expect immediate dividends.
Last year's dismal performance notwithstanding, Deshaun Watson is doing and saying all the right things.
#FFIDP It seemed Dennis Daley's controller malfunctioned on this Ogbonnia Okoronkwo sack… pic.twitter.com/iKSMCI87mz

— Mike Woellert (@Mike_Woellert) December 27, 2022
And Berry lined up plenty of receiving options for his investment.
But there are a lot of expectations on Okoronkwo and the defense, too.
New coordinator Jim Schwartz installed a simpler, but more aggressive defense for 2023.
And so far, the players are buying into it and lifting expectations of a playoff run.