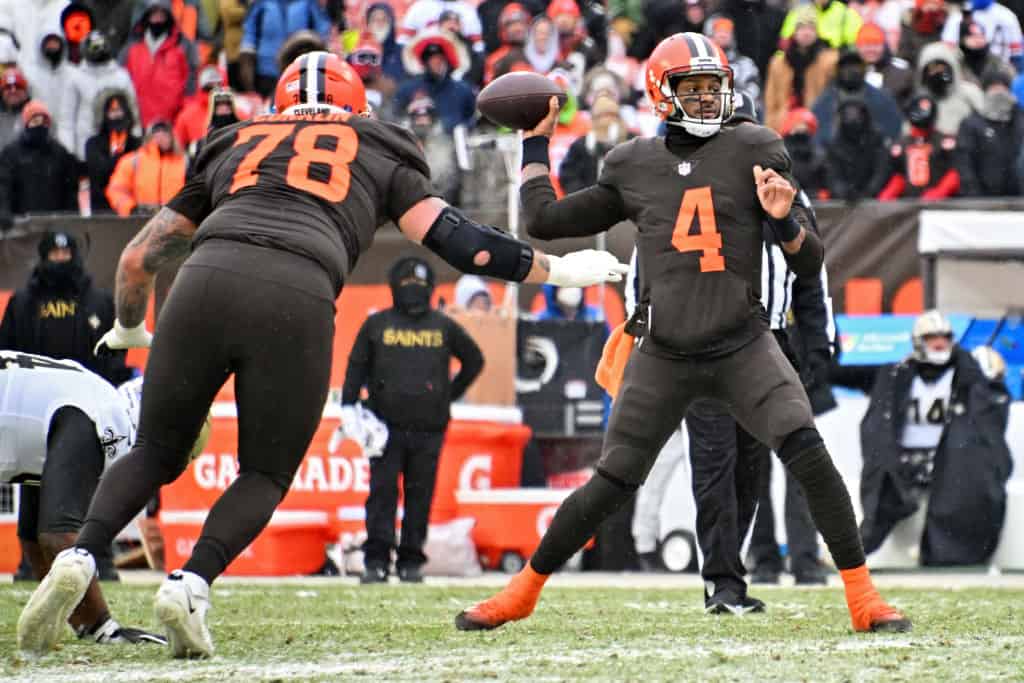 Not too long ago, the NFL introduced the word "parity" to their fans.
They envisioned a league where every team was a contender, even if it didn't work out for the Cleveland Browns.
Salary caps, minimum spending, and weighted schedules were tweaked to give everyone a chance.
Expectations were for closer playoff races as well as more exciting, one-score games.
The Cleveland Browns had a winning record in 2022 in games decided by more than one score (5-4).

They were 2-6 in one-score games. Only Chicago (1-7) was worse.

— Aaron Schatz 🏈 (@ASchatzNFL) July 12, 2023
But the better teams tend to win one-score games more than the lesser squads.
That is the perception, at least, and it played out for the Browns' playoff hopes last year.
Cleveland sported a respectable 5-4 record in games decided by more than 8 points.
But they couldn't pull out the close games, going 2-6 in one-score affairs.
Some Losses Were Harder Than Others
We can argue whether it is better to lose close games than get blown out, but a loss is a loss in the standings.
And some close losses hurt more than others last year, as extremely pained Browns fans can attest.
After a dramatic last-second season-opening win, the team crushed the souls of their faithful with a total collapse.
Few will forget how it all fell apart against the Jets, with some already calling the 2023 rematch a "must-win."
The #Jets have STUNNED the #Browns. From down 30-17 with under 2 minutes left to to up 31-30. UNREAL. pic.twitter.com/GZXxtOWFuB

— Ari Meirov (@MySportsUpdate) September 18, 2022
In Week 4, what looked like a promising game-winning drive ended with a really bad Jacoby Brissett interception.
Cleveland got 2 shots at upsetting the Chargers, but another pick and a missed field goal left them with a 2-point loss.
They pulled within 3 of Baltimore with 9 minutes to go, only to miss one field goal and fumble away a second chance.
By the time they ended any playoff hopes with a failed 4th down conversion at the New Orleans 15, fans were numb.
But… There Is Hope From 2-6
There is a statistical trend in the NFL that offers some hope to long-suffering Browns fans.
Won-loss records in one-score games tend to swing back and forth each season.
This study is a few years old, but the data plays out for most teams through 2022.
By this predictor, Cleveland's 2-6 record can be expected to improve at least 2 games to 4-4.
The #Browns HC Kevin Stefanski is "fully revamping" the Cleveland offense tailored towards Deshaun Watson's skillset. #DawgPound #NFL pic.twitter.com/O4kTft11Pv

— NFL Rumors (@nflrums) July 8, 2023
That would have given the 2022 Browns a 9-8 record, the same as the wildcard Miami Dolphins.
Unfortunately, Miami beat Cleveland pretty soundly last year, so the Browns still would have missed out.
Fans hope Jim Schwartz's aggressive defense and Kevin Stefanski's revamped offense lead to more wins.
But a return to form by Deshaun Watson remains the key to playoff success for the 2023 Browns.