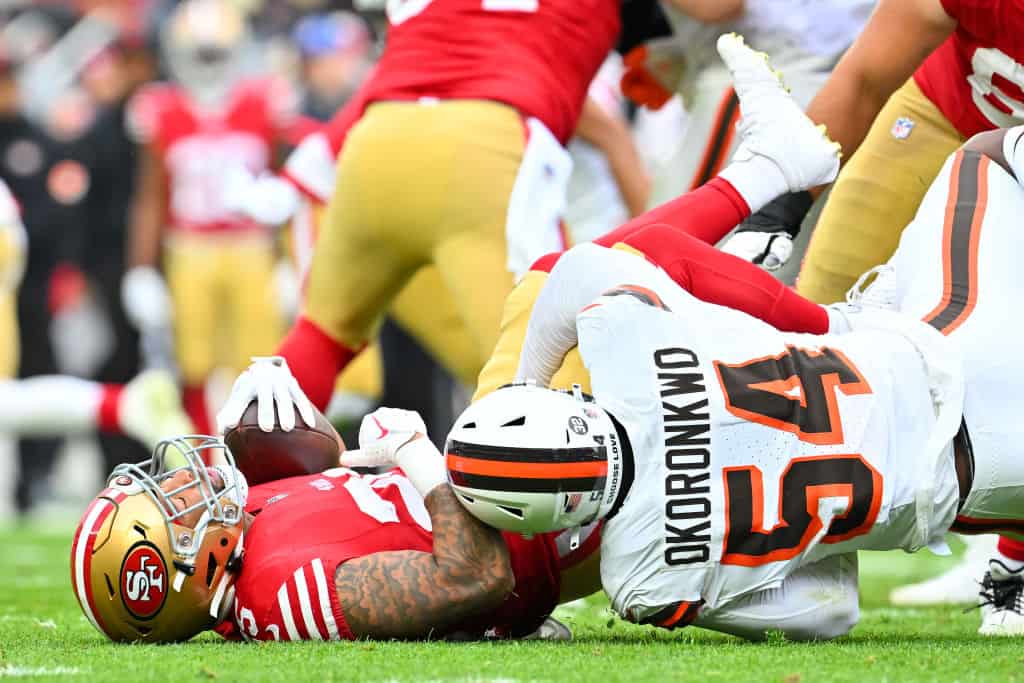 Jim Schwartz and the Cleveland Browns defense knew it would be difficult to hold down San Francisco's attack.
And when the Niners marched 84 yards to score on only six opening-drive plays, fans were a little concerned.
But things quickly got tougher for the 49ers offense, and they were held to their lowest point total of the season.
As Nick Karns points out, this was the third team to suffer that fate this year.
The Cleveland Browns defense:

Held Cincinnati to their lowest point total of the year.

Held Tennessee to their lowest point total of the year.

Held San Francisco to their lowest point total of the year.

ELITE. pic.twitter.com/zqyeVnByfq

— Nick Karns (@karnsies817) October 16, 2023
Cleveland opened the season by holding Cincinnati to a field goal.
And they matched that 3-point effort against Tennessee in Week 3.
Those teams average 19.4 and 20.3 points per game, respectively, against all other opponents this year.
But holding San Francisco to 17 points might have been the defense's most impressive performance.
Heading into their matchup yesterday, San Francisco was averaging 36.8 points per game.
Their balanced, but run-first offense had never scored fewer than 30 in any week.
But the Browns held the 49ers to 67 rushing yards after that opening drive.
And they harassed Brock Purdy into a 44% completion rate and his first interception of the year.
Brock Purdy throws his first interception of the seasonpic.twitter.com/1hpIsC6LZL

— Coach Yac 🗣 (@Coach_Yac) October 15, 2023
In Week 5, the 49ers appeared to hit their offensive stride in a 42-10 victory over the Cowboys.
Dallas' defense had given up 41 points total in four previous games before the blowout.
And they held Christian McCaffrey to 51 yards only to see the rest of the 49ers' offense run amok.
All of this means Cleveland's future opponents shouldn't count on scoring many points.