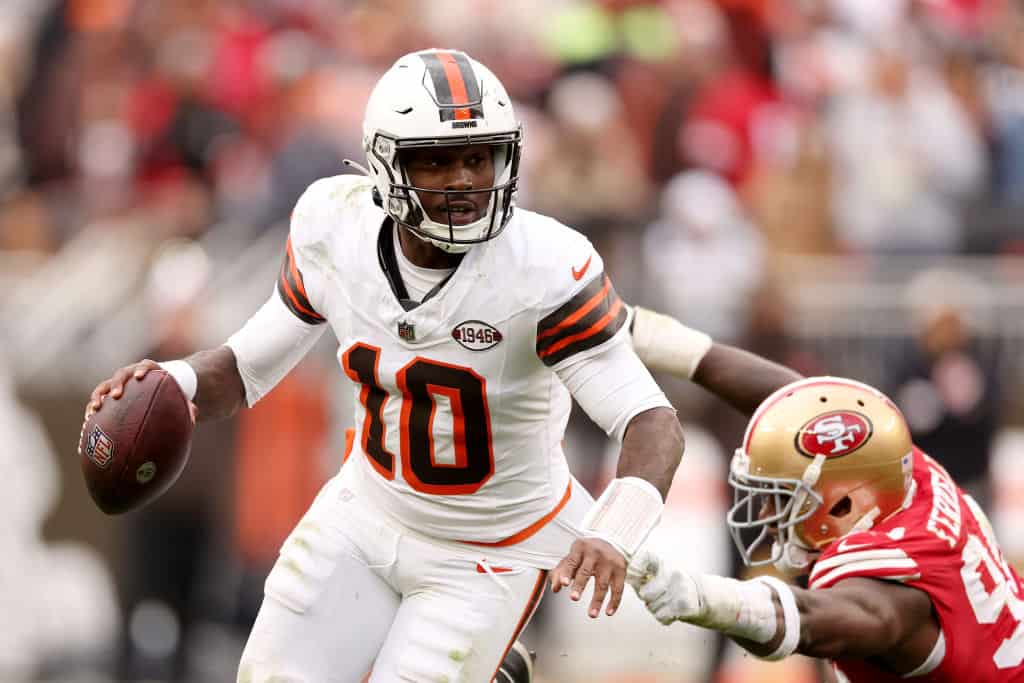 The Cleveland Browns are fresh off their most impressive win of the season.
Beating the San Francisco 49ers was difficult already, and pulling it off without their starting quarterback only made it even more of a heroic task.
With Deshaun Watson missing his second straight game — and third consecutive week — with a shoulder injury, veteran P.J. Walker got the nod over rookie Dorian Thompson-Robinson, who looked quite raw in his start vs. the Baltimore Ravens.
Notably, Walker didn't waste a second to get ready for this exciting clash.
According to Browns insider Jake Trotter, as soon as he found out that he was going to get the start, he reached out to former Browns QB Jacoby Brissett to ask him for some pointers.
After finding out he would start vs. the 49ers, QB PJ Walker called Jacoby Brissett, who gave him one piece of advice: If Amari Cooper beats his man off the line of scrimmage, throw it up to him. Cooper: "I knew our connection would be good" when PJ told me that. And it paid off

— Jake Trotter (@Jake_Trotter) October 16, 2023
Brissett told him to throw it up to Amari Cooper if he beat his man off the line of scrimmage, and that formula worked like clockwork.
Truth be told, Brissett and Cooper developed a strong connection, even if the team struggled to win many football games with him under center.
Outside of one of his two interceptions, Walker was mostly solid in his season debut.
He completed 18 of 34 passes for 192 yards, most of them to Cooper, who grabbed four of eight targets for a whopping 108 yards.
Even so, it was the defense that stepped up big time to hand Brock Purdy his first career loss in the regular season.
Now, the Browns will look to keep that momentum going when they visit the Indianapolis Colts next Sunday.