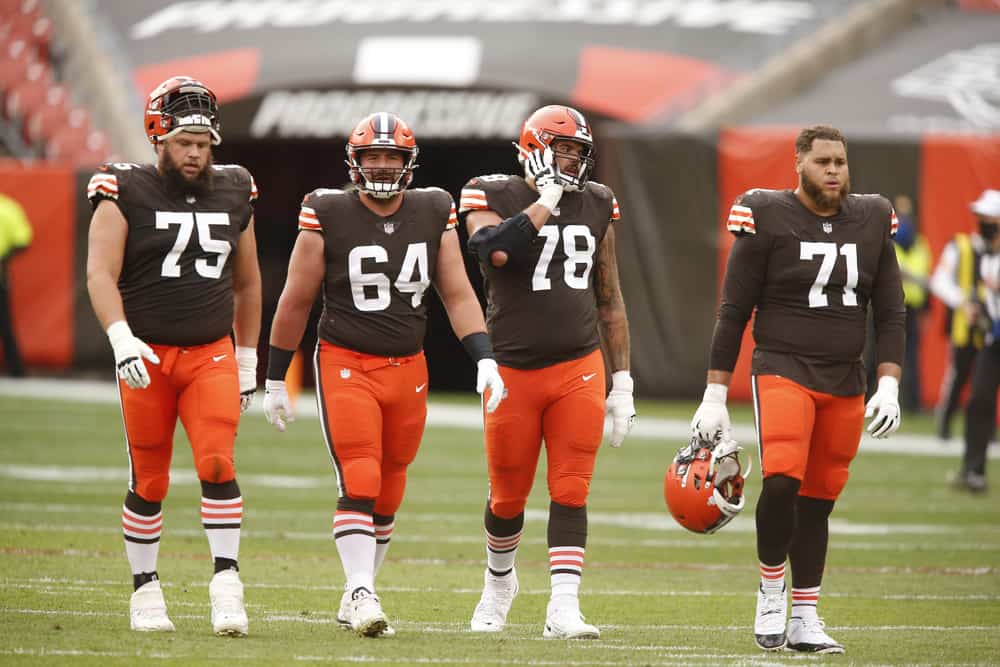 It's been a continuous battle between the NFL and COVID-19.
Priorities for the league, and its fans, is simply getting regular season games to happen with a minimal amount of coronavirus cases.
Lost amid the mayhem is Pro Bowl voting.
While the Pro Bowl loses relevancy year after year, it is still an honor for the individuals voted in to be labeled a "Pro Bowl" caliber player.
One team with a couple of guys as leading vote-getters is the Cleveland Browns.
Leading Pro Bowl vote getters by position: pic.twitter.com/vuPXItNFEo

— Jay Morrison (@JayMorrisonATH) November 25, 2020
1. Myles Garrett
It's no surprise seeing Myles Garrett get the most votes for defensive ends in the AFC.
It's not a particularly close race between him and anyone else right now either.
Garrett has been in conversations for Defensive Player of the Year, and rightfully so.
He leads the league in sacks and fumbles forced, with 9.5 and 4 respectively.
MYLES GARRETT IS UNSTOPPABLE 😤

A sack in six straight games 🔥

(via @thecheckdown)pic.twitter.com/6YTy3mFM1m

— SportsCenter (@SportsCenter) October 25, 2020
Myles Garrett: NFL sack leader 💪
pic.twitter.com/n1Mk738ycr

— PFF (@PFF) November 15, 2020
myles garrett with the most impressive sack 😂pic.twitter.com/vyN0kN3kfV

— SB Nation (@SBNation) September 27, 2020
The Browns were without Garrett against Philadelphia and fared just fine defensively without him.
Still, what he provides for this Browns defense cannot be talked about enough.
His presence alone is a threat to any opposing offensive game plan in the league.
I expect him to finish the season with the most Pro Bowl votes out of any other defensive end in the AFC.
This would be Garrett's second Pro Bowl selection after receiving the honor in 2018.

2. Andy Janovich
Some were confident that Andy Janovich would play an important role with Cleveland this season.
However, I'm not sure anyone thought he'd be getting the most Pro Bowl votes than any other fullback in the AFC.
The Browns traded for Janovich back in March as part of a deal with the Denver Broncos.
In exchange, all the Browns gave up was a seventh-round pick in next year's NFL Draft.
That's a major win for GM Andrew Berry.
Harrison Bryant wasn't in much but noticed he had some really good snaps as a run blocker as well.

Along with Andy Janovich he provided a huge assist on Kareem Hunt's 33-yard run toward the end of the game. pic.twitter.com/X5a7Pp4ePQ

— Johnny Kinsley (@Brickwallblitz) September 18, 2020
The hog mollies never get the credit they deserve! Kareem Hunt doesn't get sprung for that 33-yard dash without Wyatt Teller & Andy Janovich creating this beautiful hole for him. (Note: Ignore stupid Troy Aikman's telestrator circle)#Browns pic.twitter.com/ZlQpgraHkm

— Roberto Shenanigans (@Rob_Shenanigans) September 18, 2020
Nick Chubb and Kareem Hunt have both had great seasons running the football.
An overall improvement on the offensive line, particularly with Wyatt Teller, has largely contributed to that.
The addition of Andy Janovich should not be understated though.
You won't see him featured in any highlight reels or lighting up box scores.
That's not what fullbacks do, and Janovich knows this.
They fall into a role similar to offensive linemen.
The less they are talked about, the better their performances tend to be.
No one has really pointed out Janovich this year now, as the Nebraska native has quietly moved himself to the top of the Pro Bowl vote tally for his position.

3. Joel Bitonio
2020 has been a different year, but Joel Bitonio's dominance in the trenches remains the same.
Bitonio has provided high-quality play on Cleveland's offensive line since 2014.
That play has taken another step forward in recent years, landing Joel Pro Bowl selections in 2018 and 2019.
Giving Baker Mayfield more time to throw this year was something fans wanted to see from the offensive line.
Via ESPN, Joel Bitonio has the highest Pass Block Win Rate as a guard (97%, tied with Quenton Nelson).

Wyatt Teller is 8th (94%).

— Johnny Kinsley (@Brickwallblitz) November 18, 2020
Last season, per NFL Next Gen Stats, Mayfield had just 2.74 seconds on average to throw the football.
This season, that number has jumped up to 3.14.
Similarly to Janovich, Bitonio won't find ESPN or NFL Network singing his praises when talking about the much-improved Browns.
Fans who watch this team week after week, however, know just how important Bitonio is to Cleveland.
It will be no surprise to see him receive his third straight Pro Bowl selection this season.