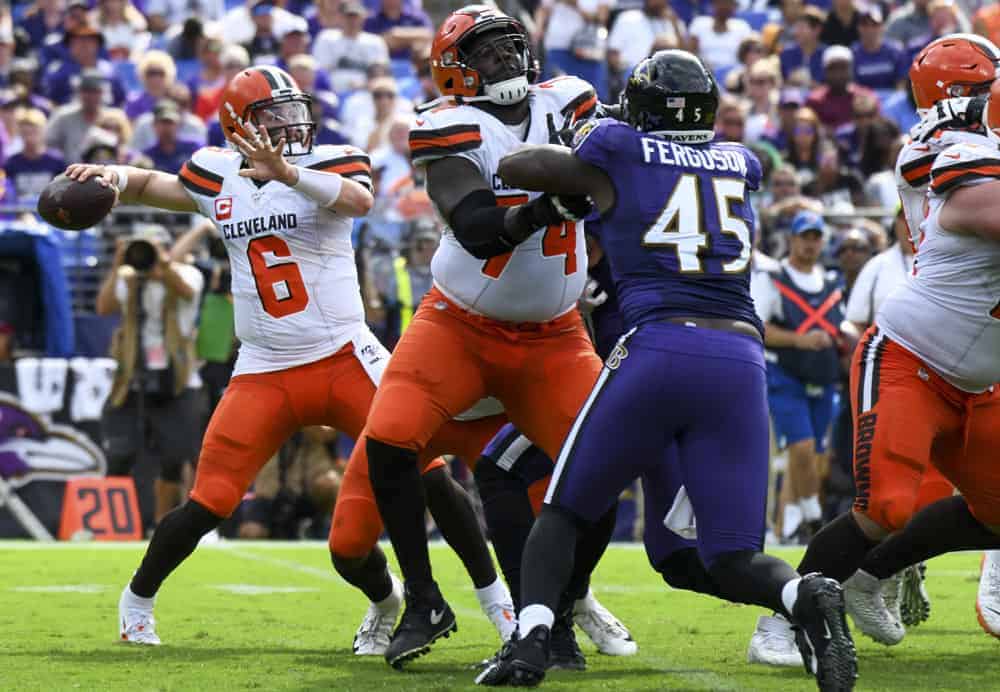 Before the season began, the Browns made a few trades on the offensive line by acquiring Wyatt Teller and Justin McCray.
Both of these acquisitions were possible candidates to start if it didn't work out with right guard Eric Kush.
Kush has been average in the early part of the season, so only time will tell how this will work out.
Besides left guard Joel Bitonio, the offensive line has been an area of concern for the Browns in much of the early stages of this season.
Greg Robinson, a former No. 2 pick overall has struggled with consistency this year. Starting Center JC Tretter has underperformed and 2018 second-round pick Austin Corbett has struggled to get on the field.
The Browns know if they are to have long-term success this season, Mayfield needs to be kept clean in the pocket for this Browns offense to stand a chance.
The Browns want Baker Mayfield to step up in the pocket more and keep his feet calmer there and not just try to escape immediately.
Before the Ravens game Sunday, NFL Network insider Mike Garafolo reported, the Browns are contacting "multiple teams" about a possible trade for offensive line help.
From @NFLGameDay: The #Browns want to see a calmer Baker Mayfield with quieter footwork in the pocket. But at some point they might address the protection in front of him, as they've explored OL trade possibilities. pic.twitter.com/pJVQSeYPEn

— Mike Garafolo (@MikeGarafolo) September 29, 2019
The Browns traded one of their best offensive linemen in the offseason in Kevin Zeitler to the Giants.  Zeitler was included in the package that brought Odell Beckham Jr and Olivier Vernon to Cleveland.
If the Browns are looking for a big upgrade, Washington Redskins tackle Trent Williams is known to be the best available lineman on the market right now.