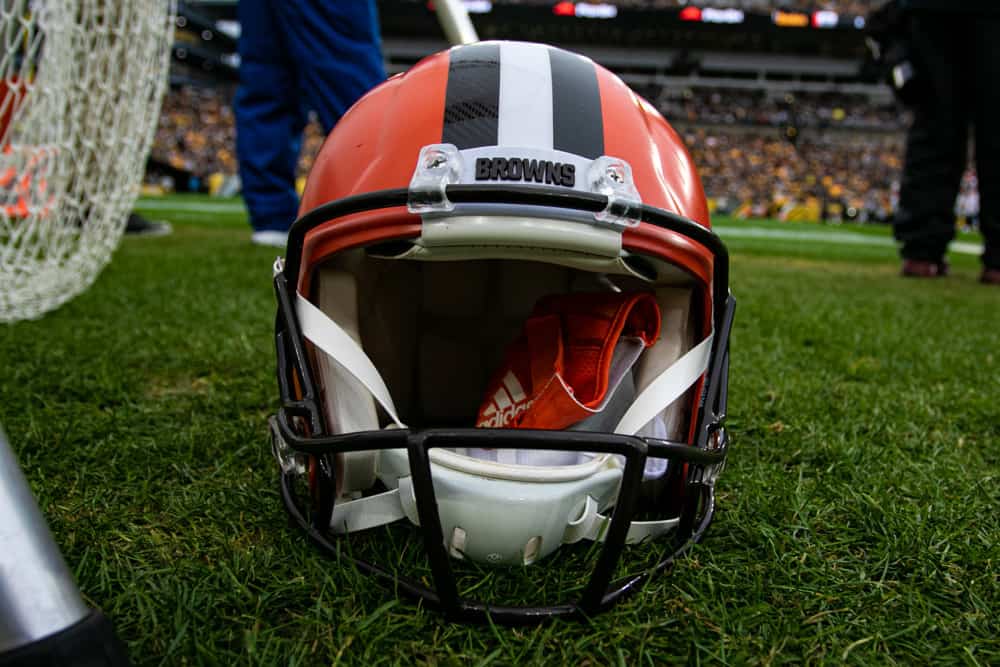 Jimmy Haslam likes to paint the Cleveland Browns as an innovative team, willing to try new things.
He is going to love Kevin Stefanski's new assistant offensive line coach.
"It starts with the details and it starts with the foundation."

Get to know assistant offensive line coach Scott Peters » https://t.co/tktDKO8GXi pic.twitter.com/zUD3rmX9l5

— Cleveland Browns (@Browns) February 13, 2020
Scott Peters brings some NFL playing experience to the position.
But he is better known as a multiple world champion in Brazilian Jiu-Jitsu.
He also launched "Tip of the Spear", an instructional, football-skill development program.
Peters' initiative uses MMA and Jiu-Jitsu techniques to help players minimize concussions and injuries.
Over 50 NFL and NCAA football teams have received Tip of the Spear training since 2012.
Now, Peters hopes his unique perspective helps Bill Callahan re-brand the Browns offensive line.
Peters Has a Callahan Connection
This is Peters' first NFL coaching job.
He says the chance to work with Callahan was a major sell point.
The two met through longtime NFL offensive line coach-turned-consultant, Jim McNally.
McNally coached Peters during his stint with the New York Giants and again with the Jets.
Callahan and Peters hit it off and stayed in touch.
My Ramos guys in #NY having dinner w/ #legendary #NFL Coach Jim McNally & NFL Offensive Player, Scott Peters. pic.twitter.com/1TObPRqPk2

— JEDcanhelp (@JeniferEDillard) July 30, 2016
Their friendship opened the door for an interview with Stefanski and the Browns.
Peters was a good enough guard and center to keep making NFL rosters.
But he was inactive more often than not, appearing in only 7 games in six seasons.
Every game Peters played was under McNally in New York in 2003.
But he just missed a Super Bowl ring with the 2008 NFC Champion Cardinals.
From NFL Football to MMA to Jiu-Jitsu Champ
Philadelphia Eagles fans recall Peters as the bust in an otherwise great 2002 draft.
He was active for two games and never took a snap before he was cut in the offseason.
Peters made 6 rosters in 7 seasons, finding himself without a job in 2005.
Since he had time on his hands, Peters took up MMA and Jiu-Jitsu.
He opened the Lion's Den MMA Academy in Arizona just before he was cut for the last time.
#Browns new assistant offensive line coach Scott Peters has won multiple Brazilian Jiu Jitsu World Championships.

He opened an MMA gym where he trained Brock Lesnar and Cain Velasquez at a time.

Our line will have the best triangle chokes in the NFL.

— Matt Fontana (@MattFontana83) February 13, 2020
Several UFC fighters trained at the Lions Den with Peters, who also competed.
He collected a pair of Brazilian Jiu-Jitsu World Championships in submission grappling.
Hand placement and positioning helped Peters win those titles.
They also launched his next career.
Student Becomes the Teacher
In 2012, Scott Peters launched Safe Football, LLC.
His goal was to use Jiu-Jitsu disciplines to improve football skills and reduce injuries.

The University of Washington football team was the first to implement Peters' curriculum.
Peters soon re-branded his endeavor as the non-profit, Tip of the Spear.
#Browns Assistant OL Coach Scott Peters founded "Tip of the Spear," which places an emphasis on both technique and safety for offensive linemen. Pretty interesting program: https://t.co/4g1Mo1dRGA

— Cody Suek (@WFNYCody) February 13, 2020
Hundreds of youth and high school football programs benefitted from Peters' training.
That's on top of the 50 NCAA and NFL teams that brought Peters in as a consultant.
Consistent with those training sessions, Peters will be a hands-on instructor in Cleveland.
Peters says he can't wait to get his hands on players, move them around and show them techniques.
"I think teaching is more than just standing there with a clipboard and a whistle. Demonstrations are huge. With my abilities as a former player and understanding situations, it's invaluable. To do those kinds of things where they go 'Oh, that's crazy or that's pretty cool.'"
Stefanski, Callahan Are Sold on Peters' Techniques
Kevin Stefanski expects Peters' status as a former player to win him credibility with the players.
The head coach also appreciates Peters' unique perspective as a technician. He said,
"… how he comes at it from a different angle, from a Jiu-Jitsu angle, really is a unique way to coach the players in terms of hand placement and hip movement."
Callahan seems sold on Peters' techniques, too as this YouTube video he made shows.

Peters wants to teach and turn the Browns offensive line into a playoff-winning unit.
But he is just as excited about learning during his tenure, too.
"I'm excited to be a part of it and get my hands on and be able to learn from Coach Callahan," said Peters.
He went on to laud Callahan's attention to detail and methods of preparation.
It sounds like Peters found a good situation for an aspiring NFL line coach.