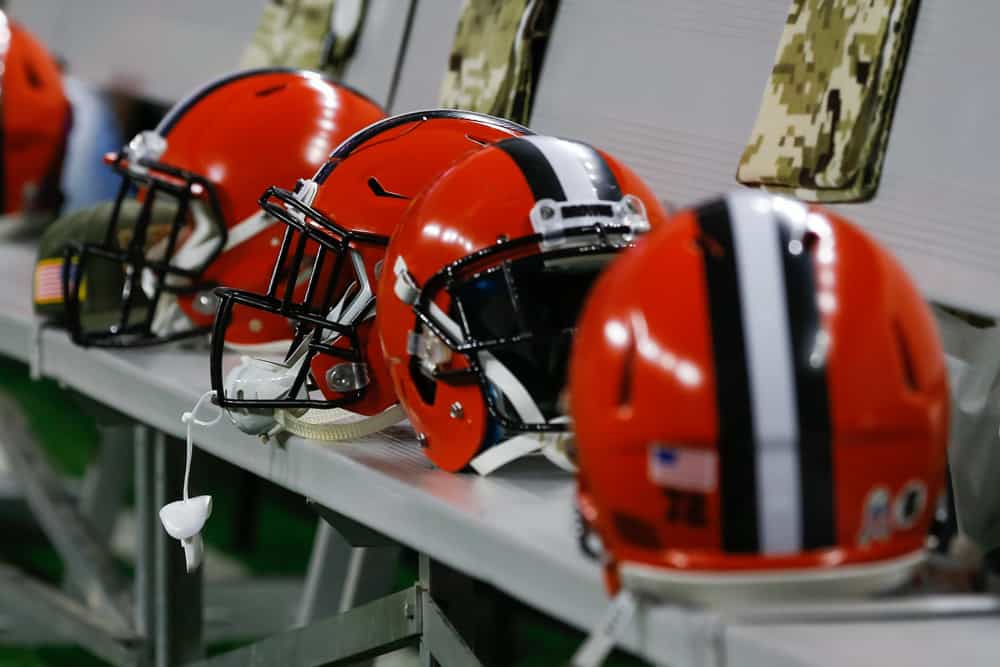 The Cleveland Browns are coming off a 6-10 season and need help to turn the franchise around.
The team has a new head coach, new general manager, and potentially a new culture.
In order to complete that task, the team will need help on all fronts.
With that being said, these five players are in a position to do that by having a breakout 2020 season.
1. Mack Wilson: Linebacker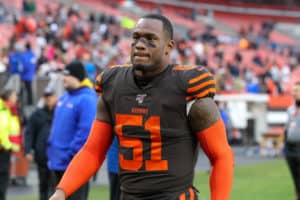 New general manager Andrew Berry has big decisions with Joe Schobert and veteran Christian Kirksey this offseason.
It's possible that both players could be out of the Browns' price range.
Schobert led the team in tackles with 133, which ranked third in the AFC and started all 16 games in 2019.
As for Kirksey, he is in danger of being cut.
By cutting Kirksey, who is due $8.2 million next season, the Browns could save around $7 million.
If both players are gone, that means that Wilson is the only Browns player with substantial experience.
The Browns could look to the draft to find complements but Wilson would have the opportunity to have a breakout season.
Mack Wilson with his second interception of the game for the Browns 💪

(via @thecheckdown)pic.twitter.com/0fW7ad8QoT

— SportsCenter (@SportsCenter) August 9, 2019
The Browns selected Wilson with the 17th overall pick in the 5th round, and the team found a steal.
Wilson played at the University of Alabama and was an integral part of the defense that appeared in three national championship games, which included one win.
Wilson finished with 81 combined tackles, four tackles for loss, two quarterback hits, and seven passes defended while playing in all 16 games.
As a rookie, Wilson was one of the most utilized defensive players on the team.
#Browns Defensive Snap count after Week 11 #NFL:

Joe Schobert 685
Mack Wilson 559
Myles Garrett 557
Larry Ogunjobi 540
Jermaine Whitehead 511
Travis Carrie 488
Sheldon Richardson 479

Stats via @FantasyDataNFL/ @Footballguyscom

— Brad Ward (@WardonSports) November 23, 2019
Needless to say, new defensive coordinator Joe Woods will have his hands full in reconstructing this defense.
The Browns finished with the 22nd ranked defense in yards allowed per game.
Give him one more year to develop and he could turn into a Pro Bowl-caliber defensive player.
After the draft, some scouts compared him to the likes of former Seattle Seahawks strong safety Kam Chancellor.
#3. Mack Wilson, Alabama (6'1", 240 lbs, 21 years old) 2018 stats- 71 tackles, 1 sack, 2 Ints
Odd pro comp, I know. But just watching him play just gives me instant reminders of Kam Chancellor. pic.twitter.com/4mP2n84Gr2

— Pro Football Analyst (@profballanalyst) April 12, 2019
2. Austin Seibert: Kicker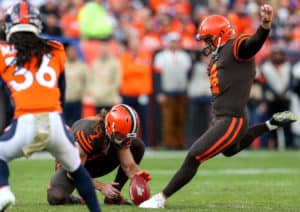 Another fifth-round pick, another steal.
Seibert was taken in the fifth round of the 2019 NFL Draft out of Oklahoma (170th overall).
With the 170th pick in the 2019 NFL Draft, the @Browns select… @austinseibert1!#OUDNA | https://t.co/o26VaEn9Ku pic.twitter.com/GBSlCiBPNA

— Oklahoma Football (@OU_Football) April 27, 2019
He made his NFL debut in the regular-season opener against the Tennessee Titans and belted his first career field goal during a Week 2 win over the New York Jets.
For the season, Seibert was 25 for 29 on kicks, which totals an 86% accuracy rate.
It was good enough for Seibert to make the PFWA All-Rookie Team.
Cleveland Browns PK Austin Seibert, P Jamie Gillan named to PFWA All-Rookie Team – https://t.co/Qk6tqzkV3i https://t.co/I9GuDmVcyP

— Cleveland (@Cleveland24x7) January 16, 2020
Seibert is on track to become one of the best kickers in the league and he is just 23 years old.
Seibert finished tied for 7th with Chris Boswell and Steve Hauschka with nine field goals between 40 to 49 yards with nine.
For field goals between 30 to 39 yards, Seibert tied with five other kickers with nine.
It really should not come as a surprise because when Seibert attended OU, he was one of the best kickers in college history.
Austin Seibert's stats during his four years at Oklahoma: pic.twitter.com/4L58nKhVGd

— Brent Sobleski (@brentsobleski) April 27, 2019
When 2020 comes along, expect the Browns to use Seibert in crucial moments to kick long field goals.
Seibert finished tied for 18th in the league for field goals made between 20 to 29 yards.
When you think about it, he was ranked near the bottom because the Browns were not moving the ball efficiently on offense.
The offense was often stopped in the middle of the field, which prompted the team to force Seibert to attempt long field goals.
Now, this is a nice problem to have given that Siebert was one of the most efficient kickers from long distances.
With new head coach Kevin Stefanski leading the way, we expect that the Browns will have a better offense, which means that Seibert is going to get more attempts at field goals.
CB Greedy Williams (0 INT, 2 passes defensed in 11 games), LB Mack Wilson (6th-most tackles among rookies), K Austin Seibert (85.7 made FG pct) #NFL

— SEAHAWKS fanatic (@ichiro998) December 28, 2019
Other than his ability to kick field goals, Seibert will continue to improve the special teams.
Seibert also handled kickoff duties in 2019 and he finished with a very interesting stat.
Interesting stat: #Browns were NFL's only team to decrease touchback percentage by more than 20% in 2019. Team implemented strategy w/rookie Austin Seibert regularly placing his kickoffs on the 1-yard line. His 30 touchbacks were fewest among kickers. Average return? 20.3 yards.

— Brent Sobleski (@brentsobleski) February 9, 2020
All in all, there are not too many franchises that luck out with a kicker.
Look at teams from recent years in the Dallas Cowboys (cut Brett Maher), Chicago Bears (Cody Parkey and the double-doink), and just about any Los Angeles Chargers kicker within the last five years.
Season Highlights of Bears Doink Specialist Cody Parkey pic.twitter.com/w9aBf9CTIC

— NFL Retweet (@NFLRT) January 7, 2019
The Browns found a diamond in the rough with their kicker.
Expect a big jump for Seibert and his stats in year two with the franchise.
3. Sione Takitaki: Linebacker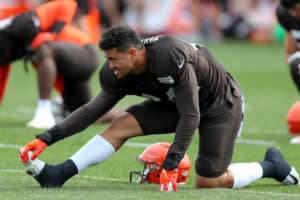 A lot of fans were asking "who is this" when the Browns selected Takitaki.
The former BYU linebacker was suspended multiple times to start his collegiate career.
Ex-general manager John Dorsey had a track record for drafting players with question marks and this pick cemented that belief.
As time went on, Takitaki did not show the promise of a third-round draft pick and contributed mainly on special teams.
For similar reasons for Wilson's potential breakout, Takitaki could see a parallel rise.
Since Schobert is rumored to be out, and Kirksey is potentially going to be cut, that leaves Wilson and Takitaki as candidates to rise as leaders on defense.
Mack Wilson and Sione Takitaki make a great odd couple as rookie Browns LBs https://t.co/syU1RVR8ai

— The Browns Wire (@TheBrownsWire) August 6, 2019
If he wants to make a name for himself, this will be the year for him to do that.
When the Browns selected Takitaki with the 80th overall pick, the team was hoping to upgrade their depth on defense, but the rookie only played 4.3 percent of the defensive snaps according to Football Outsiders. 
He finished with just 12 tackles last season and a lot of that had to do with former defensive coordinator Steve Wilks reliance on the 4-2-5 defense.
Fellow breakout candidate Mack Wilson tied Schobert as the team's leader in defensive snaps among linebackers; both played more than 16 percent.
Kirksey was second on the team with 15.8 percent and he was out for the season after sustaining an injury during Week 2.
With question marks surrounding Wilson's development, and free agency for members on defense, Takitaki has the chance to get a bulk of playing time.
The opportunities are finally there since the Browns made a coaching change at all fronts.
Even though we do not know what defensive scheme Woods will use as the new DC, we can assume that Takitaki will be used in some capacity.
When Takitaki was used towards the end of the season, he was a productive linebacker and Woods will likely hope he can sustain that success in 2020.
Sione Takitaki has only played 17 defensive snaps on D this season but they've all come the past 2 games (2 wins) and he's graded out at 80.3 overall, including a stout 81.6 Run Defense mark.

I'd expect him to see more time this week. #Browns #NFL

— CLEology (@_CLEology) November 21, 2019
We cannot forget about the intangibles either.
Before the season started, Kirksey said that Takitaki was a player that could "rile up the defense."
Christian Kirksey said that LB Sione TakiTaki from BYU is one of those guys that can rile up the defense with his energy & is going to be a baller in the future. #Browns

— Mock Genuine Draft (@MockGenDraft) July 29, 2019
Think players like Akeim Hicks, Ray Lewis, and J.J. Watt.
Now, we are not comparing Takitaki to those players' level of play but each one of them plays with a passion for the field.
Their passion carries over to other members of the team and can fuel their emotions to play better.
The Browns need a high energy player to lift the intensity and Takitaki could be that player.
4. Greedy Williams: Cornerback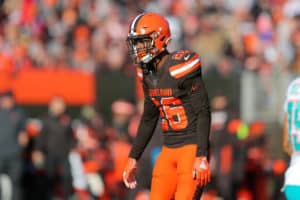 Greedy Williams started in 12 games last season as a rookie after being selected with the 46th overall pick in the second round.
He finished the season with 47 combined tackles, including two passes defended.
His rookie season was just a preview for what is to come.
Remember, he will turn 22 years old next season and had one of the best college careers at LSU.
#Browns 2nd Round pick Greedy Williams' college stats leap off the page:

Completion percentage allowed, 2018: 36.5
Passer rating allowed, 2018: 52.8
Passer rating allowed, 2017-18: 38.7
Forced incompletions, 2017-18: 25https://t.co/GNqa8CFDUe pic.twitter.com/Bgag2t5gvu

— PFF CLE Browns (@PFF_Browns) April 28, 2019
It gets better.
Take a look at the stats before the draft.
We track how well DBs do in a variety of areas. Here are 2 leaderboards you might like:

– Passer Rating Against
– Deserved Completion % Against
(comp pct on passes that should be caught)

We have Greedy Williams having great potential in our draft ranks. He's No. 2 in both stats pic.twitter.com/ZwfrAPHiL9

— Sports Info Solutions (@SportsInfo_SIS) February 11, 2019
His confidence is also second to none.
When Williams was talking to reporters before the draft, he claimed that he was the best cornerback in the nation.
Is Greedy the best CB in the NFL Draft?

Greedy Williams: "What? I played two years at LSU with eight picks. Stats don't lie. I'm the best. I know I'm the best." pic.twitter.com/1VUP3Vwwwv

— Shea Dixon (@Sheadixon) March 22, 2019
Similar to Takitaki, the Browns need confidence on defense to intensify others around him.
San Francisco 49ers cornerback Richard Sherman is one of the best in the league and he showed that after betting on himself this past season on a one-year deal.
Sherman will be the first person to tell you that he is the best cornerback in the league.
He does not care how old you are, what team you play for, or anything else.
Williams has that swagger to him that makes him so likable and that is why it is easy to believe that he could take one step further and have a season like Denzel Ward's rookie campaign.
In 2018, Ward was a Pro Bowl selection and finishing with 53 tackles and 11 passes defended.
Now, we understand that a lot of the stats previously mentioned are from the collegiate level but you have to remember that Williams is on the youthful side.
Combine his talents with others on the roster and this could be a dangerous defense.
#Browns DC Steve Wilks on rookie CB Greedy Williams:
"Greedy should be playing for a national championship right now. The guy's 20 years old." Said you benefit from Williams, Wilson, Takitaki, Redwine next year.

— Marla Ridenour (@MRidenourABJ) December 26, 2019
Williams will need to become a better tackler if he wants to make a Pro Bowl one day.
His coverage will need to improve as well.
He finished 2019 allowing quarterbacks to throw 61% against him but he did not allow a touchdown.
The ability is there and it just needs to be developed.
5. David Njoku: Tight End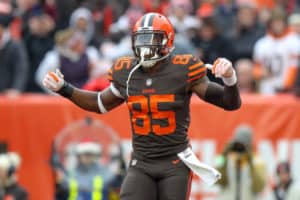 Many thought that Njoku was going to have a breakout campaign in 2019 but that never came to fruition due to a lingering injury.
In 2018, Njoku finished in the top-10 among tight ends in receptions, yards, and touchdowns by playing in all 16 games.
His 2018 totals were 56 receptions for 639 yards and four touchdowns.
Instead of taking that next step, Njoku suffered a concussion and a broken wrist on the same play during Week 2 against the New York Jets.
#Browns TE David Njoku suffered a broken wrist during Monday's game, source said. He's seeking additional opinions to see if he needs surgery, but he's out for more than a month if the initial estimates hold up. (@SportsBoyTony on it first.)

— Ian Rapoport (@RapSheet) September 18, 2019
He was placed on the IR on September 20th and was not activated until December 7th.
He finished 2019 with just five receptions for 41 yards and a touchdown.
For those reasons, he is a premier candidate for a breakout season in 2020.
Many believe that Njoku should be a perfect fit for Stefanski's system.
The former Vikings offensive coordinator is known for utilizing tight ends in the offense.
Last season, Kyle Rudolph (39 receptions for 367 yards and six touchdowns) and Irv Smith Jr. (36 receptions for 311 yards and two touchdowns) had solid seasons.
One cannot control Njoku's ability to stay on the field but the Browns franchise is hopeful that last season was a fluke.
Either way, this is a huge season for Njoku because of his fifth-year option for 2021 will be a looming decision.
David Njoku has struggled to live up to his potential. But is said potential enough to convince the #Browns to pick up his fifth-year option? My column with @BrownsNation.https://t.co/3a5NgD1PHM

— Casey Drottar (@CDrottar19) February 13, 2020
If Njoku does not live up to expectations, it's possible the Browns could move on from him, which makes his 2020 season even more important.
Rumors swirled of teams looking into Njoku and one of those was the Dallas Cowboys. 
Expectation is ramping up that the Browns could move on from David Njoku https://t.co/iRO8Gh8v34 #Ohio

— Ohio St. Buckeye Fan (@BucknutsFan) February 13, 2020
Honorable Mention: Chad Thomas: Defensive End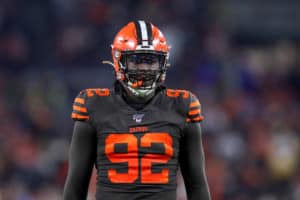 An injury to Olivier Vernon and a season-ending suspension to Myles Garrett forced the Browns to go deep at the defensive end position.
The team was already thin when ex-GM John Dorsey traded Emmanuel Ogbah and Genard Avery.
When it comes to depth, it's very simple for the Browns: there's not a lot at defensive end.
There's where Thomas comes into play.
A former third-round pick out of Miami, fans were quick to rip on Thomas for believing he put his music career ahead of his football career.
The #Browns highest-graded player* on defense vs. #FinsUp was Chad Thomas (89.9). Among 51 qualifying WK12 edge defenders only Khalil Mack posted a higher grade.

*min. 25 snaps pic.twitter.com/C1FqOXzSRv

— PFF CLE Browns (@PFF_Browns) November 25, 2019
Things turned around in 2019, where he finished with 26 tackles and four sacks.
With a third season on the horizon, there is a reason to believe that he could make that big step.
Final Thoughts
The Browns need a lot in order to contend in the AFC North which includes more than the five players mentioned earlier.
The big names Baker Mayfield, Odell Beckham Jr., Jarvis Landry, and Denzel Ward will need to step up too.
However, these five players could flip the script and help the team go from 6-10 to maybe 10-6.