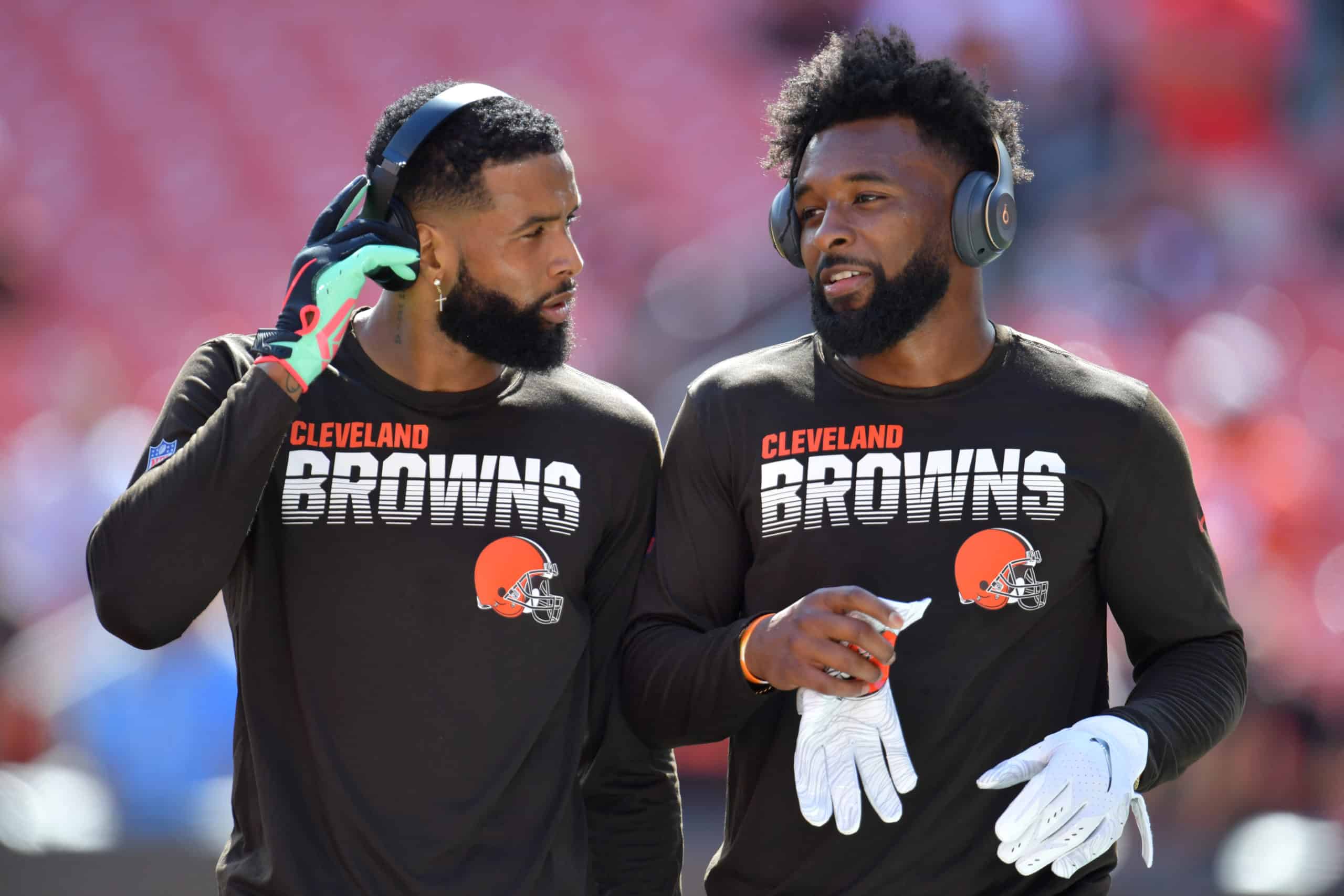 The debate over the best receiving duo in the league has heated up lately.
Mainly, due to the fact that Juilo Jones will be teaming up with A.J. Brown on the Tennessee Titans in 2021.
On paper, Jones and Brown should be one of the better receiving duos in the league.
However, Cleveland Browns wide receiver Jarvis Landry believes that the best receiving duo is actually in the AFC North.
Landry's Decision
Recently, Landry was asked who the best receiving duo is in the league right now.
His response was short and sweet, "OBJ and Juice," Landry said, according to Bleacher Report Gridiron.
.@God_Son80 wants more respect in the WR duo debate 👀 pic.twitter.com/eKxBlIpJHY

— B/R Gridiron (@brgridiron) June 7, 2021
He might not be wrong since Landry and Odell Beckham Jr. are a solid duo together.
However, it's hard to put them above duos like Mike Evans/Chris Godwin or Justin Jefferson/Adam Thielen.
The talent is obviously there for Landry and OBJ to be the best in the league.
They have 14 years of combined NFL experience, eight Pro Bowl selections combined, and they even went to college with each other at LSU.
Clearly, Landry and OBJ are familiar with each other, but sometimes the stats haven't been exactly what everyone expected.
Landry & OBJ
In 2019, the duo combined for 2,209 yards and 10 touchdowns, which seems solid.
Those aren't elite numbers, but you'll take it.
Sadly, everything fell apart in 2020 with OBJ suffering a season-ending ACL tear.
The three-time Pro Bowl receiver is not giving up and should be ready for the start of the 2021 campaign.
.@obj back in the lab less than a month after tearing his ACL 💪

📸: @Truth_305 pic.twitter.com/bFGeGtbJFO

— NFL on ESPN (@ESPNNFL) November 24, 2020
That being said, Landry and OBJ weren't able to show what they could do together last season.
It's worth noting that Landry finished with a team-high 840 yards and three touchdowns in 2020.
Hopefully, Beckham will be ready for the start of the season and the two of them can take over like Landry believes they can.
The Best Duo?
There is no doubting that Landry and OBJ have the potential to be one of the best receiving duos in the league.
However, Beckham is coming off a major injury and the Browns might lighten his workload right away.
It's also worth noting that Cleveland is stacked on offense, so Landry and Beckham aren't always heavily targeted.
Often times, the Browns go run-heavy with the gameplan, which is easy when you have Nick Chubb and Kareem Hunt on your roster.
A duo such as Tyler Lockett/DK Metcalf is likely going to do better on paper because the Seattle Seahawks need them to do more on offense.
The Browns have a ridiculously stacked roster to the point where Landry and OBJ can sometimes get lost in the shuffle.
Maybe Landry is right and 2021 will be the year where everyone sees that Cleveland has the best receiving duo in the league.