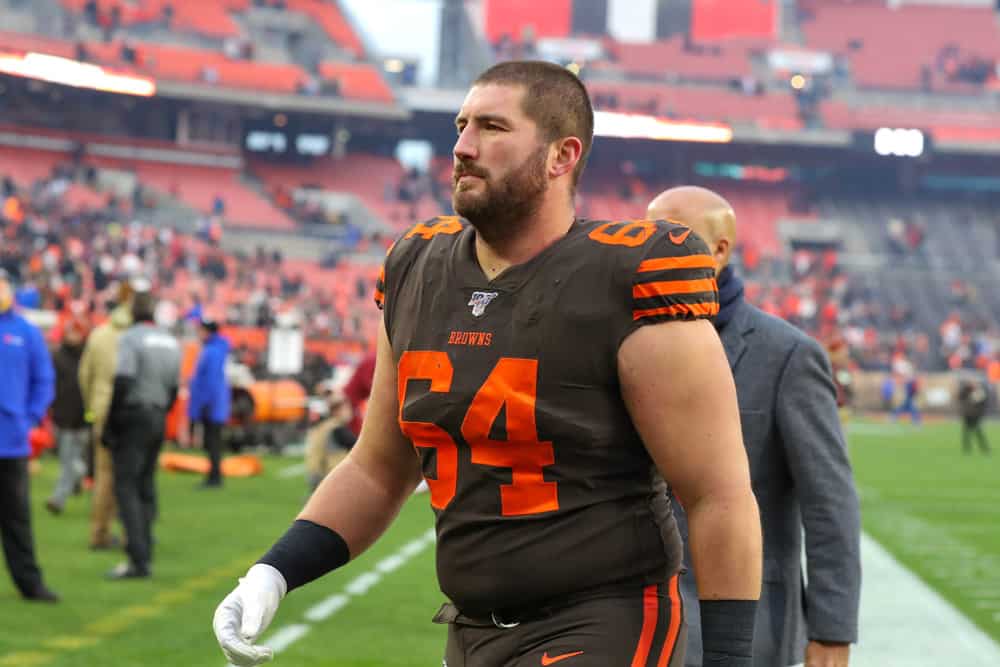 More than a few NFL players shared their opinions on the proposed NFL collective bargaining agreement.
Most simply indicated their approval or disapproval.
But Cleveland Browns center JC Tretter wants to make sure the players know all the details.
🚨PSA FOR ALL NFL PLAYERS🚨 Great piece by @JCTretter on the current #CBA offer and its impact on all players for the next decade. Please read and get informed before you vote. #NFLPA #NFL #Football pic.twitter.com/SxwX6FJxgU

— David Bakhtiari (@DavidBakhtiari) March 4, 2020
Players received a list of all the benefits gained under the new CBA.
But Tretter, who majored in industrial labor relations at Cornell, worries players don´t have the full picture.
"I don't want anyone to feel like they were not told about the potential drawbacks and some of the nuances before they voted, so here is a list I made to help you make the most informed vote possible,'' wrote Tretter.
Cleveland´s alternate player rep is particularly concerned with the finances and extra football played.
He notes the league can add a 17th game and another wild card game without an additional bye week.
While veterans under contract receive a bonus of 1/17th of their contracted salary, the money comes at the expense of other players.
The 17th game bonus costs the owners nothing as it comes from the existing players' performance pool.
Other Financial Gains Sound Better Than They Might Be
Players at the lower end of the salary pool benefit financially far more than higher-paid veterans.
About 60-percent of NFL players earn the league minimum, something the owners certainly had in mind.
A primary reason NFL players are expected to ratify the proposed CBA: Nearly 60% of league makes minimum base salaries, which would spike immediately by over 20% and eclipse $1 million for all players by 2029. From term sheet NFLPA sent to agents (in 1000s, by credited seasons): pic.twitter.com/kRbLlzqGjO

— Tom Pelissero (@TomPelissero) February 27, 2020
But Tretter points out the new minimums take several seasons to reach the NFLPA´s negotiating goal.
Also, minimum salary escalators are tied into Pro Bowl appearances.
Pro Bowl voting is often a subjective opinion, or "a popularity contest", as Tretter warns.
There will be more jobs for NFL players as gameday rosters and practice squads expand over the course of the deal.
Owners guaranteed to increase revenue sharing to 48% from the current 47.
Then they added several ways the performance pool could expand related to television, gambling, and the LA Stadium Project.
https://t.co/0L6HoOXrJE The NFLPA is split when it comes to deciding the next 10 years of the NFL's CBA and many veterans are urging to vote no to the proposed CBA since it does not benefit the players and they feel that they need a more beneficial part in the CBA. @Doc_Melton

— Jake Slack (@JakeSlack9) March 6, 2020
Tretter points out that the only guaranteed money is the 48% revenue sharing.
Percentage-wise, that increase is lower than the additional players on the rosters.
Furthermore, practice squad players are locked into a salary structure.
32 players negotiated more than the minimum last year.
Finally, free-agent offers are still not guaranteed, meaning a player can be signed and cut at will.
Other Big Considerations
NFL owners united against the removal of the franchise and transition tags, labeling it as a non-starter.
The annual Hall of Fame game still doesn´t count as a preseason game, adding to the workload of participating players.
Positive tests (or arrests) for marijuana no longer earn players a suspension.
But there will still be testing and a review to determine if the player needs any counseling or treatment.
Drug policy changes under proposed #NFL CBA:

No suspensions for positive test of marijuana. 3 game suspension for DUI. 2 game suspension for 1st positive test for Stimulants/diuretics; 6 games for anabolics; 8 games for manipulation/substitution & use of prohibited substance. pic.twitter.com/TfQAvHXQAf

— Darren Heitner (@DarrenHeitner) March 4, 2020
Furthermore, penalties for other banned substances are stricter.
Owners also insisted on tougher penalties for holding out or leaving without permission.
Players will lose a year of playing time accrual if they hold out even one day.
Owners and agents will not be allowed to negotiate away accrued fines for days missed.
The amount of those fines also increases under the new CBA.
Will the New CBA Pass?
Dozens of NFL players announced their opposition to the new CBA.
Most of the detractors carry some star power, meaning they do not play for the minimum salary.
Cleveland Browns receiver Jarvis Landry seemed to predict a work stoppage with a cryptic tweet.
Look like y'all better start getting y'all XFL tv packages together!!

— Jarvis Juice Landry (@God_Son80) February 21, 2020
Jarvis is the Browns primary NFLPA representative.
He was a little more direct in his messages this week.
Vote No✍🏾 https://t.co/S1KwBejKJU

— Jarvis Juice Landry (@God_Son80) March 5, 2020
The New York Giants rep, Nate Solder, said the benefits to the rank and file outweigh concessions.
He plans to vote for the proposal along with 15-year vet Ryan Fitzpatrick.
Only a simple majority of the players need to vote yes for the CBA to pass.
Setting up the bulk of the benefits for the minimum wage players was a good strategy by the owners.
The NFLPA leadership was split, with senior leadership voting it down by one vote.
We are continuing to find out things advertised about the NFL CBA – such as guaranteed 48.5% revenue share and reductions of Commissioner power – are not what they appeared to be. Need for facts over selling points. #CBA

— Andrew Brandt (@AndrewBrandt) March 6, 2020
It barely passed the full leadership, allowing it to be presented to the membership for approval.
With a ten-year shelf life and no opt-out clause, JC Tretter is right to assure all the details are known.
Fans will know after midnight on March 12 if the players pass the new deal.