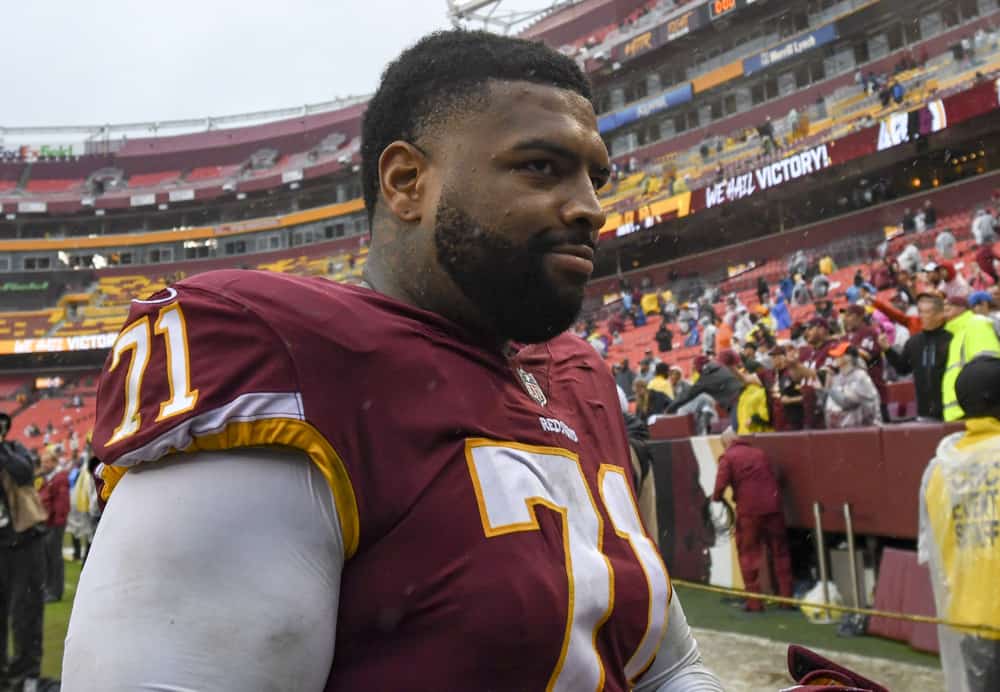 Trent Williams will be a 32-year old offensive tackle who hasn´t played a full season since 2013.
He is also a 7-time Pro Bowler coming off a year of rest in a season where left tackles are at a premium.
Andrew Berry and Kevin Stefanski prioritized the offensive linemen in their offseason wish lists.
So, how aggressively should the Cleveland Browns go after Williams?
Browns fans need to stop thinking they'd be giving up "high picks" for Trent Williams. Aka picks 10/41. It's not happening. His value dropped after they held onto him. Other veteran OTs on market, plus a strong draft of OTs. It'll be a 3rd or later.

— Browns Time (@DevotedBrownie) March 6, 2020
Before last season´s trade deadline, the Redskins announced they had an offer of a second-round draft pick on the table.
Speculation in Washington was that general manager Bruce Allen subsequently rejected a first-round pick for Williams.
.@CharlesRobinson on Yahoo! Sports NFL Podcast "The Cleveland #Browns are furious w/ the Washington Redskins over Trent Williams." Says 6 wks ago, Redskins could've had 1st rd pk for Williams from CLE. WASH waited 6 wks, CLE basically said "kiss my ass, you're not calling me now"

— Keith Britton (@KeithBritton86) October 30, 2019
There was never an official verification, but the Cleveland Browns were mentioned prominently as a suitor.
Many Browns fans thought Odell Beckham was a fair price for Williams.
That scenario made more sense every time Baker Mayfield scrambled away from defenders and missed OBJ.
Is that still a viable price for the services of an All-Pro left tackle?
How Did the Redskins and Browns Get Here?
Trent Williams held out as long as he could last season in what he said was a dispute about his medical treatment.
Redskins trainers reportedly ignored or downplayed a scalp growth that wound up being cancerous.
Williams went against their advice and had surgery to remove it.
Dare the #browns do this: 2nd Rd Tender to Hunt and then use that, trade him Washington for Trent Williams.

— Adam Sand (@Iwashazed03) March 6, 2020
When he ended his holdout, the team didn´t have a helmet that adequately protected the area.
Washington put the left tackle on the non-football injured reserve, and Williams did not play in a game.
The Redskins always maintained Williams was only seeking more money in a new contract.
Meanwhile, the Browns continued to insist publicly Greg Robinson would come around.
But John Dorsey´s malpractice on the offensive line was evident.
If the former GM landed Williams at the trade deadline, he might still have a job in Cleveland.
Robinson only looked like the answer when compared to Dorsey´s free agent signee at right tackle, Chris Hubbard.
Ultimately, Robinson joined Dorsey on the unemployment line with an assist from border patrol authorities.
What Will Be the Price for Williams?
From NFL Now: The interest in #Redskins LT Trent Williams has picked up now that his trade request has gone public, but Washington wants fair compensation in order to trade him. What now? 👇🏼👇🏼👇🏼 pic.twitter.com/qzdbfWaCl4

— Ian Rapoport (@RapSheet) March 6, 2020
Cleveland has a wealth of roster needs that seems to grow each day.
They have $62 million in cap space they can use to alter their draft day strategy.
Trading for Williams will steal a bunch of that cap.
Cleveland Browns rise as most likely trade candidate for Trent Williams https://t.co/YYkGLXwVHi

— The Redskins Wire (@TheRedskinsWire) March 6, 2020
Williams is in the final year of his contract which provides for a non-guaranteed $12.5 million.
But with his agent negotiating a trade, a salary boost and extension is likely part of any deal.
Williams wants to be paid as the top offensive lineman in the game.
Currently, Philadelphia's Lane Johnson makes $18 million per year.
Laremy Tunsil wants $20 million from the Houston Texans as they negotiate his resigning.
The Cleveland Browns are interested in Trent Williams and Jason Peters after both are set to enter the market, @MaryKayCabot reports. https://t.co/Sbt7JOJeUI

— Twitter Moments (@TwitterMoments) March 6, 2020
The Texans gave up a pair of first-round draft picks and a second-rounder last year to be in this negotiating position.
All-Pro linemen Trai Turner and Russell Okung will be traded straight up for each other, according to the Panthers.
Cleveland does not have an offensive lineman to make that deal.
They also don´t want to lose three top draft picks and a chunk of cap space simultaneously.
What Should the Browns Give Up for Trent Williams?
Washington clears $12.5 million from their cap space by trading Williams before the deadline.
Besides the offensive line, the Redskins priorities are cornerbacks and tight end.
They also want to create a quarterback competition and add wide receivers.
The Browns must include enough high-caliber players to minimize the loss of draft picks.
Unless Berry plans to rebuild the line completely through free agency, the Browns want their picks.
Stefanski says he has big plans for David Njoku.
But Njoku helps Washington in a number of ways.
Besides their obvious need at tight end, Njoku comes cheap.
That could be enough for the Browns to make a deal using a second or third-round pick instead of a first.
Of course, last season´s blockbuster rumor could still be in play.
Cleveland would have to find another uniform model, but Odell Beckham straight up is intriguing.
The Browns get several more years of an offensive line anchor.
Washington receives a star-caliber wide receiver opposite the inexpensive Terry McLaurin.
Trading Olivier Vernon makes sense for Cleveland, but not for Washington.
There is no cap advantage, plus the team is probably going to draft Chase Young.
How Does Trading for Williams Make Sense?
Washington is motivated to unload their disgruntled star before free agency starts.
Cleveland can draft a top-rated offensive lineman.
But there are no guarantees in the draft.
Top prospects can take years to develop if they work out at all.
Trent Williams would cost the #Browns at least a 3rd round pick and then would want a new contract making at least $17-19 million per year

I believe there's better options out there that are better financially as well which I'm sure Berry and DePodesta are searching for

— Jackson McCurry (@JackMcCurry08) March 6, 2020
If Berry and Stefanski believe Mayfield can lead this team to the playoffs, they need to fix the line quickly.
Offensive line coach Bill Callahan knows Williams well from his time in Washington.
Williams provides at least one player familiar with Callahan.
Per @FieldYates, One of Trent Williams first calls should be to the #Browns because of his relationship with OL coach Bill Callahan. pic.twitter.com/CANMei6o7W

— MoreForYouCleveland (@MoreForYou_CLE) March 5, 2020
Although, it might not matter as much in Stefanski´s new offense.
Cleveland can easily sign another tackle or guard in free agency while drafting a prospect.
With Williams at left tackle, a weakness could become a strength.
It could be enough to throw in a second and third-round pick if the market warrants such.
The Redskins could be blown away with draft picks by teams with multiple early rounders.
But Rivera seems to want a starting player in the deal.
That keeps the Browns in the running for what would be a very impactful trade for Cleveland.