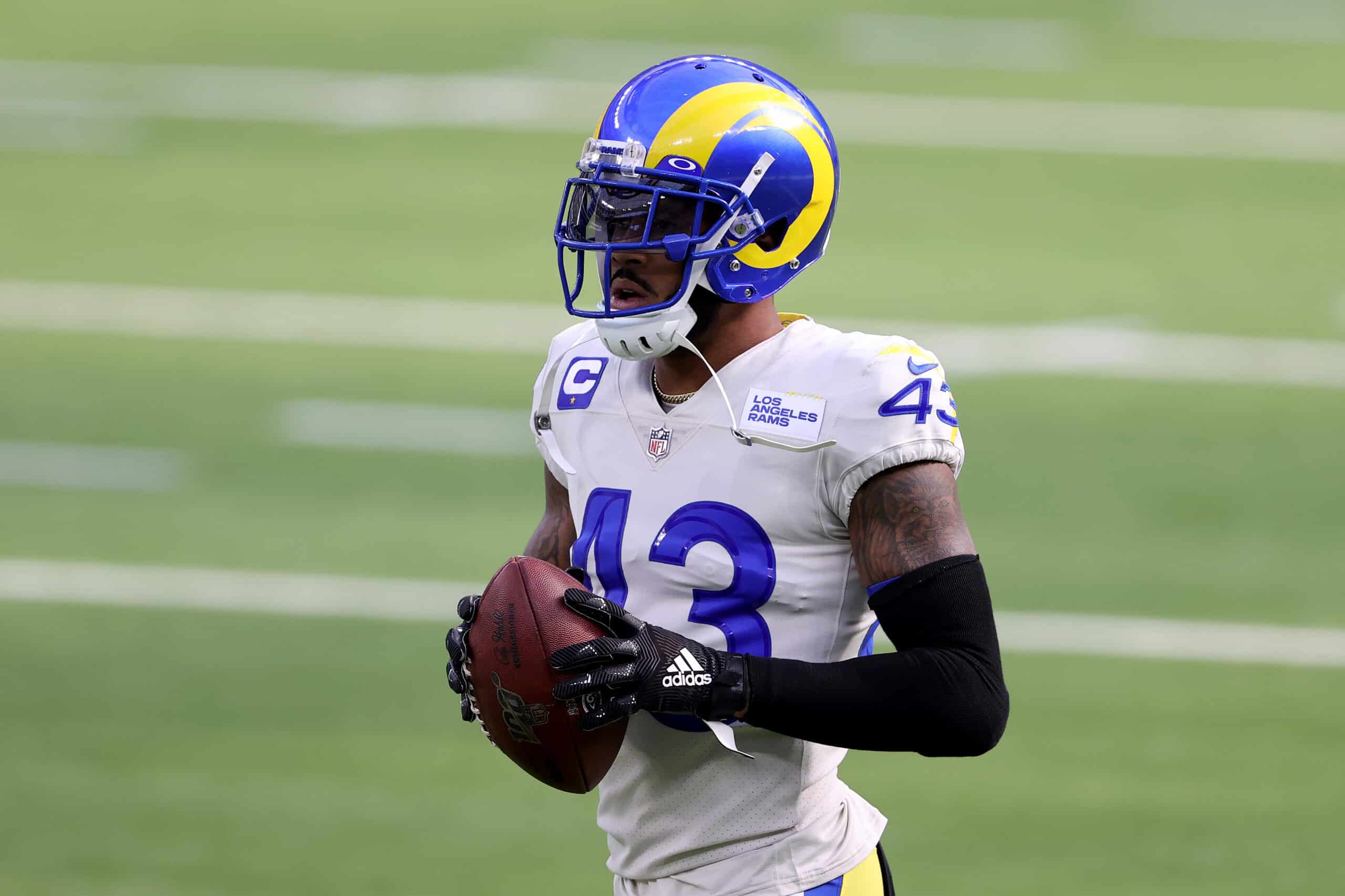 During free agency, the Cleveland Browns added six new faces to their defensive unit.
Although, the biggest addition might end up being safety John Johnson III.
The four-year safety has already quickly become one of the best safeties throughout the entire NFL.
He somehow hasn't made the Pro Bowl roster yet, but was one of four safeties to play every single snap on defense last season.
The 25-year-old isn't afraid to talk and has made that clear during voluntary offseason OTAs.
Being A Leader
Johnson is wasting no time getting used to his new teammates in Cleveland.
He is already barking orders and giving directions early during OTA workouts.
"I think it's just natural and my personality," Johnson said. "I feel more comfortable now just talking and making my presence felt. I love talking, talking trash and competing. I'm just out there having fun."
His leadership and consistency are what made him such a coveted option on the free agent market.
The Browns made Johnson their first free agent signing by giving Johnson a three-year deal worth $33 million.
Contract terms: #Browns are getting former #Rams safety John Johnson to a 3-year deal worth $33M with $24M in guarantees, per @MikeGarafolo. His impact on LA's defense was even greater than what the box score shows. Will make an immediate impact to Cleveland's secondary.

— NFL Update (@MySportsUpdate) March 15, 2021
At first glance, that might seem like quite a lot to give a safety, but Johnson has earned it.
Last season, Johnson recorded 105 tackles, eight passes defended, and one interception in 16 games.
He has been a consistent contributor throughout his four professional seasons in Los Angeles.
The Browns can surely count on Johnson and he wants to make sure that everyone else is on the same page as well.
"It's definitely something that you have to be proactive about," Johnson said. "That's why a couple of the guys came this week to stay on top of things before minicamp, and then going into training camp, we will be firing and more comfortable. We can build that foundation so we can actually start working on this beautiful house that we are about to build."
Already, it seems that Johnson is getting familiar with his teammates and helping guide them.
That is exactly what the Browns were looking for when they signed Johnson this offseason.
A Brand-New Defense
General manager Andrew Berry made it a focal point to address the defensive side of the ball this offseason.
They added key veteran contributors such as Johnson, Jadeveon Clowney, and Anthony Walker.
Most of the new additions who were signed in free agency are expected to be starters from Week 1.
It's always great to add players who can be significant contributors right away.
Although, it also means that they all have to quickly get familiar with each other.
"It was definitely, I feel like, a defensive-heavy vibe," Johnson said. "I don't know if that's what it is on paper, but that's the vibe I got. I think it's good. Bring guys in who you know can play and help the culture of a team. I think that's what the Browns were attacking."
Clearly, Johnson is not wasting any time and is ready to get his teammates prepared for the regular season.
He was a key piece to the Rams defense and hopefully his presence on defense will make an impact and improve this Browns unit in 2021.