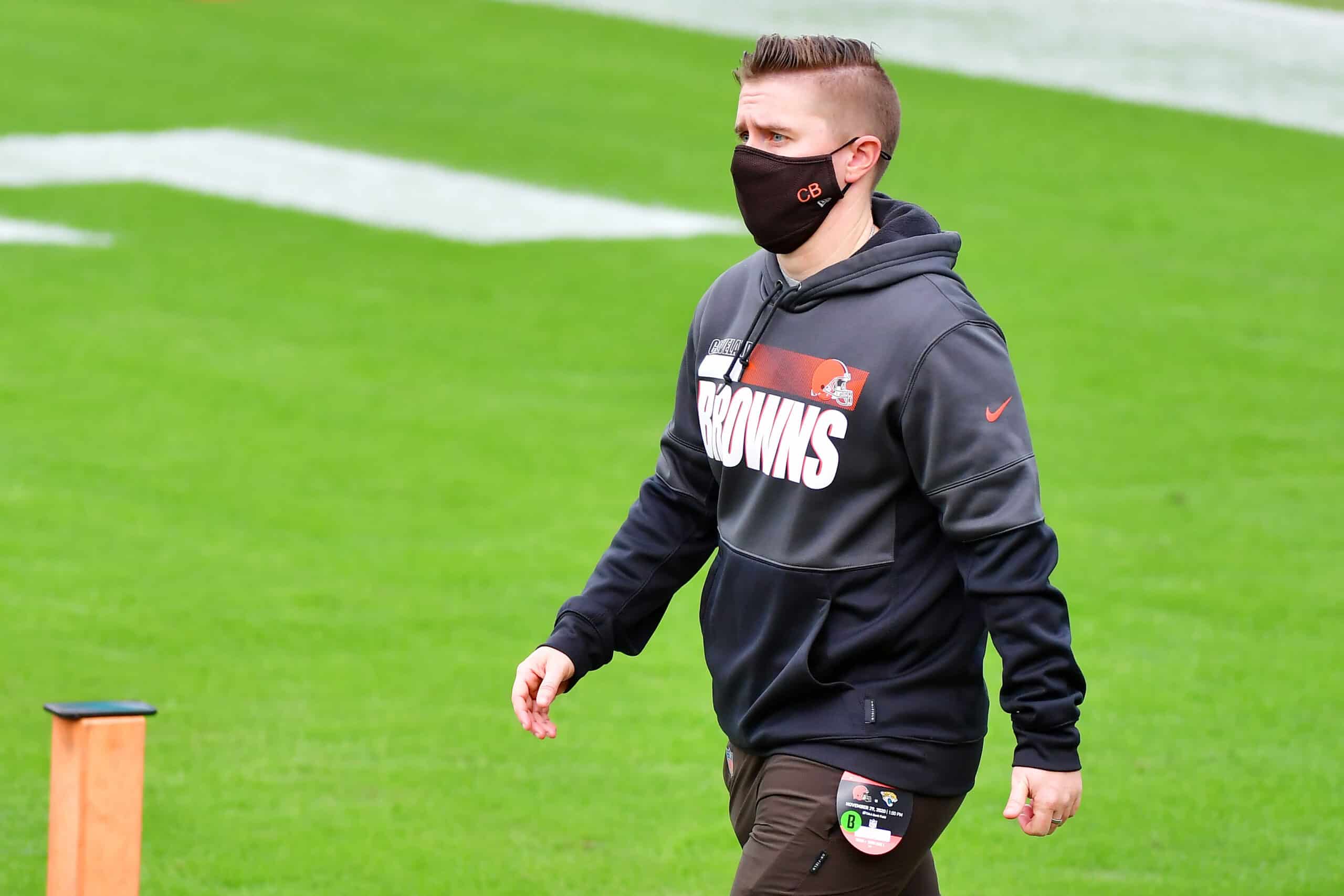 Cleveland Browns Chief of Staff Callie Brownson knows she messed up.
After being convicted with an OVI, "very remorseful" were the words used by head coach Kevin Stefanski to describe the feelings of Brownson following the incident.
Brownson won't be fired from the team, but she will face a suspension due to her actions.
While Stefanski remains in her corner, plenty of players on the team are supporting their coach as well.
Some of the Tweets
Linebacker Mack Wilson was one of the first to come on social media and voice support for Brownson.
His message, while a simple one, sums up how many fans feel.
Live & learn from mistakes. We got your back Callie. 🤎🧡

— Mack Wilson Sr. (@5mackwilson1) June 9, 2021
Wilson has been at the forefront of plenty of criticism since being drafted by the Browns.
Even in his Alabama days, people in Tuscaloosa turned on him when he declared for the NFL Draft.
He's no stranger to some aggressive tweets.
Defensive back M.J. Stewart also hopped on Twitter to back up Callie.
We Got Your Back Callie!! ✊🏾

— Mj Stewart (@Checkout_Marv) June 9, 2021
It's a tough situation for players to be in because drunk driving, especially with a blood-alcohol level of .215 (more than twice the legal limit), is beyond inexcusable.
Yet, as Mack puts it, everyone must learn from their mistakes.
The incident could have been much worse than it was.
That doesn't make her actions any better, but this isn't something to be held over her head for eternity.
Not Enough Punishment?
While everyone loves to play judge and/or jury on social media, many feel that Brownson's punishment has been insufficient.
Essentially, those folks want her gone from the Cleveland Browns organization.
Again, she's just suspended right now, not fired.
But, some fans continue to voice their displeasure with that decision.
Callie Brownson should be fired on the spot! Just watched the dui video on YouTube. Tried to play the "I'm a Browns coach card! Very arrogant and unprofessional! She's not above the law, and she represents my team. I don't care, I said what I said! @browns

— Heath Tubbs (@HeathTubbs) June 9, 2021
A fireable offense.

Anything less sends the wrong message to the many young women and girls who look up to her. "Wanna drink a fifth a vodka then drive plastered double the speed limit on a residential road?… sure that's fine. No big deal."

— Paco #D4L 🇺🇸🇺🇸🇮🇱 🐕 (@pacoccino) June 9, 2021
In this day-and-age, with all the Ubers and Lifts you could ever need, driving this drunk is inexcusable.

Prob gotta get the axe for this one.

— C4 (@c4men) June 8, 2021
There are fair points made there, especially ones regarding ride-sharing services available to everyone these days.
Still, there's a point where the posts calling for her job have become nasty.
I won't post them here, but there are plenty with sexist tones to them, if not blatantly there.
Those are the types of remarks that don't need to be made regardless of the situation.
How to Move Forward?
It has not been made clear exactly how long Brownson will be away from the team.
She works closely with Stefanski along with the offensive skill positions.
She will certainly be missed as OTA's get under way.
However, one thing has been made clear by both players and the coaching staff.
Brownson has their full support and they are seemingly ready to accept her back whenever her suspension is up.
"She's going to learn from this and we'll support her along the way", said Stefanski in a news conference per WKYC.com.
While some will continue to debate whether that is the right move or not, those arguments will come to a close in the coming weeks.
Driving drunk is not a small mistake by any stretch as we've seen through countless tragic news stories.
Fortunately here, nothing of that sort happened.
Learning from that mistake, ensuring it doesn't happen again, and getting back to her job is likely all that Brownson wants at this point.
Giving her the chance to do so is the path the Browns are choosing to follow.