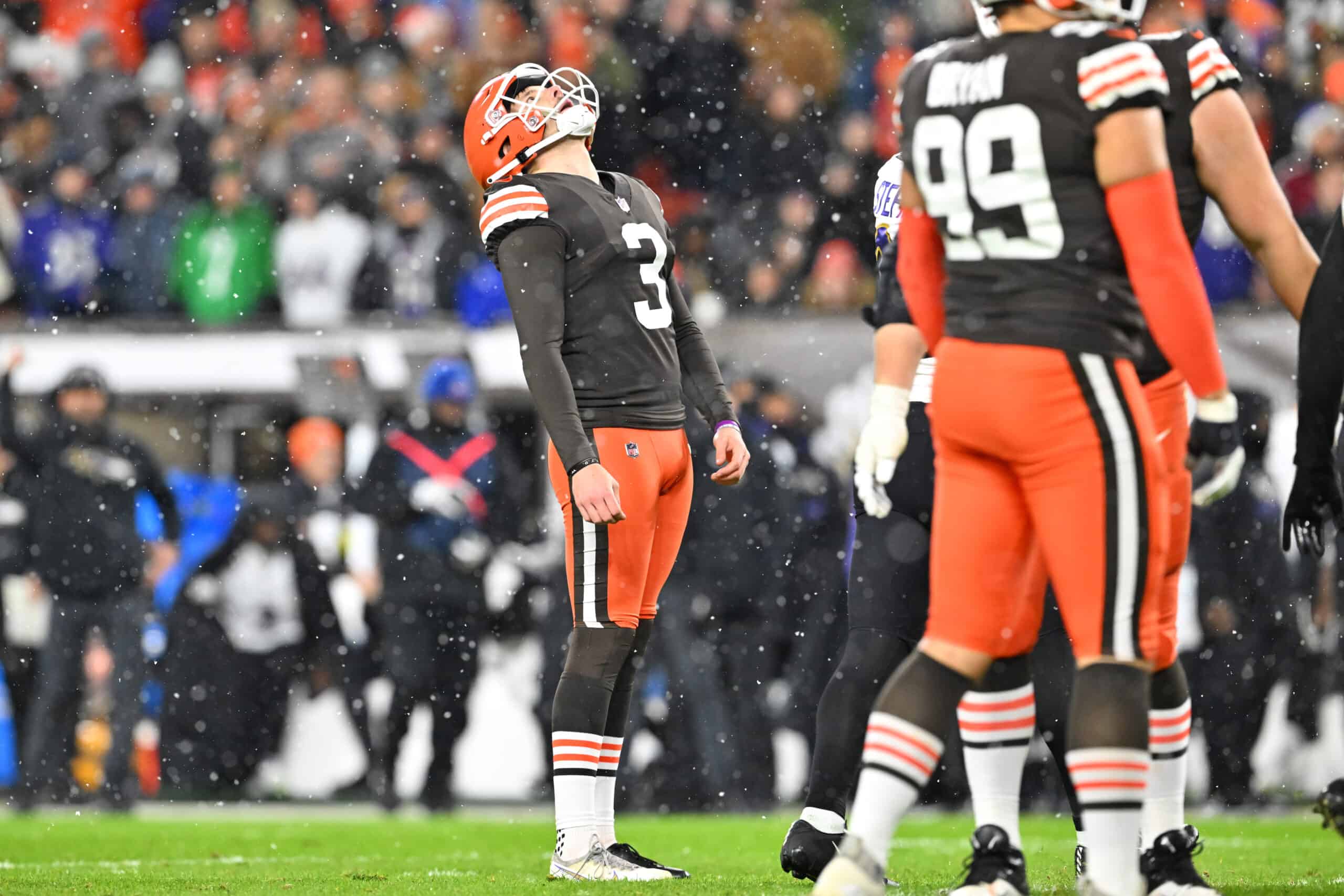 Cade York kicked off his NFL career in grand style with a 58-yard game-winning field goal on opening day.
And Cleveland Browns fans were confident their team's recent kicking woes were a thing of the past.
But things quickly went awry, starting with a missed PAT in the Browns' 1-point loss the following week.
When the 2022 season ended, the rookie kicker had the NFL's worst field goal percentage.
#Browns rookie kicker Cade York drills a 58-yard FG and Cleveland takes the lead over Baker Mayfield and the Panthers.

What. A. Kick. pic.twitter.com/zUuFTp0V9G

— Ari Meirov (@MySportsUpdate) September 11, 2022
And his first 3 misses came in a pair of 3-point losses to the Chargers and the Ravens.
Through it all, York claimed his confidence never waivered, and he has put last season behind him.
But that is not to say he, and new special teams coordinator Bubba Ventrone, didn't learn from his rookie experience.
And York remains confident about his next kick.
How Bad Did It Get In 2022?
York's missed extra point provided the final point differential in Cleveland's horrific loss to the Jets.
His second missed PAT raised eyebrows in a Week 3 victory, but he never missed another.
And during that mini PAT slump, York connected on his first 8 field goal attempts.
But from Week 5 on, the rookie came through on just 16 of 24 field goal attempts.
CADE YORK MISSES THE GAME WINNING FIELD GOAL AND THE CHARGERS SURVIVE 😅 pic.twitter.com/0cjQ75duPx

— Brian Yoon (@byysports) October 9, 2022
York admitted to overthinking things and dwelling on misses too long, and compared 2022 to his first LSU season.
And he takes heart in how he came back to become the kicker who earned a 4th-round NFL draft selection.
As he told Zac Jackson of the Athletic recently:
"Kind of focusing more on kicks and not thinking about technique or trying to hit this perfect ball. Just thinking about really nothing but kicks, like I always have."
Staying focused and kicking straight seems almost too simple a plan for York's 2023 comeback.
Can Ventrone Make An Impact? 
Cleveland's kicking struggles are not the biggest reason Mike Priefer was let go.
Priefer and Ventrone both graded York higher than any other kicker in the 2022 draft class.
Ventrone said the best kickers he's worked with taught themselves not to dwell on misses.
#Browns Cade York on the deflected kick: "To be honest, it was 60 yards and a little bit into the wind and left to right, and I had to drive it and it came off the foot really well and I promise you, it was going in if the guy didn't block it."

— Mary Kay Cabot (@MaryKayCabot) October 23, 2022
And it appears the coordinator is ready to spend far more time with his young kicker than Priefer did.
"Cade is a great kid, hard worker, very in tune with his mechanics — and almost too in tune at times," Ventrone told the Athletic's Zac Jackson. "So (we're) trying to get him to just kind of make everything simple, make the corrections fast, and apply them to the next kick."
Their early conversations are reflected in York's promise to only think about the next kick.
And York offers that Ventrone brings more energy and a different style of coaching that he appreciates.
This led the young kicker to end his Athletic interview with this:
"This spring was awesome. I feel really good about where I am headed into the season."