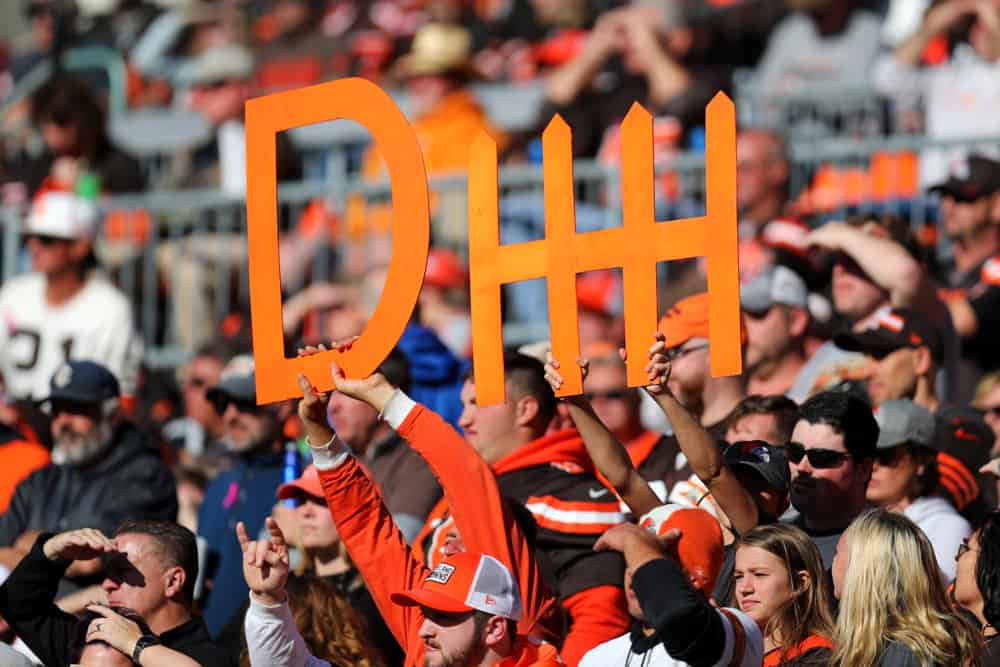 Cleveland's offseason kudos and projections continue to roll in.
And if GM Andrew Berry and his team need further validation, CBS Sports announced their 2021 Defense Rankings.
Writer Jared Dubin reports the Cleveland Browns came in as the #3 overall team defense.
But he also revealed they got serious consideration as the top defense in the NFL.
The #Browns safety room is going to be a complete 180 compared to the '20 season John Johnson III is the realest of real pic.twitter.com/v4sVNQB60n

— Jeff-LJ-Lloyd (@Jeff_LJ_Lloyd) May 20, 2021
Ultimately the Browns came up just a little short of the Washington Football Team and the Tampa Bay Buccaneers.
Their status as proven defenses returning to the fray helped the Football Team and Bucs edge the upstart Browns.
But Dubin noted the Browns are the most improved defense in the league.
And they are good enough to lead the Ravens and Steelers in a 3-4-5 AFC North finish.
This move by Jadeveon Clowney, though 😤 @Titans pic.twitter.com/74Sx3pD7LO

— The Checkdown (@thecheckdown) September 15, 2020
Miami, Denver, Los Angeles Rams, New Orleans, and Indianapolis rounded out the top 10.
Cleveland jumped in the rankings with a massive, multi-faceted offseason rebuild.
And Dubin thinks the effort will pay off nicely in 2021.
How The Browns Defense Earned Their Ranking 
For the second season in a row, Andrew Berry mastered the initial free agency spurt.
Dubin says of former Rams safety John Johnson III:
"(He) might have been the best free-agent signing of the offseason, a perfect match of skill set and team need. He'll diversify the team's coverages with his ability to play center field and rotate into two-high looks, and to make plays on the ball.
Along with free agency slot corner Troy Hill, the Browns will start 2 players from last year's best secondary.
First-round draft pick Gregory Newsome, Denzel Ward, Ronnie Harrison, Greedy Williams, and Grant Delpit will now vie for that title.
Cleveland selects Notre Dame LB Jeremiah Owusu-Koramoah with the No. 52 pick in the #NFLDraft

Browns defense gonna be scary 😳 pic.twitter.com/VwF1ZYQgWq

— B/R Gridiron (@brgridiron) May 1, 2021
Dubin went on to rave about each front line addition, from Jadeveon Clowney and Takk McKinley to Malik Jackson and Tommy Togiai.
With Myles Garrett, Andrew Billings, and Jordan Elliott, the Browns are strong upfront, too.
But he says the best Browns addition might be the second-round draft pick, Jeremiah Owusu-Koramoah.
Along with Anthony Walker and the incumbents, Durbin says the Browns might have the most versatile defensive group in the NFL.
How Big A Jump Can The Browns Defense Make? 
Defensive coordinator Joe Woods has never offered excuses about his defense last season.
That is partly because he knows injuries are a part of the game and everyone had to deal with Covid restrictions.
But Woods also got a lot out of a tragically flawed unit.
TROY HILL COAST 2 COAST

— PFF (@PFF) January 3, 2021
We'll never know how well the defense could have been with Greedy Williams, Grant Delpit, and Andrew Billings.
And despite his valiant effort to play through, Myles Garrett was never 100% after Covid.
But it's not like the defense fell into the depths of NFL ineptitude.
Colts free-agent LB Anthony Walker is visiting the Browns today-Adam Schefter

Here's some tape from 2020: pic.twitter.com/gaQp5XaPy8

— Tattoo Baker (@QB1TATT00) March 18, 2021
Cleveland won 11 regular-season games because Woods got enough out of his unit to win them.
And you don't have to be a professional NFL analyst to know he has more talent and flexibility to work with now.
That alone should have Browns fans excited about how many games they can win in 2021.