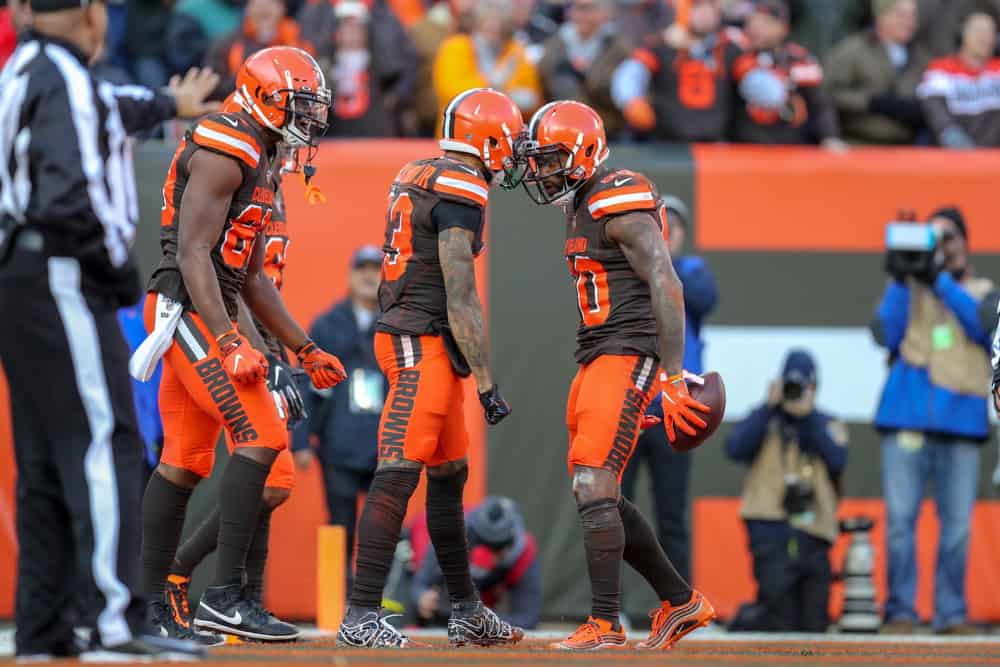 The NFL offseason is almost over, but the Cleveland Browns might not be done making moves yet.
The team has added multiple highly coveted free agents, but still have the most cap space out of any team.
Official cap space post-opt outs (1-11):
1. CLE: $40,468,180
2. NE: $33,431,135
3. WAS: $30,634,658
4. DEN: $29,541,191
5. NYJ: $29,266,652
6. TEN: $25,199,921
7. MIA: $24,650,560
8. BUF: $24,288,558
9. PHI: $23,749,246
10. DET: $22,933,007
11. IND: $22,256,027

— Field Yates (@FieldYates) August 7, 2020
The team has gained some cap space back by players opting out of the 2020 season.
However, most of the players that decided to sit out have near-minimum salaries.
Cleveland did gain some money back from defensive tackle Andrew Billings opting out.
The Browns had quite a few players opt-out, which means they could use some of that extra cap to sign depth players.
What Should They Do With The Cap?
The team shouldn't feel forced to use all that extra money at once.
There aren't enough quality players left in free agency to make it worth their money.
Although, they could bring in a few backup players to fill the void left behind by the ones that opted out.
Update: #Browns had a total of five players opt out of the 2020 season before today's 4 p.m. deadline: DT Andrew Billings and O-linemen Malcolm Pridgeon, Drew Forbes, Colby Gossett and Drake Dorbeck. No last-minute additions.

— Nate Ulrich (@ByNateUlrich) August 6, 2020
The Browns lost quite a lot of their offensive line depth from players sitting out.
They will need to use some money to sign a few backups or hope their starters don't get injured.
Cleveland has almost no depth at offensive guard, but could easily solve that problem.
One option could be to sign offensive guard Josh Kline who is still currently a free agent.
Kline and new Browns head coach Kevin Stefanski were together last season on the Minnesota Vikings.
The two have already worked together, so it could make sense for Cleveland to go after Kline.
He'd be reasonably cheap and nice depth to put next to Wyatt Teller at right guard.
Teller is not exactly a reliable option, so the team could benefit by adding another player.
The Browns don't need to go crazy with the signings, but bringing in some depth would be ideal before the season starts.
Saving It For Extensions
Cleveland should have plenty of money leftover even after they sign a few free agents.
The team should then turn their focus to extending their young core.
They already started that process by signing superstar defensive end Myles Garrett to a massive extension this offseason.
Details on the extension for the #Browns and Myles Garrett: In his rather large 5-year, $125M extension, there are $100M in total guarantees and $50M fully guaranteed at signing. He's now under contract 2026. https://t.co/873RKFYdbk

— Ian Rapoport (@RapSheet) July 14, 2020
Garrett was well deserving of an extension, but he definitely got paid.
Despite that, the Browns still have plenty of cap space left over for other players.
The organization still has plenty of young big name players that could use extensions in the near future.
Players such as quarterback Baker Mayfield, running back Nick Chubb, and defensive back Denzel Ward could all be looking at massive extensions soon.
The Browns are a fairly young team, which means they will eventually have to make tough decisions about who they want to keep as their core.
Luckily, they still have time to decide what they want to do, but hopefully the front office makes the right decisions.
Cleveland appears to be going in the right direction, which is fantastic to see.
Now the front office needs to be smart with their money and not blow it all in one place.