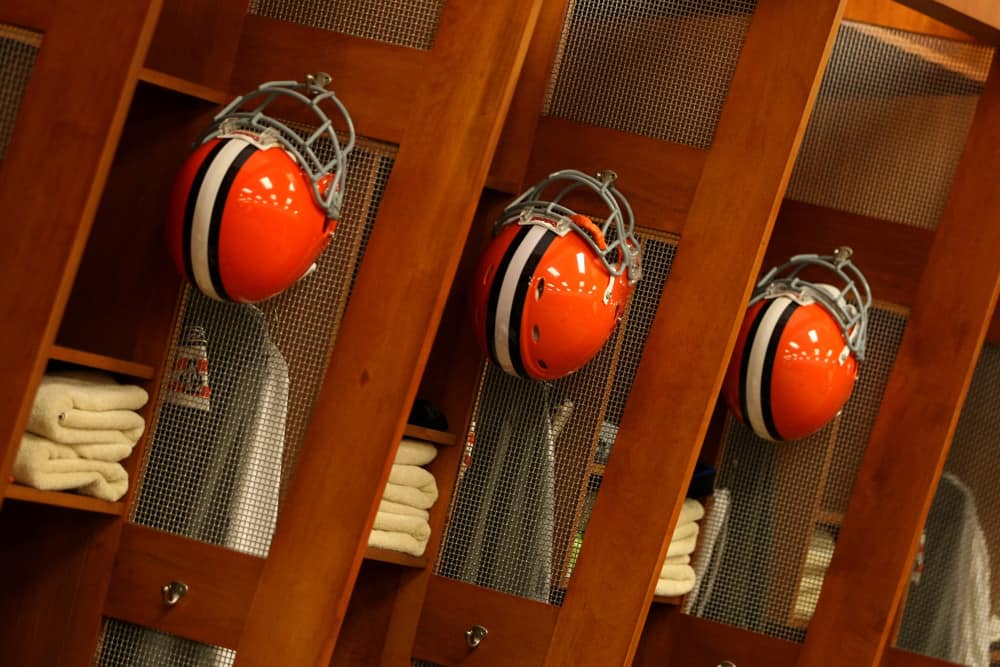 One day after activating 8 players from the reserve Covid list, the Cleveland Browns announced 4 practice squad moves.
Tight end Miller Forristall and wide receiver Larence Cager were signed to the squad.
Cager bumps JoJo Natson off the roster, and the team also released undrafted rookie cornerback Bryan Mills.
We have signed TE Miller Forristall and WR Lawrence Cager to the practice squad and made other roster moves

— Cleveland Browns (@Browns) December 28, 2021
Forristall (6'5″- 245 lbs) and Cager (6'2″- 220) are big body receivers.
They each appeared in 2 games this season, but neither received a target.
Forristall saw 19 special team snaps and was primarily a blocker in 10 offensive plays.
After a short stint on the active roster, they were released with the intent to sign them back to the practice squad.
The #Browns have released WR JoJo Natson and CB Bryan Mills from the practice squad.

— Camryn Justice (@camijustice) December 28, 2021
But it looks like the team gave up on Natson making an impact as a returner or receiver.
Cleveland also activated safety Nate Meadors from the practice squad Covid list Monday.
After all the moves, the Browns practice squad has a full complement of 16 players.
Browns Activate 8 From Covid List 
On Monday, Cleveland announced the active roster return of 8 players from the Covid reserve.
The defense got help at all three levels.
Jadeveon Clowney and Malik McDowell return up front.
Linebacker Mack Wilson, safety Ronnie Harrison, and cornerback Troy Hill can return to practice, too.
On offense, Cleveland activated linemen Jedrick Wills and Drew Forbes.
Players include Jadeveon Clowney, Jedrick Wills Jr. and Kareem Hunt. https://t.co/BJ6R3aiiI7

— News 5 Cleveland (@WEWS) December 27, 2021
And Kareem Hunt also cleared Covid protocols, although he is still questionable to practice with an injury.
Eight players remain on the Browns Covid list, including starters JC Tretter, Greg Newsome, and kicker Chase McLaughlin.
Cleveland added linebacker/special teams player Elijah Lee to the list Monday to make 8.
The NFL announced Tuesday they will immediately cut the isolation time for asymptomatic players to 5 days.
That makes it possible for the Browns to see all their players cleared by their next game.
What It Means For The Browns 
Releasing JoJo Natson eliminates one of the players rotating through the return role.
Heading into Week 17, no player has grabbed the reins and commanded the position.
Donovan Peoples-Jones, Demetric Felton, Anthony Shwartz, and D'Ernest Johnson remain in play.
But the biggest news for the Cleveland Browns is the league's new Covid isolation rules.
The NFL and NFLPA have agreed to modify COVID protocols in accordance with new CDC guidelines, cutting the standard isolation period after a positive test for asymptomatic individuals from 10 days to 5 days – regardless of vaccination status.

— Tom Pelissero (@TomPelissero) December 28, 2021
The NFL adopted new CDC guidelines cutting the isolation time to as little as 5 days for asymptomatic players.
That should help get players currently on the Covid list cleared in time to practice for the Monday Night game.
It also gives players a better chance to avoid missing games after an early-week positive test or exposure.
As it stands, Cleveland will field a fuller roster and most of their starters against Pittsburgh Monday night.
And with playoff hopes teetering on the edge, that can't be bad.