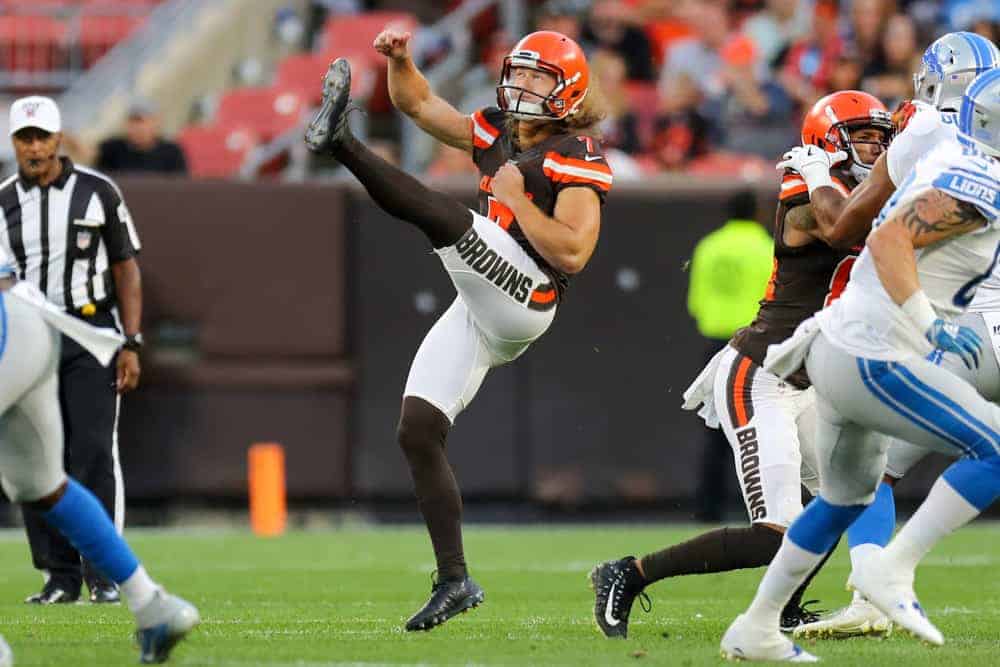 Jamie Gillan or otherwise known as "The Scottish Hammer" has won the punter job for the Cleveland Browns.
He beat out Britton Colquitt for the job in what was a surprise to many.
Colquitt comes from a family that has a history of kickers in the NFL.
Colquitt has been in the NFL for 9 years and has spent the past 3 with the Browns.
He also has an impressive career average of 45.4 yards per punt.  His average with the Browns was actually over 46 yards per punt in 3 seasons.
Even with all this being said, Gillian was still able to beat him out for the starting job.
How did he win the Job?
Gillan has a very powerful leg that he continued to showcase into the Browns preseason games.
In fact, one kick ended up going 74 yards with a few good bounces his way.
But the distance of his kicks were not the only things that impressed the Browns.
He regularly averaged above 5 seconds of hang time on his kicks.
Besides his kicking abilities, Gillan also showed his ability to contribute on special teams.
For being a former rugby player, Gillan consistently showed no resistance to running downfield and tackling players.
With everything being said, Colquitt's contract had no guaranteed money.
This means that they would easily save 2.5 million by cutting him.
Question about Gillan
The only question the Browns were left with in relation to Gillan was his ability to hold on field goals.
Colquitt had the experience and was very reliable at this.
Gillan had no experience in this as all he had ever done before was kick and punt at Arkansas-Pine Bluff.
However, he showed during the preseason on a consistent basis that he could handle this job.
The Scottish Hammer is already a fan favorite among many Cleveland fans as we all get ready for the 2019 season.