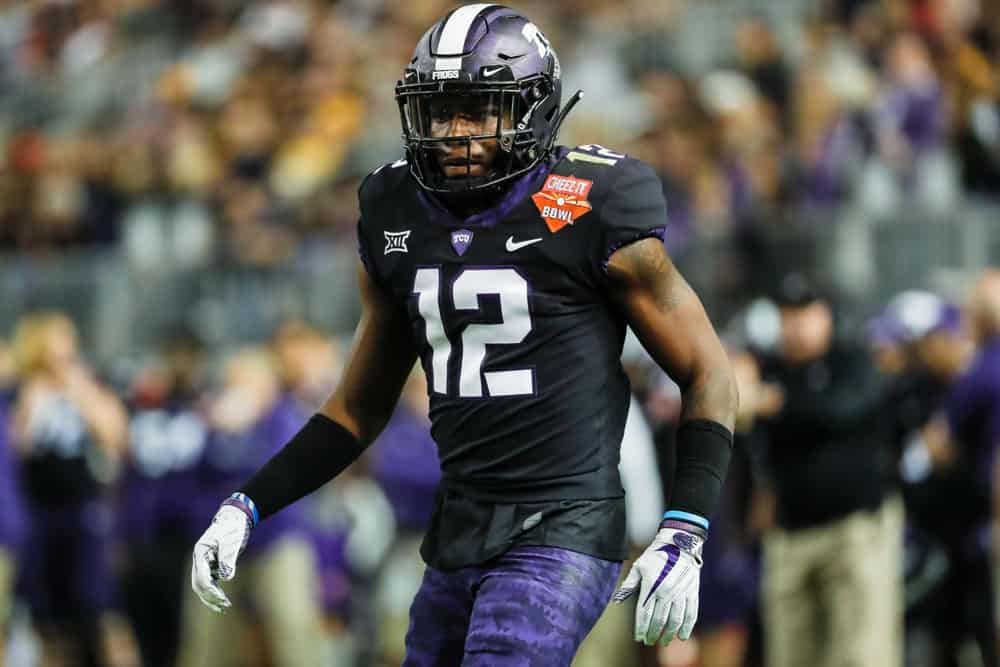 It appears the Cleveland Browns may not be content with their current setup at cornerback.
On the depth chart, the Browns have former No. 4 overall pick Denzel Ward and second-year pro-Greedy Williams listed as the top cornerbacks.
But, both Ward and Williams had their share of injuries in 2019.
According to Jeff Risdon of USA Today, the Browns met with TCU cornerback Jeff Gladney.
#TCU CB Jeff Gladney worked out privately for the #Cardinals prior to COVID-19.

Since then, he's met virtually with the #Jets, #Raiders, #Ravens, #Cowboys, #Vikings, #Packers, #Saints, #Falcons, #Titans, #Browns & #Chiefs.

— Justin M (@JustinM_NFL) April 12, 2020
As mentioned, Gladney has met with 12 total teams; however, it appears the Browns are just doing their due diligence.
Who Is Jeff Gladney?
Gladney ranks among the second tier of cornerbacks for the 2020 NFL Draft.
Among the group, Gladney sits with Florida's C.J. Henderson, LSU's Kristian Fulton, and Alabama's Trevon Diggs.
Henderson, Fulton, and Diggs have been mentioned as potential first-round picks.
As for Gladney, he appears to be headed towards the second round.
Jeff Gladney is a bad dude pic.twitter.com/GDRcJZFg04

— Matt Minich (@CoachMinich) February 17, 2020
By The Numbers
Gladney finished his career with 42 starts, which was the most among all active TCU players.
In 2019, Gladney tied for second in the Big 12 conference with 15 passes defended, including a conference-best 14 pass breakups, which was tied for 8th in the nation.
In 2018, Pro Football Focus rated him No. 1 in the Big 12 in the lowest passer rating allowed (46.9).
He also ranked No. 1 in the conference in that he only allowed a reception every 16.5 coverage snaps according to his player profile on TCU athletics.
That season, his stats included 13 pass break-ups and 12 passes defended.
❌ Shutdown Corner ❌

Official Jeff Gladney (@JGreatness_12) TCU Highlights

📈 115 tackles, 23 pass breakups, 4 interceptions

🎬 Full Tape: https://t.co/PpaZDi2eJi pic.twitter.com/Qn0ll5I1BV

— Blake Harris (@BlakeHHarris) January 2, 2019
Draft Profile
According to NFL.com, Gladney will be a starter within his first two seasons in the league.
NFL.com's Lance Zierlein compared Gladney to Philadelphia Eagles cornerback Sidney Jones before the injury.
In his scouting report, he included the following:
Plays extremely competitive football from snap to whistle
Possesses ball skills to contest a high percentage of throws
Coverage would thrive in man or zone
Smart quarterbacks could lead him into bait-and-switch traps
Has the talent to help on all three downs if needed
Watch Jeff Gladney at the end of this clip.

Clean footwork and smooth, very fluid hips. I'm not really worried about his 40 time bc he has incredible feet and COD. Currently my CB2. #NFLCombine pic.twitter.com/56gdZOtdiy

— Jared Feinberg (@JrodDraftScout) March 1, 2020
Will It Happen?
Given how many teams have talked to Gladney and what the Browns need, it doesn't seem possible he will land in Cleveland.
The Browns need more offensive line help and safety help as well.
Either position is likely to be taken with the Browns second-round pick at No. 41 overall.
The Browns have Ward and Williams who will be 23 and 22 when next season starts.
Gladney will be gone in the second round at the bare minimum.
It doesn't make sense for the Browns to use their second-round pick on Gladney given the circumstances.
If it does happen, it will definitely be a shock.