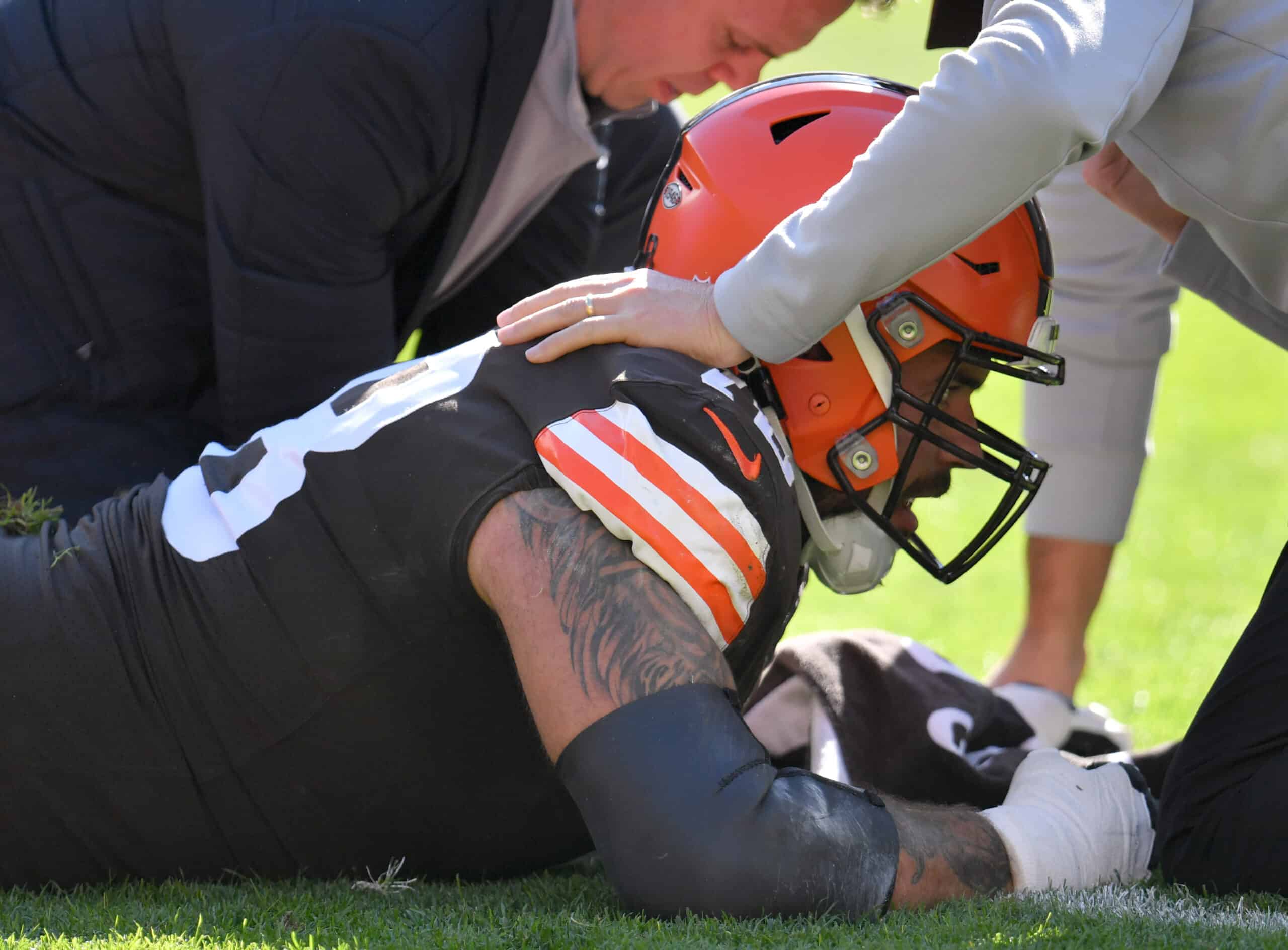 Jack Conklin will miss at least 3 games after dislocating his elbow against the Steelers.
The Cleveland Browns placed their starting right tackle on the injured reserve list Saturday.
Conklin was already expected to miss multiple weeks after leaving last week's game early.
But the move to the IR removes any speculation of a hasty return.
We have activated FB Andy Janovich and C Nick Harris from injured reserve and placed T Jack Conklin on injured reserve.https://t.co/lbHNjLC72W pic.twitter.com/M4PXC5Gqlu

— Cleveland Browns (@Browns) November 6, 2021
An MRI this past Monday revealed no fractures or other complications.
And Conklin is not the type of player to willingly sit out games.
Putting him on IR saves trainers from being hounded by Conklin to let him back on the field.
According to the same announcement, Cleveland activated Andy Janovich and Nick Harris from the IR.
What It Means To The Offensive Line
Blake Hance moves into Conklin's starting right tackle position for the next few weeks.
Hance has consistently beaten expectations in a variety of roles along the offensive line.
But while the starting unit remains formidable, depth is suddenly a concern.
Swing tackle Chris Hubbard is already done for the season due to injury.
#Browns Blake Hance said focusing on one position will help him as he is now at right tackle with Jack Conklin out. pic.twitter.com/pCOnhzsI84

— Fred Greetham (@FredGreetham9) November 3, 2021
Rookie James Hudson struggled in the tackle position earlier this year.
But he has more starting practice reps and a couple of more weeks of Bill Callahan's tutelage.
Cleveland's re-signed their 2020 undrafted free agent signing, Alex Taylor, to the practice squad this week.
Taylor was active in Week 17 and for the Browns playoff games last season and could be called up again.
What It Means To The Browns Offense 
Cleveland prepared all week to be without Jack Conklin against the Cincinnati Bengals.
They probably hope for an injury-free game from their newest starting five upfront.
But the return of Nick Harris and Andy Janovich provides some peripheral support for their tackles.
Janovich is a blocking force, regarded as one of the best of the remaining fullbacks in the NFL.
The last time the @Browns and Bengals met, @bakermayfield threw 5 TDs, including one that sealed the win with just seconds to go.

Browns vs. Bengals | Sun. 1 pm ET | CBS pic.twitter.com/1gCETf5XUl

— NFL on CBS 🏈 (@NFLonCBS) November 5, 2021
Nick Harris provides reliable depth inside, possibly allowing Callahan to give another guard some tackle lessons.
The Browns take on Cincinnati this week, but this is not the same Bengals' defense they saw in recent years.
Cincinnati has the 6th-most sacks and 4th-most quarterback hurries per game through 8 weeks.
And Kevin Stefanski might have to re-inject a little movement to increase Baker Mayfield's protection.