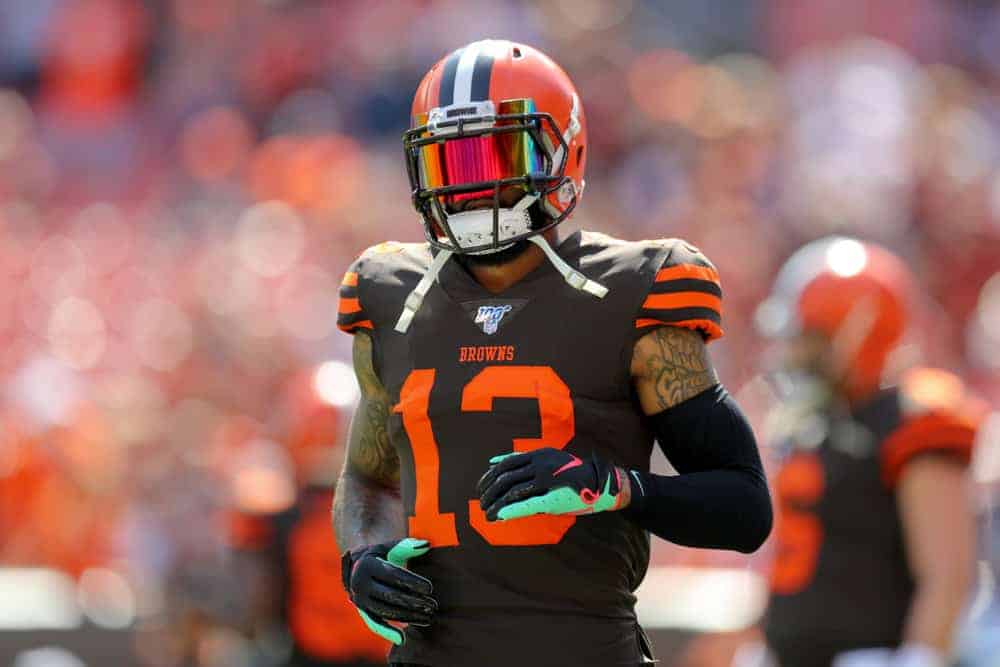 Odell Beckham Jr. joined the Cleveland Browns during the 2019 offseason and up went the Super Bowl odds.
Only things didn't go according to plan.
Beckham dealt with injuries throughout the year and also wasn't targeted as much as he should have been.
Chalk that up as one of many complaints from the Freddie Kitchens offense.
The Browns now have a clean slate in 2020 and begin the season this Sunday against the Baltimore Ravens.
Getting Beckham involved is going to be a key to victory.
Odell Beckham Jr. will have ___ yards and ___ touchdowns this season for the #Browns pic.twitter.com/Zojeo8Ahxg

— FOX Sports Cleveland (@FOXSportsCLE) September 9, 2020
Beckham's 2019 Targets Were a Disgrace
Beckham was still able to finish the 2019 season with 1,035 receiving yards.
However, he only had two games with over 100 yards and finished the year with four touchdowns.
The lack of targets was also a problem.
The star receiver only reached double-digit targets in six games.
Week 4 in Baltimore saw him finish with two receptions for 20 yards on seven targets.
That is an inexcusable amount against a top team in the division and the NFL in general.
Beckham had only six targets in the Week 16 defeat to the Ravens and finished that game with four receptions for 44 yards.
Someone of Beckham's caliber should be getting double-digit targets on a weekly basis.
That is something that must be built into the gameplan leading into the week.
Jarvis Landry also only had six games in which he had double-digit targets.
The offense was all over the place last season and the lack of a consistent plan was clear.
Getting Beckham Involved in Week 1
Someone wanting to argue could say Beckham's targets were down due to extra attention from opposing defenses.
But that does not matter.
He is still a number one receiver and one of the best in football.
He needs to have the ball thrown his way so he can make a play.
That is what the best receivers in the game do on a weekly basis.
The Browns once again enter a season with a stacked depth chart on paper.
The duo of Nick Chubb and Kareem Hunt will get a full season together in the backfield.
Austin Hooper is the new lead tight end and will be joined by David Njoku and rookie Harrison Bryant.
Then there is the duo of Landry and Beckham who are also joined by Rashard Higgins.
Its still surreal to me that Baker Mayfield has Nick Chubb, Kareem Hunt, OBJ, Jarvis Landry, Rashard Higgins, David Njoku, Harrison Bryant and Austin Hooper—among others—at his disposal. Im very much looking forward to seeing what Kevin Stefanski can do with this offense. #Browns

— Camryn Justice (@camijustice) September 10, 2020
That provides eight legitimate targets in the passing game before getting to the backups.
There is no excuse for Beckham to not get 10 targets per game unless Baker Mayfield is just a disaster.
He should rely on his top receiver, which also opens up the rest of the offense.
The hype surrounding the roster is just that once again.
Hype.
The way to turn that into a reality is to properly utilize the talent on the roster.
A bad year from Beckham could also make him expendable given his $0 dead cap value in 2021.
That means the Browns could move on without any financial penalty.
And that figure stays at $0 through the rest of his contract that is up following the 2023 season.
That is looking into the future, but a slow start Sunday could define his season.
Just think back to Week 1 of last year when all the hype came crashing down in an embarrassing loss to the Tennessee Titans.
Maybe getting Beckham more involved will lead to a better result in 2020.