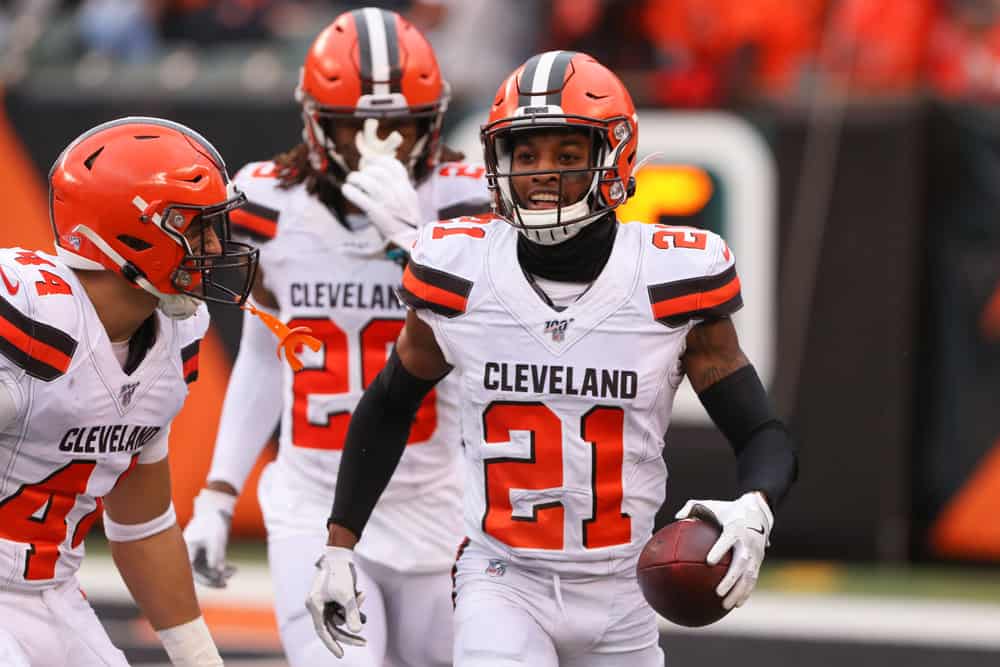 It wasn't easy, but the NFL worked its way through and around the pandemic to start its season on time.
Count the Cleveland Browns and their fans as happy and ready to kick off as anybody.
Ready for week 1! #Dogpound @GridMBL pic.twitter.com/XNytXJxb2O

— Cleveland Browns (THE GRID) (@DogPoundxNation) September 2, 2020
Facing lockdowns, non-stop virus news, and a take out diet, it seemed like Week 1 might never get here.
But Kevin Stefanski and his troops are finally ready to start their bid for the 2020 NFL postseason.
So what better time to jump ahead and predict how the end-of-season team awards will be distributed?
Here are my best guesses on who walks away with the Cleveland Browns' 2020 players awards.
MVP: Myles Garrett
Nobody wants to put last year behind him more than Myles Garrett.
As the Browns get ready for Week 1, Garrett says he wants to clear the air with Mason Rudolph.
But the best way to make fans forget last year is to make this year memorable for football reasons.
Garrett is motivated to set the team sack record he looked certain to take before his season ended.
He'll do more than that, dominating in all aspects while lifting the whole unit behind him.
Olivier Vernon joins a solid front four to keep Garrett from getting triple-teamed all game.
Cleveland's defensive captain will make short work of double teams.
Offensive Player of the Year: Nick Chubb 
Kareem Hunt might have gotten paid this week.
But Nick Chubb is going to get paid.
Good morning Browns Twitter! In 2019 Nick Chubb forced 66 missed tackles and broke 32 more. 882 of his rush yards came after contact. Enter Andy Janovich. It was already impossible to tackle Chubb in the first place and now he's got this guy blocking for him. Good luck with that. pic.twitter.com/G74Mxro5Y8

— Nick Karns (@karnsies817) September 8, 2020
We already know Chubb can push through contact once he starts moving forward.
And Andy Janovich will make sure he moves forward more often than not.
Chubb might cede some touches to Hunt, but that will only serve to keep both rushers fresh.
Another run at the rushing title is on tap, with a few more touchdowns and catches to go with it.
Defensive Player of the Year: Denzel Ward 
Well, actually it will be Myles Garrett, but I made up a rule limiting one award per player.
Denzel Ward deserves his kudos by showing the shutdown skills every team needs in a cornerback.
Like every job on the team, Ward's is made easier by the efforts of others.
Cleveland's front four won't give receivers much time to break free from the corners.
Ward will take full advantage, with career highs in interceptions and passes defended.
Joe Woods' creativity will let Ward tack on a couple of sacks as the corner blitz becomes an effective tool.
Most Improved Player: Baker Mayfield 
Everything is set up for Mayfield to bounce back from 2019's debacle.
He has a full set of skill players around him, an improved offensive line, and a much better game plan.
Stefanski will mold the offense to Mayfield's strengths, limiting mistakes along the way.
All 27 of Baker Mayfield's NFL rookie record-setting touchdown passes.

You're welcome.

— Everything Cleveland (@EverythingCLE_) January 15, 2020
Mayfield's most obvious improvement will be in turnovers, less than 10 combined fumbles and interceptions.
But he will also enjoy his highest QBR to date, with more touchdowns than his rookie record.
Although this is a run-first offense, Mayfield will do more than manage the game.
Mayfield's confidence and deep ball will keep defenses honest even with Chubb and Hunt lurking behind him.
Comeback Player of the Year: Rashard Higgins 
Higgins spent most of 2019 in Freddie Kitchens' doghouse.
But he couldn't wait to come back to Cleveland and play with his friend, Baker Mayfield.
The Mayfield-Higgins connection that thrilled fans in 2018 will be on full display once again.
Jarvis Landry and Odell Beckham Jr warrant more targets in a somewhat limited aerial attack.
But when the ball heads Higgins' way, it will bring fans to their feet.
Higgins will be among the leading scorers for the Browns despite his lower target share.
Offensive Rookie of the Year: Jedrick Wills
Can he or can't he play the left side as a rookie?
Jedrick Wills exceeds expectations, improving as the season moves along.
Jedrick Wills Jr. only gave up 1 sack to a power-five defense at Alabama.

(📸 @Browns) pic.twitter.com/5Q9csQupXx

— PFF College (@PFF_College) September 4, 2020
Wills played the right side to cover the blind side of his lefty-throwing passer in college.
He is bright enough to flip to the left without much effort.
Wills' size and mobility serve him well, as does the tutelege of his teammates.
Bill Callahan's effective coaching helps make Baker Mayfield as comfortable as he's ever been.
Defensive Rookie of the Year: Jacob Phillips 
Joe Woods loves his nickel and dime packages.
BJ Goodson is written in as the starting middle linebacker alongside Sione Takitaki.
Phillips will get the call as the team's third linebacker to start the season.
But as his speed and coverage ability are realized, he could knock Goodson out in some packages.
The rookie from LSU goes sideline-to-sideline as well as anyone on the Browns.
As he gets comfortable with the pro game and Woods' system, he will force himself onto the field.
Most Important Newcomer: Karl Joseph 
Austin Hooper and Jack Conklin got bigger headlines.
Andrew Sendejo was supposed to be the bigger defensive signing.
But Karl Joseph will be the guy in the middle of everything that makes Woods' defense work.
For @Browns #Browns fans, this is what you will get from Karl Joseph. Must say that I'm a WV Mountaineer….but here is a taste from his college and NFL dayshttps://t.co/J0PZhyi4Q6https://t.co/66XskfDmSN

— Market Bull (@Market_Bull) March 19, 2020
Joseph projects to be on the field regardless of package at strong safety.
He will not only provide the field leadership vital to the younger corners and linebackers.
The veteran will also lead the team in tackles.