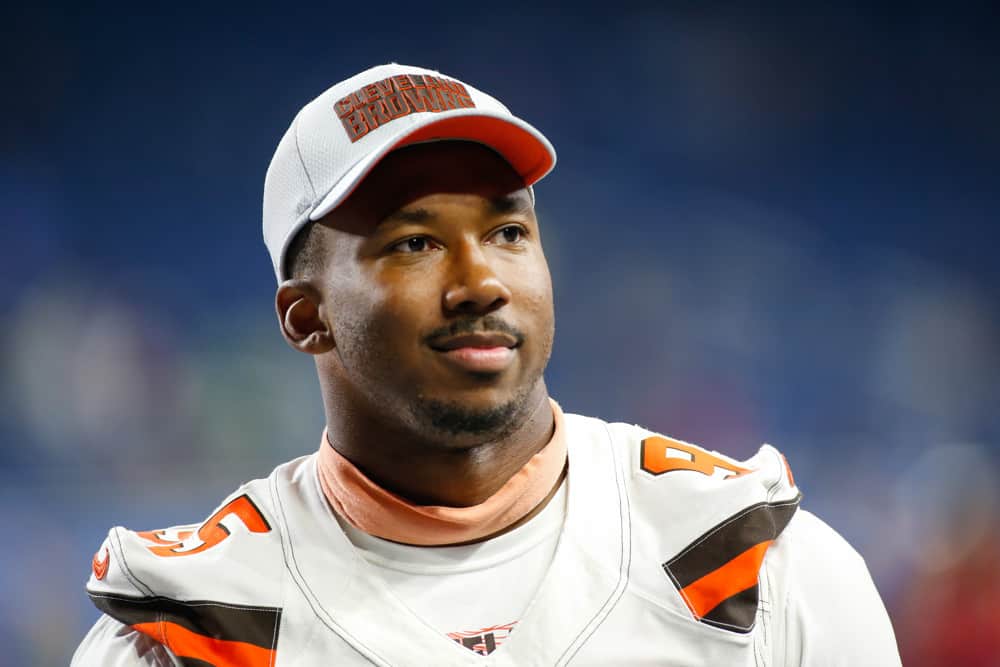 The Cleveland Browns are eager to have 24-year-old defensive end Myles Garrett back in 2020.
He missed the final six games last season after being suspended for attacking quarterback Mason Rudolph with his own helmet.
After that, Garrett will need to win back the approval of many, but is already doing good for his community.
Garrett recently helped a 24-year-old man who was injured during the May 30 Cleveland rally against police brutality.
24-year-old John Sanders was taking photos at the downtown rally when he was shot in the eye by a beanbag round and lost his left eye.
How Did Garrett Help?
Garrett heard about what happened to Sanders during the rally and wanted to help however he could.
Last week, Garrett tweeted out link to a GoFundMe page created to raise funds for Sanders.
John Sanders was peacefully protesting in Cleveland when he got shot in the eye with a lead pellet filled beanbag. After a couple surgeries, they had to remove his eye. If you can donate, here's his go fund me (directly from him). https://t.co/wF7RuXzmuM

— Myles Garrett ⚡️ (@MylesLGarrett) June 9, 2020
It was reported that after Garrett tweeted out the link that the funds raised for Sanders doubled.
Garrett reached out to Sanders afterwards and sent him some encouraging texts.
"He was just texting me about how badly he felt about what happened and how he wanted to make a difference in any way he could," said Sanders.
Sanders mentioned that it was pretty wild to go from an extreme example of police brutality to having an NFL player that is held in such high regard reach out to him and help.
It is pleasant to see a player like Garrett use his fame and incredibly large audience to help someone in need after a brutal attack.
What's Next For Garrett? 
The Browns are carrying fairly high expectations into the 2020 season after a fairly strong offseason.
They will have their cornerstone superstar pass rusher in Garrett back after he was reinstated by the league a few months ago.
Currently entering his fourth year in the league, Garrett is already one of the best defensive ends in the entire NFL.
Through three seasons he has recorded 104 tackles, 65 quarterback hits, and 30.5 sacks through 37 games with the Browns.
He collected 29 tackles, 18 quarterback hits, and 10 sacks during his 10 games before getting suspended last season.
Garrett was well on his way to breaking the franchise record for sacks during a single season, but was unable to reach that goal.
The Browns are hopeful that they can keep Garrett around in the long term.
It is rumored that Garrett is looking for an extension in the range of $25 million per season.
Cleveland Browns and Myles Garrett have engaged in contract discussions, per sources, setting the stage for a potential mega-extension this summer. The former No. 1 overall pick has two years left on his rookie deal, and Cleveland could get ahead of a pricey pass-rush market.

— Jeremy Fowler (@JFowlerESPN) June 12, 2020
That would make him the highest-paid defensive end in the league, but he is already looking like he's worth the investment.
The Browns accepted his fifth-year player option for the 2021 season, but there's a good chance he'll get extended before his contract ends.
It sounds like both Garrett and the Browns want to be together for a long time, but we'll see if the two sides can come to an agreement.