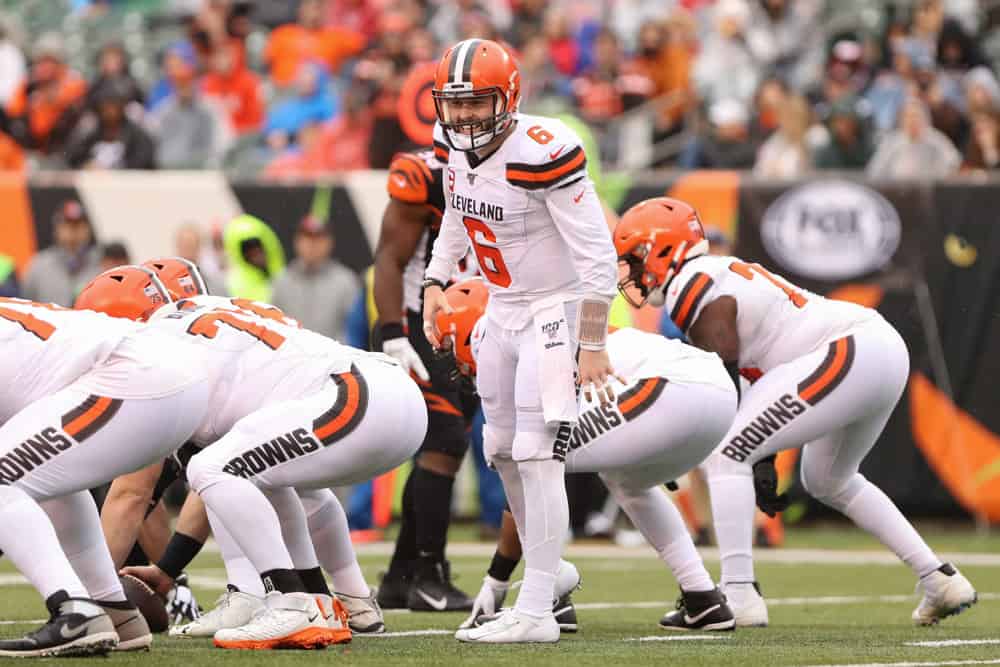 In his first year as the head coach of the Cleveland Browns, Kevin Stefanski will have the tall task of attempting to bring the Browns to the playoffs in 2020.
There is some very interesting data regarding how Stefanski will seemingly run the offense for the Browns in 2020.
Stefanski is coming from Kirk Cousins, Dalvin Cook, Alexander Mattison, Stefon Diggs, Adam Thielen, and Kyle Rudolph in Minnesota.
There, he had a well-balanced attack on the field in 2019, and he showed it with his play calls in neutral situations:
I did a deep dive on each offense's pass/run splits to aid #FantasyFootball projections.

+ Which teams will pass more?
+ Neutral situation pass rates
+ Pass rates with a lead
+ Pass rates while trailing
+ Which teams change bc of score

Link: https://t.co/VTcmYtF4Wn

Preview: pic.twitter.com/fQsRlKiUBo

— Hayden Winks (@HaydenWinks) June 8, 2020

Stefanski was in the bottom 10 in terms of how often he had Cousins passing the ball.
There were only two teams who ran the ball more often than passing, and even with Cook and Mattison, Stefanski knew that could gain more yards passing.
Overall, Cousins had 8.1 yards per pass attempt last season.
Meanwhile, Cook and Mattison registered 4.5 and 4.6 yards per rush attempt, respectively.
Did Stefanski Change his Play Calling Based on Game Situation?
Stefanski absolutely changed his play-calling depending on the game situation, and he did so more than any other play-caller.
With Cousins' lack of interceptions and strong completion percentage, Stefanski was able to lean heavily on his quarterback when the Vikings were trailing:
This shows the difference in pass rates between when an offense is trailing vs. has a lead.

The #Vikings, #Rams, #Steelers, and #Cowboys are way more reactive to the scoreboard, meaning they pass a lot more than usual whenever they are losing.

I'll be using this info for DFS. pic.twitter.com/yzvEPwusdq

— Hayden Winks (@HaydenWinks) June 8, 2020
The Vikings ranked as the largest change in passing percentage depending on the game script.
As described by Hayden Winks of Rotoworld, Stefanski made his play calls based on the score very often.
Although Stefanski was taking away carries away from his running backs, Cook said of Stefanski: "We've got a special play caller."
Will Stefanski Bring This Type of Play Calling to the Browns?
There is a strong chance that Stefanski will bring this type of play calling to the Browns.
Baker Mayfield, Nick Chubb, Kareem Hunt, Odell Beckham Jr., Jarvis Landry, and newcomer Austin Hooper plan to be the main cogs of the offense.
There will be other weapons for Mayfield as well, and this will be a very important year for him.
First-year general manager Andrew Berry, Stefanski, and Mayfield will all have a lot of pressure placed on them this year.
The three of them will be trying to lead the Browns to the playoffs for the first time since 2002.
If they can break the longest active postseason streak in the NFL, 2020 will be a success for the organization.
A divisional win would be even sweeter, but that will be a tough task for a Browns team that has to battle the Baltimore Ravens.
Baltimore finished the 2019 season with 14 wins, two more than any other NFL team.
When Cleveland eventually does win the division, it will be its first AFC North division title.
In the meantime, Stefanski will be trying to find the right rhythm with this offense.
NFL Films Senior Producer Greg Cosell believes Mayfield can be at "a really high level" in 2020.
Also, David Njoku said that "the sky's the limit" for him for the upcoming season.
With the Browns having two players on the Pro Football Focus top 50 list, Cleveland has Chubb and Myles Garrett dominating the offensive and defensive sides of the ball, respectively.
If Stefanski can utilize Mayfield and Chubb effectively and trust his play calling, then the Cleveland offense should be in great shape in 2020.