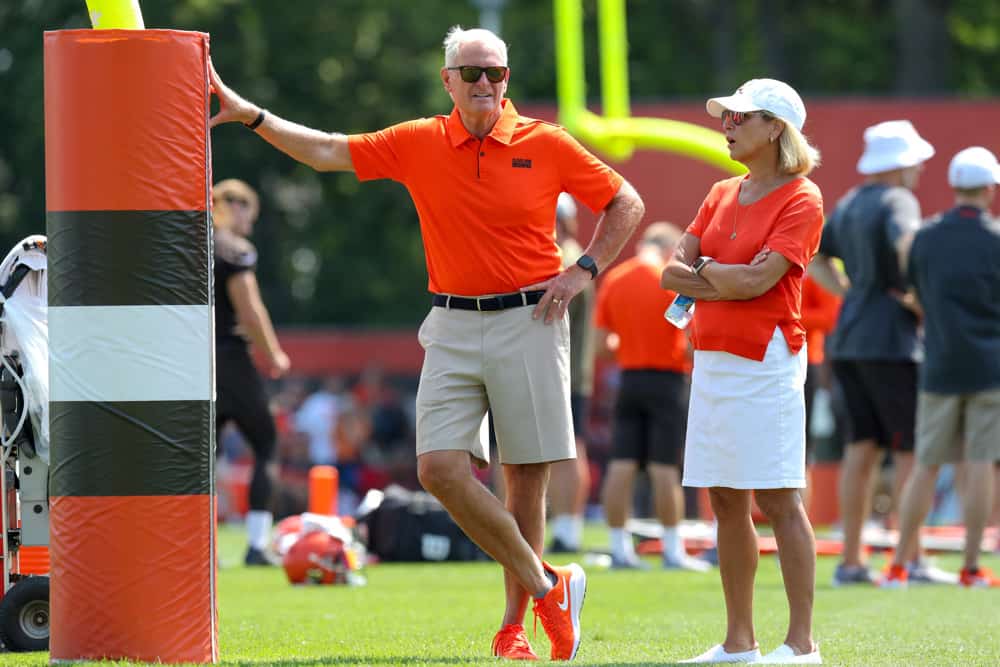 Cleveland Browns owners Jimmy and Dee Haslam said they plan to support quarterback Baker Mayfield, who said he plans on kneeling during the national anthem to protest police brutality and systemic racism.
The Haslams held a media session with reporters on Sunday using Zoom.
"One of the great things about this country, one of the many great things, is the ability to have freedom of speech and being able to express yourself," Jimmy Haslam said. "So we are going to support our players.

"At the same time, I think that all too much attention is called to whether somebody kneels or stands or what their statement is and not nearly enough attention is called to what they do afterwards. And so, Dee and I can issue some great statement, but what you all really ought to look at is what ourselves, our coaches, our players are doing the rest of the week — if you will — to make this country a place country a better place to live, work and raise a family."
The Haslams said they are prepared for potential backlash from fans.
"I think one of the unfortunate things in the country today is that there's not enough thoughtful dialogue, right?" Jimmy Haslam said. "'Baker, tell me why you think it is important?' Or if so-and-so is not kneeling, 'tell me why you're not kneeling.'

"There's just all this condemnation from one side versus the other rather than everybody trying to understand, 'Well, why is that important to you, Baker?' You're a thoughtful young man. You understand the ramifications,' and so we're going to be fully supportive of our players no matter what they decide to do. And, we just ask that as a country, we have a lot more thoughtful dialogue."
Dee Haslam advocated for people to listen and learn from each other, citing general manager Andrew Berry's launch of the "Be The Solution" racial justice initiative.
"The biggest part of that was listen and learn," Dee Haslam said. "Listen to each other instead of just throwing somebody under the bus for not wanting to believe the way you want to.

"That's what makes our country great is we can be different and we can have different beliefs, but be respectful about that. And, somewhere along that line, we completely lost that respect and just the civil discourse, it's gone. And hopefully, we can get that back, and maybe we can be an example of that."
On Friday, Mayfield reaffirmed he would kneel during the national anthem when the Browns open their season on Sept. 13 against the Baltimore Ravens.
"Right is right and wrong is wrong. It's a human rights issue. It's been going on for a long time and I believe in that," Mayfield said. "It's nothing against the military, anyone who served.

"Anybody that knows my history knows I completely support the military and people that serve our country for the right reasons and do it for justice. The people that don't know that, that's OK. Just take your time. Take a second to get to know me. It's a human rights issue. There's right and there's wrong."
Former San Francisco 49ers quarterback Colin Kaepernick began kneeling in 2016 during the national anthem to protest police brutality and racial injustice.
Kaepernick, 32, has not played in the NFL since leaving the 49ers at the end of the 2016 season when he went 1-10 as the starter.
Blaine Gabbert beat out Kaepernick as the starter to begin the 2016 season, but got benched by coach Chip Kelly after the 49ers started the year with a 1-4 record.
In February 2019, the NFL reached a settlement with Kaepernick and former teammate Eric Reid believed to be worth less than $10 million.
Kaepernick and Reid claimed league owners blackballed them for protesting by kneeling during the pregame playing of the national anthem.
It's unclear what kind of impact — if any — on-field player protests will have on TV ratings in 2020.
The kneeling debate could again become a contentious issue among football fans, especially with the Nov. 3 presidential election approaching.
The NFL's TV ratings plunged double digits after Kaepernick's protests.
However, there could be a pent-up demand for football because most sports were canceled for months because of concerns related to the ongoing coronavirus pandemic.
The Haslams said the Browns have put a lot of time, resources and effort in hopes of allowing 20% capacity of fans this fall at FirstEnergy Stadium.
"We feel good about that opportunity," Jimmy Haslam said. "Obviously, the final decision is up to the governor, but we're ready and excited to go, and I think the city of Cleveland feels the same way."
Dee Haslam said the Browns staff has put time into making FirstEnergy Stadium "as safe as it can be."
The Haslams said they miss the fans after the team held its first full practice on Friday.