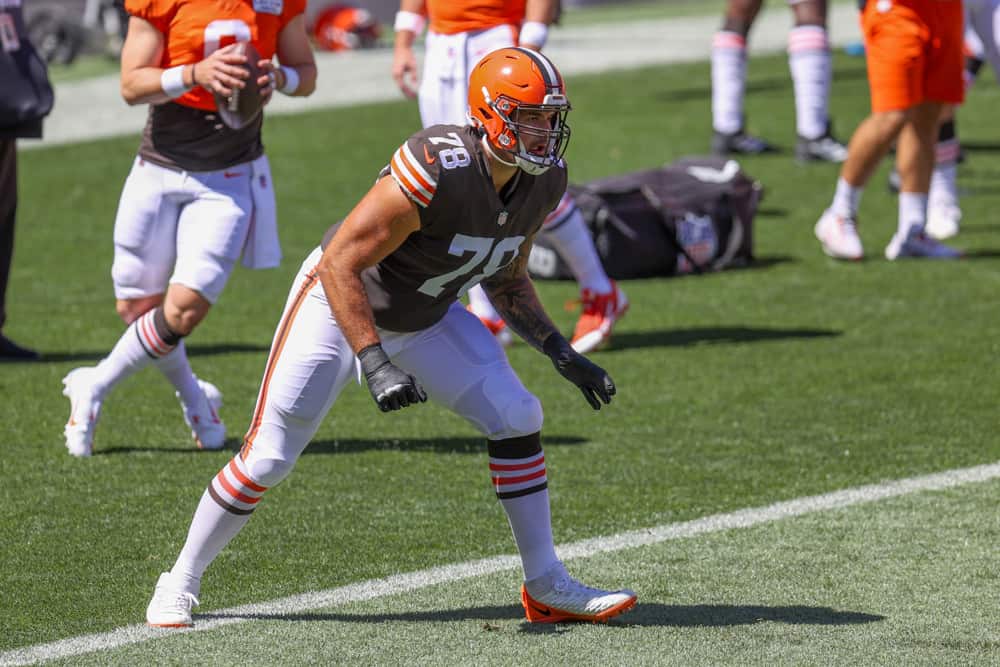 It appears Jack Conklin remains a big part of the Cleveland Browns' plans for 2022.
Andrew Berry first signed Conklin to a 3-year deal before the 2020 season.
The big right tackle followed through with an All-Pro season in Kevin Stefanski's first year at the helm.
The Browns and RT Jack Conklin have agreed to a reworked final year of his deal, per source.

Conklin was due a $12M non-guaranteed salary, but will now earn an $8M fully guaranteed salary, with $4M in play-time incentives starting at 55% and up to 75%.

— Field Yates (@FieldYates) February 26, 2022
But a pair of serious injuries limited Conklin to just 7 games last season.
And his second injury opened questions as to his availability for next season.
Torn patellar tendons can take up to a full year to heal, and Conklin tore his in late November.
#Browns RT Jack Conklin was already ruled out with what appears to be a serious knee injury.

— Ian Rapoport (@RapSheet) November 29, 2021
But Conklin's agent, Jack Rosenhaus, recently told reporters his client's rehab was ahead of schedule.
When asked if Conklin would be ready for opening day, Rosenhaus told Cleveland.com,
"Absolutely. Jack is doing great."
And his new deal indicates Conklin and the Browns believe that to be the case.
Conklin, Browns Bet on Healthy 2022
At first glance, it appears the Browns are hedging their bets against a slow return by Conklin.
However, they are actually taking a bigger chance on the health of their key offensive lineman.
Conklin's original contract paid him a non-guaranteed $12 million for 2022.
Cleveland could have cut him after June 1st and saved that amount of money.
If Jack Conklin can't go for the #Browns on Thur vs Denver James Hudson would get the start vs Von Miller who is ranked 10th among edge rushers @PFF. James Hudson has a PFF grade of 47.3 that would make him the 75th graded tackle in the league. Conklin ranks 3rd with a 82.5 grade

— Browns Stats (@CLEbrowns_stats) October 20, 2021
Berry extended a new offer of $8 million, plus simple playing time incentives worth up to $4 million.
Not only can Conklin earn the full $12 million if he plays 13 games this year, but there is more.
Conklin's base salary, the $8 million, is now fully guaranteed.
The advantage to the Browns is $4 million in salary-cap space opened up by the re-worked deal.
What It Means To The Browns 
Andrew Berry and the Browns appear convinced Jack Conklin can return to form in 2022.
The deal should diminish projections of moving Jedrick Wills to the right side in favor of a free agent or draftee.
The additional $4 million in cap space gives Berry more options in free agency.
But it also makes more funds available to re-sign and extend his current roster.
Jack Conklin 'ahead of schedule' to start right away in 2022, Derek Carr still has all of his options on the table for next season: #Browns Takeaways https://t.co/OXbc89CFdg

— Mary Kay Cabot (@MaryKayCabot) February 2, 2022
Jadecveon Clowney and Anthony Walker are pending free agents, as is swing tackle Chris Hubbard.
And an extension for cornerback Denzel Ward is probably high on Berry's "to do" list.
But as Berry sweats out the financial aspects of the new deal, Kevin Stefanski and Bill Callahan breathe easier.
Because Jack Conklin's return to right tackle gives the offense a huge boost heading into the new season.