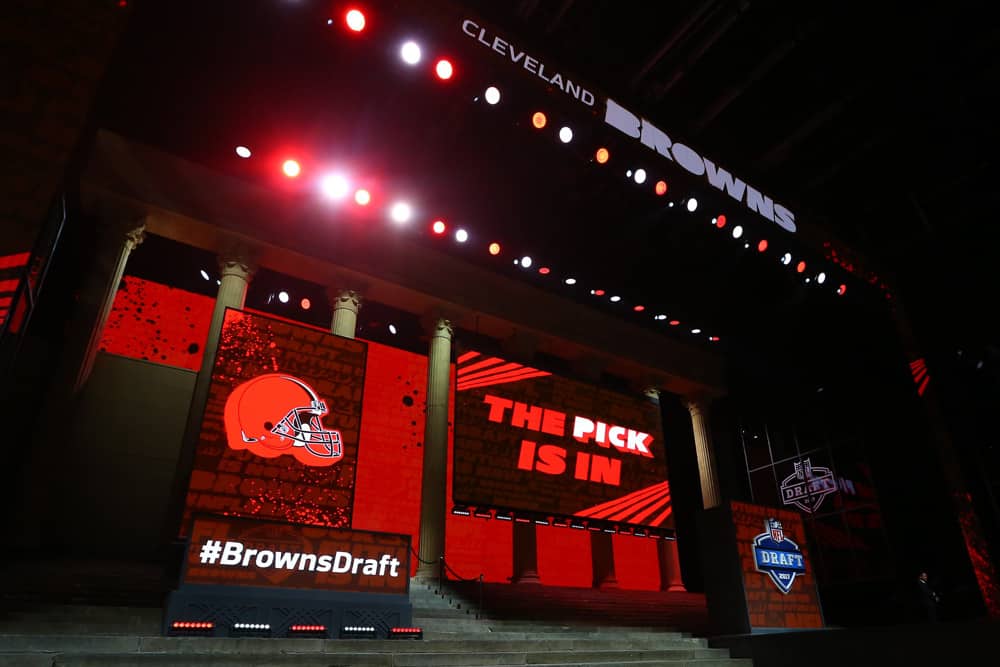 A year ago at this time, the Cleveland Browns were still basking in the glow of their first playoff appearance in nearly 20 years.
Even better, they had vanquished division rival Pittsburgh for their first postseason victory since 1994.
Quarterback Baker Mayfield was also being celebrated for turning around an ugly 2019 season and leading the Browns with authority in 2020.
By the summer of 2021, the talk about a new contract for Mayfield was in full swing.
Which QB deserves the next monster contract extension?

🔁 Lamar Jackson
❤️ Baker Mayfield pic.twitter.com/k8ErnpGyo5

— PFF (@PFF) August 6, 2021
In the minds of many, he had proven himself as the leader of the Browns.
Therefore, Mayfield should be paid handsomely for his efforts.
However, discussions about a new deal were shelved before the 2021 season.
All Mayfield had to do was put together another season like he did in 2020 and he would get his money.
That didn't happen.
Baker sustained a serious shoulder injury in Week 1 against the Chiefs and the season soon fell apart.
By the end of '21, he was being skewered by the local and national media as well as by Cleveland's own fan base.
Although they have not openly admitted it, Browns' management must be breathing a huge sigh of relief that they did not give Mayfield a hefty raise last summer.
Now, the tough question for team management is, should they select a quarterback in the 2022 NFL Draft?
Buy: Why Cleveland needs to Draft a Quarterback in 2022
Mayfield's regression in 2021 was startling.  To be fair, he was struggling with several injuries throughout the year.
Mayfield was also giving it the old "college try" in trying to play through his injuries.
"He is not going to be the Baker Mayfield that we have seen when it comes to the accuracy."@danorlovsky7 demonstrates how Baker's shoulder injury is going to impact his game. pic.twitter.com/78ZpeUeya9

— NFL on ESPN (@ESPNNFL) October 7, 2021
However, the more he played, the worse he appeared to get.
He was tentative, skittish, missed open receivers, and made terrible throws.
Mayfield's play is understandable given his injuries.
But he continued to drive home the message that he was the starter no matter his performance.
By the end of the season, Mayfield had easily the worst statistical season of his career.
He had his lowest passing yardage (3,010), lowest touchdown passes (17), lowest quarterback rating (35.1%), and lowest passing yards per game (215.0).
Mayfield did miss two games, but the results don't lie.
In a perfect world, he will come back stronger than ever after his recent surgeries and rehab.
Mayfield might even look as good in 2022 as he did in 2020.
The issue is, can Cleveland take that chance?
Baker had such a bad year that his teammates were drastically concerned and some turned against him.
Baker Mayfield on the current OBJ rumors 👀 pic.twitter.com/ZXbzvxLA3T

— PFF (@PFF) November 3, 2021
When he played, Mayfield was actually a detriment to the team.
The Browns can not continue driving a wedge in the locker room when it is already loaded with great players.
Another off-year can easily doom the franchise going forward.
To help alleviate the pain, the Browns should draft an insurance policy in 2022, assuming they don't make a QB move in free agency.
When should the Browns Select a QB in the Draft?
To be clear, the organization shouldn't throw away a late-round pick on a quarterback.
With the situation they're in, Cleveland must make a move before the fourth round, at least.
In my mock draft last month, I grabbed Liberty University quarterback Malik Willis in the second round with the Browns' 44th pick.
Willis most likely won't be available at that position in the actual draft.
However, if he is, the Browns could do a lot worse than add this dual-threat playmaker.
Admittedly, drafting a quarterback in the second round means the team doesn't add an edge rusher or defensive lineman, which are two other positions of great need.
Although, if a player such as Willis, or University of Nevada's Carson Strong, Desmond Ridder of Cincinnati, or even North Carolina's Sam Howell is available at Cleveland's second or third-round selection, strong consideration needs to be given.
Cleveland Browns :

While everyone here worries about
…Baker THIS and That
……I'm concern with PIT QB choice

Rumor's are pointing towards Cin Bearcats QB Desmond Ridder
…this kid is 6'4'' 220 with a loaded rocket and apparently ready to start

…can we say Burrow/SB pic.twitter.com/dIgU01gXwL

— al (@al_asifyouknow) February 3, 2022
Drafting a quarterback this high means that the player (according to the franchise) has a skill set that can be developed quickly if needed.
Furthermore, drafting in the second or third round means not paying first-round money.
If anything, the competition for Mayfield could prove beneficial.
It will trigger his competitive juices and drive Mayfield to prove to the world he's a starting NFL QB.
#Browns Baker Mayfield: Your future 2022-23 NFL Comeback Player of the Year.

Take it to the bank!
Bless'm Poss'm #RallyPossum pic.twitter.com/FhdDbyw0xj

— Browns Rally Possum (@Browns_Possum) January 11, 2022
Should he falter, or get injured, the new signal-caller can come in and show why he was a good investment.
On the flip side, a highly drafted competitor might cause Baker to sulk and produce a new batch of tweets from Emily Mayfield about why her husband is being treated unfairly.
However, there's nothing better than holding one's feet to the fire to see how they respond.
This can only help the Browns in the long run.