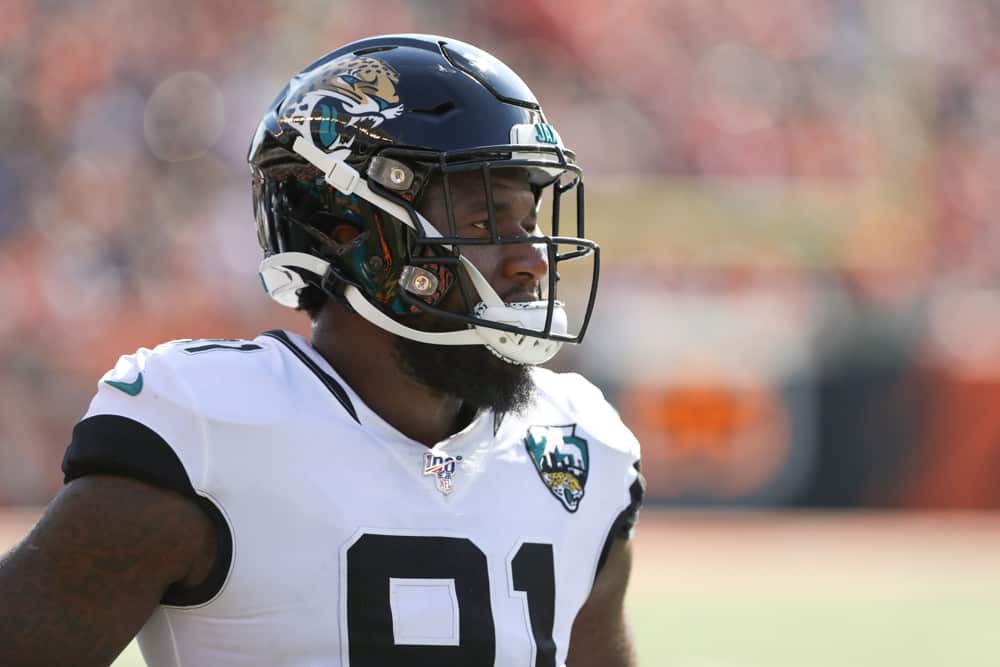 On Sunday, Jacksonville Jaguars defensive end Yannick Ngakoue was dealt to the Minnesota Vikings.
The Cleveland Browns were reportedly interested in Ngakoue, but now it appears it's too late.
Minnesota gave up a fairly hefty package in order to acquire Ngakoue.
Jaguars agreed to trade franchise DE Yannick Ngakoue to Minnesota for a second- and conditional fifth-round pick that could go as high a third-round pick, league sources tell ESPN. Ngakoue still has to sign his tender, but trade is in place and Ngakoue is expected to be a Viking.

— Adam Schefter (@AdamSchefter) August 30, 2020
The 25-year-old pass rusher was desperate to get out of Jacksonville and finally was granted his wish.
Ngakoue is on a one-year deal, so giving up a second-round pick and possibly a third-round pick is quite high for someone who needs to be re-signed as well.
Minnesota believes it was worth the risk, but they weren't the only team interested in Ngakoue.
Browns Wanted Ngakoue
The Vikings ended up landing Ngakoue, but it appears the Browns made a run as well..
League sources told cleveland.com that Ngakoue had significant interest in playing for the Browns.
He took a substantial paycut in order to get the deal done with the Vikings.
Ngakoue was due $17.8 million for the 2020 season, but will end up making $13.5 million instead.
Ngakoue's franchise tender is $17.8 million but I'd expect that number to drop somewhere in the 12-13 range with a restructure on the one-year deal for the DE. Minnesota will then have the ability to offer Ngakoue a long-term deal in 2021 since he didn't sign his tender by July15

— Courtney Cronin (@CourtneyRCronin) August 30, 2020
However, it sounds like Ngakoue would've actually taken less money to play for the Browns.
Sadly, Ngakoue was changing representation during this time and it made the negotiation process challenging.
The deadline to extend franchise players had already passed by the time Ngakoue had changed agents.
The Browns might not have given up multiple draft picks without knowing whether or not Ngakoue would stay longer than the 2020 season.
Can The Browns Survive Without Ngakoue?
Landing Ngakoue would've been great for the Browns, but they don't necessarily need him.
Cleveland has Myles Garrett who is one of the best pass rushers in the entire league.
Then on the other side, Cleveland has Olivier Vernon who is coming off a rough 2019 campaign.
There was speculation that the Browns might cut Vernon this offseason, but they restructured his contract instead.
The #Browns and Olivier Vernon agreed to a restructured contract that fully guarantees him $11 million this year — including a $4M signing bonus and $6.75M salary — plus up to $2M in incentives and a no-tag clause that ensures he's a free agent next March, per source.

— Tom Pelissero (@TomPelissero) July 7, 2020
The Browns were linked to Jadeveon Clowney and Ngakoue throughout the offseason, but restructuring Vernon's contract likely meant they were out on both.
Clowney's contract demands were somewhere around $17 million a year, which was too high for Cleveland.
The fact Cleveland wouldn't be able to extend Ngakoue right away likely scared them away from that deal.
At the end of the day, Cleveland should be fine with Garrett and Vernon at defensive end.
Both players have been performing well in camp, so hopefully that carries over to the regular season.
Time will tell if the Browns made a mistake by not pulling the trigger on the Ngakoue deal.
However, it sounds like Cleveland will be just fine with their current options going into the 2020 season.