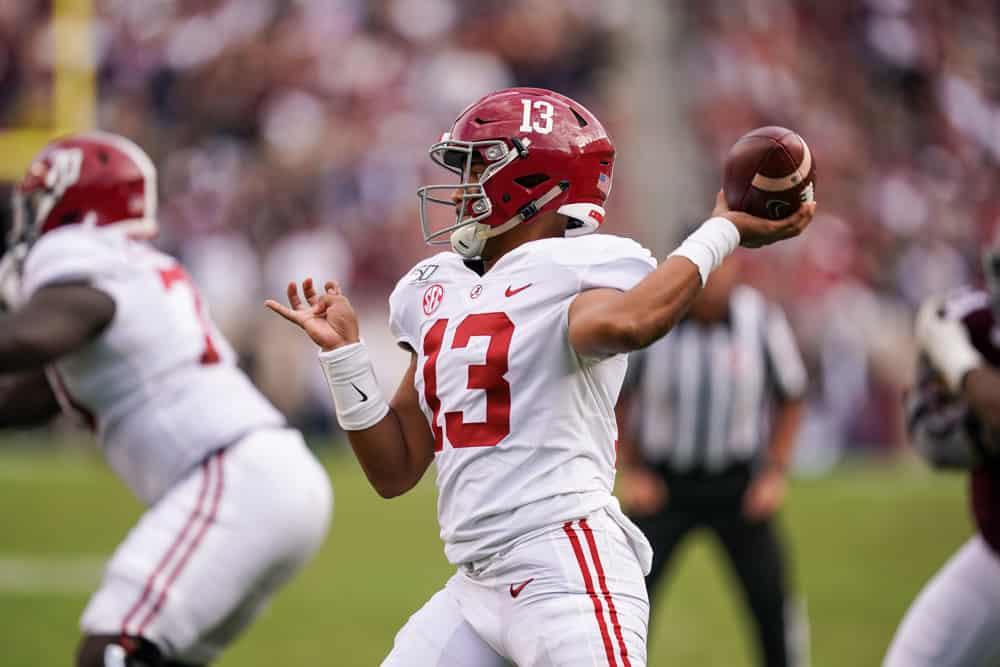 Despite an already talented roster, there are needs the Cleveland Browns will need to fill at the 2020 NFL Draft.
On Monday, Alabama quarterback Tua Tagovailoa declared for the draft.
Breaking: Alabama QB Tua Tagovailoa will enter the 2020 NFL draft. pic.twitter.com/8MA1mcARLf

— SportsCenter (@SportsCenter) January 6, 2020
How does this help the Browns?
Simple.
Cleveland already has their starting quarterback of the future in Baker Mayfield.
Since Tua is a top-ten draft prospect, this should allow for more skill position players, and offensive linemen, to be available when the Browns are on the clock in April.
The Browns primary focus should be offensive tackle, but more on that in a second.
The official @NFL 2020 Draft order for the teams whose seasons ended Sunday. pic.twitter.com/PFhUN8wjiU

— Ian Rapoport (@RapSheet) December 30, 2019
Joe Burrow of LSU will likely go to the Cincinnati Bengals who have the number one overall pick.
That is all but set in stone at this point.
Picks two through four, which includes Washington, Detroit, and the New York Giants, will more than likely not see a quarterback go off the board.
That brings us to the Dolphins with the fifth pick.
Ryan Fitzpatrick is a journeyman quarterback at this point in his career and nothing more.
The latest CBS Sports mock draft has them selecting Tua with their pick and I expect the same thing to happen.
That leaves Justin Herbert from Oregon as the only other expected top-ten quarterback in the class.
The Chargers may be looking to select him with an aging Phillip Rivers as their only legitimate option right now.
Kyle Allen was mediocre for Carolina and Cam Newton has seen better days, so they may be in on Herbert as well if LA does not take him.
So with at least three selections ahead of the Browns being non-targeted positions, the team has more room to work.
Top tackles in this draft include Andrew Thomas, Austin Jackson, and Jedrick Willis.
The Lions and Giants will likely select two of these guys as both teams are also in desperate need for offensive line help.
Every week Andrew Thomas is making things happen for the run game pic.twitter.com/Jj6IKZG1Nd

— Connor Rogers (@ConnorJRogers) November 25, 2019
A name to keep an eye out for in the early rounds at Tackle is Austin Jackson #73 for USC. Watching him handle AJ Epenesa (projected #2 DE) really well. A little raw but giving AJ fits. pic.twitter.com/NNvOWAAn82

— Anthony Tomaino (@AnthonyNYGiant) January 7, 2020
True sophomore RT Jedrick Willis Jr. blowing open the frontside DE with crazy torque and rotational strength: pic.twitter.com/JntyvSpMEA

— Brandon Thorn (@BrandonThornNFL) March 19, 2019
However, even if all three disappear, other guys like Mekhi Becton and Tristan Wirfs are also deemed top-ten worthy on some mock drafts.
Of those five names, at least one or two should be available by the time Cleveland's pick rolls around.
Mekhi Becton is a mountain of a left tackle. The Louisville Junior goes 6-7, 370, and plays with the power you'd expect from someone that large. pic.twitter.com/vSYJL6vqJ5

— Travis Wingfield (@WingfieldNFL) October 19, 2019
Went though a ton of Tristan Wirfs run blocking reps this AM

Love his demeanor – strong, nasty, pretty athletic. TBD if he declares but the top 20 hype is warranted pic.twitter.com/HhFv7EXRqX

— Connor Rogers (@ConnorJRogers) December 24, 2019
Although unlikely, there is a chance the Browns go with someone outside of offensive tackle if there is another clear best-player available on their board.
If a stud corner like Jeffrey Okudah or Trevon Diggs is available, they could go there and move Greedy Williams to a nickel corner role.
Damarious Randall will also more than likely be out of Cleveland going into next season, so a safety like Isaiah Simmons is not out of the realm of possibilities either.
There does not appear to be a plethora of high-graded linebackers in this draft class, although another edge rusher alongside Myles Garrett would be a plus.
Olivier Vernon was good but not great this season, so if A.J. Epenesa falls that far in the draft the Browns could very well select the Iowa product.
In the end, the Browns should still go offensive tackle in my opinion, as keeping Baker Mayfield upright and healthy is a top priority.
However, as mentioned, this team has plenty of other needs as well.