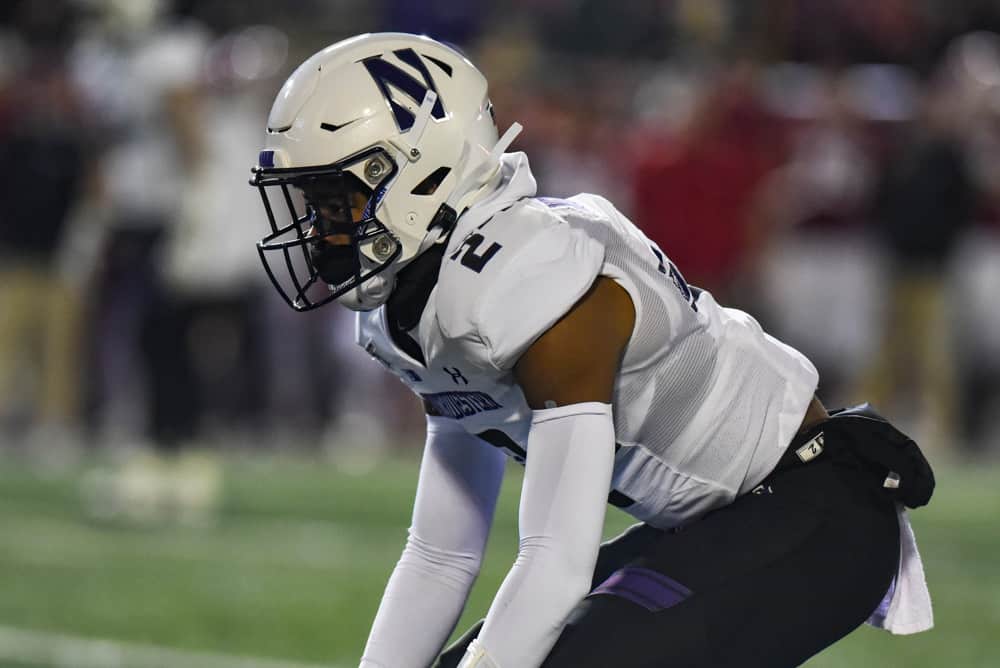 Cornerback Greg Newsome II remains one of 2 unsigned members of the Cleveland Browns 2021 NFL Draft class.
And now comes word he is in the market for a new agent.
Sports Business Journal's Liz Mullen reported that Newsome dropped the CAA firm this past Friday.
Cleveland Browns 1st round pick CB Greg Newsome II has left CAA Sports & is currently without an NFL agent. 

Newsome, the No. 26 pick in this April's Draft, made the change Friday. He cannot sign with a new agent yet. He is in the NFLPA's 5-day waiting period.

— Liz Mullen (@SBJLizMullen) June 7, 2021
Newsome did not make any announcement about the matter, nor did CAA.
The NFL Players Association requires a 5-day waiting period before Newsome can hire a new agent.
Newsome is free to sign a contract without an agent in the meantime.
Cleveland's first-round draft pick attended OTAs and is expected in minicamp next week.
#Browns LB Jeremiah Owusu-Koramoah has signed his rookie deal.

CB Greg Newsome II and WR Anthony Schwartz are the remaining players yet to sign.

— Camryn Justice (@camijustice) June 4, 2021
The deadline to sign a contract is before training camp in late July.
Rookie contracts are largely a pre-stamped agreement, with little room for negotiation.
There is no indication Newsome is unhappy with the team or is thinking of holding out.
Any theories as to why he cut ties with CAA is speculation at this point.
Could There Be a Problem in Negotiations?
Newsome is expected to decide on a new agent or to represent himself quickly.
There has been no indication of tension or problems between the player and team.
It is possible Newsome simply wants to represent himself.
Or that he wanted his agent to finalize the deal before now.
And negotiations under the recent collective bargaining agreement leave little room for controversy.
News Updates: Anthony Walker says 'it's going to be hard' for WRs to make catches vs. CB Greg Newsome II

📰 » https://t.co/rCRPoVSPEL pic.twitter.com/PT10EHWeNG

— Cleveland Browns (@Browns) June 2, 2021
Structuring the signing bonus and any offsets Cleveland desires could be sticking points.
Offsets help teams recoup losses if a player with a guaranteed contract signs with another team after release.
Newsome is very interested in social causes and could be wary of limits in his activism.
But that seems unlikely given the Browns' history of support and their own actions in that regard.
Newsome could give more importance to an agent's ability to promote his activities outside football.
How Could This Impact The Browns? 
Newsome has been participating in all aspects of the preseason to date.
He is expected to complete the OTAs and minicamp this month with his teammates.
There is no reason to expect he will not be under contract before the training camp on July 27.
Even if there is a contract issue, players and coaches generally support each other in those matters.
Therefore, it seems highly unlikely Newsome's agent decision will have any impact on the 2021 Browns.
Ayo I'm a CLEVELAND BROWN 🧡🤎

— Greg Newsome II (@gnewsii) April 30, 2021
Changing agents might not be common at this point in a player's career.
But it is not usually a big deal whenever it happens.
Newsome can sign another agent, or re-sign with CAA, before next weekend.
Whether he does or not will matter little as he helps the Browns rebuilt defense this season.