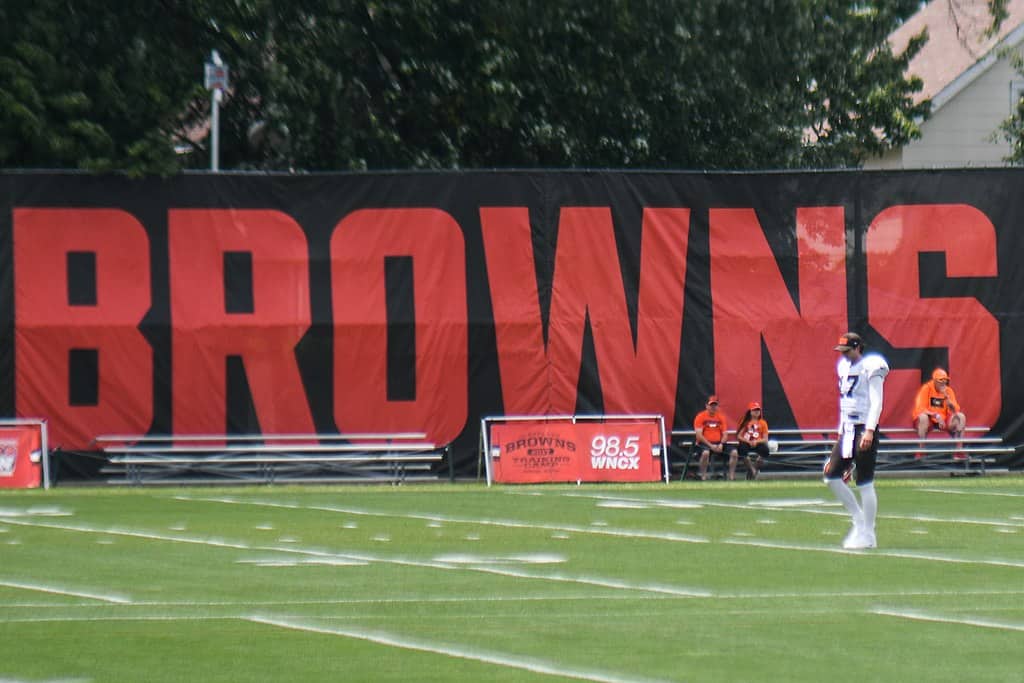 In a positive development since the outbreak of COVID-19, the Cleveland Browns are having a rookie minicamp this weekend.
This did not happen in 2020.
The minicamp will be a scaled-down version of those run in previous years.
Day 1 of 2021 Rookie Minicamp ✅

Best 📸 » https://t.co/AvSGbmDnkJ pic.twitter.com/rUxnUZv3x5

— Cleveland Browns (@Browns) May 14, 2021
Here are the details.
18 Players Will Attend.
The attendees will be 8 draft picks, 5 undrafted free agents (UDFAs), 3 tryout players, and 2 players on the roster who are not rookies but are considered first year players.
This is significantly less people; in previous years, there were dozens of players trying out for the team.
Here is the list of attendees.
Draft Picks
CB Greg Newsome II
LB Jeremiah Owusu-Koramoah
WR Anthony Schwartz
T James Hudson III
DT Tommy Togiai
LB Tony Fields II
S Richard LeCounte III
RB Demetric Felton
UDFAs
RB Tre Harbison (Charlotte)
DE Romeo McKnight (Charlotte)
CB Emmanuel Rugamba (Miami, OH)
CB Kiondre Thomas (Kansas State)
DT Marvin Wilson (Florida State)
Tryout Players
WR Johnnie Dixon (Ohio State)
QB Josh Love (San Jose State)
QB Riley Neal (Ball State)
Roster Players
DT Malik McDowell
TE Kyle Markway
Scheduled Activities Throughout The Weekend.
Beginning on Friday (May 14), there will be meetings and daily on-the-field sessions running through Sunday, May 16.
Coach Stefanski is happy that this cornerstone event for rookies is back on the schedule in 2021.
"It is a big step in their maturation is getting them here. We will get our guys here, plan on getting the rookies and the free agents here, get them out on the field, a lot of meetings and a lot of walkthroughs and then some field work."
Minicamp Player Update: Tony Fields II
Stefanski said Tony Fields has a foot injury and will be sidelined a few weeks but "nothing long term."

— Zac Jackson (@AkronJackson) May 14, 2021
Fields reported to minicamp with a foot injury.
He is expected to be sidelined for a few weeks, but the injury does not require surgery.
Fields signed his four-year rookie contract on Thursday, May 13, valued at $3.81 million.