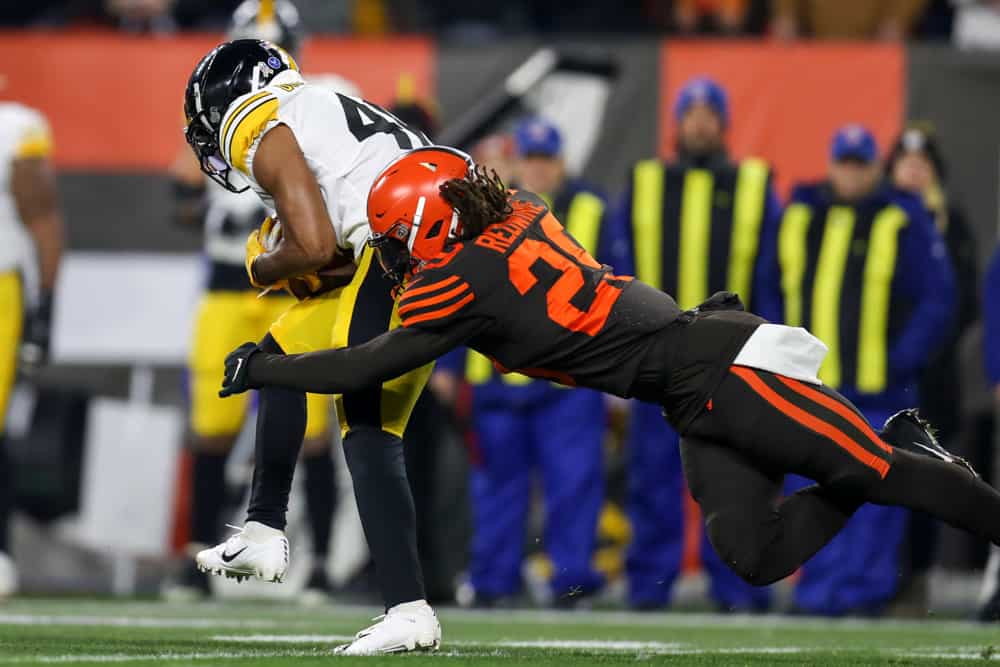 In a recent press conference, Cleveland Browns 2nd year strong safety Sheldrick Redwine opened up to the media about his upbringing and experience as a black man in America.
He was frank, and it was immediately apparent why Coach Stefanski asked him in the offseason to be a member of the team's Social Justice Committee.
Here are a few takeaways from Redwine.
1. Redwine is motivated by his relatives.
Sheldrick Redwine on being on the Browns' social justice group: "I have a voice that I should use to try to bring change about."

Said his grandfather had an uncle murdered by the KKK and that he was deeply influenced by his grandfather's stories of injustice.#Browns

— Hayden Grove (@H_Grove) August 28, 2020
He talked about his grandfather, Cedrick Pratt, sharing stories with him as a young boy in Miami.
From a young age, he knew the story of his grandfather's uncle.
Cedrick Pratt's uncle was murdered by the Ku Klux Klan.
To pay it forward, Sheldrick has started a foundation in his great grandmother's name.
The mission of the Gloria Redwine Foundation is to teach inner-city kids life skills that extend beyond football.
Redwine admits some kids only have football as their plan, and he was one of them.
He wants to help kids develop an interest and knowledge in things that he is only learning himself as an adult: meditation, financial literacy, and investing.
2. The Social Justice Committee
#Browns S Sheldrick Redwine is just 23-years old, but he is speaking incredibly movingly right now about the moment we in America are in. He talks about action, and accountability and as for his role to speak, he says, "If you live this, you have a voice that can be heard."

— Aditi Kinkhabwala (@AKinkhabwala) August 28, 2020
Redwine is honored that Coach Stefanski asked him to be a member of the committee.
He admits it is a difficult and frustrating time to be a black man in America.
His white teammates don't always understand the racial profiling he experiences as a black man with tattoos and dreadlocks.
Talking with them and educating them helps.
Redwine also hopes that in a larger context the nation gets a plan and goes to action on racial injustice.
It has been going on so long despite repetitive attempts to enact change.
When asked if the team's social justice committee discussed boycotting games as parts of its plan, he said that was not an option on the table.
3. Redwine's Quarantine Time
Redwine has a reputation for seeking out and sharing motivational video clips and words.
During the quarantine, he sent them to Browns DB Coach Howard and about 20 other people on a regular basis.
He honed in on material from Eric Thomas and Steve Harvey.
Redwine wants to learn from others who have succeeded.
His reading material during quarantine included neuroscience and financial-related topics.
4. Football Questions
Training Camp INTs
Redwine was asked why there have been so many interceptions in the first 10-12 days of camp.
He said the defense is anticipating and running for the ball.
When that is done repeatedly, good things happen.
Grant Delpit
Redwine saw Delpit's injury happen.
He said it was devastating to watch and almost brought him to tears.
Redwine will keep in touch with his teammate and try to keep him inspired during his recuperation.
Kevin Stefanski
He has high praise for his new head coach.
Redwine says that Stefanski has set a positive tone during a training camp that is anything but normal.
Stefanski has told the team to keep working; all teams in the NFL are dealing with the same issues.
The team that manages them the best will be the most successful.