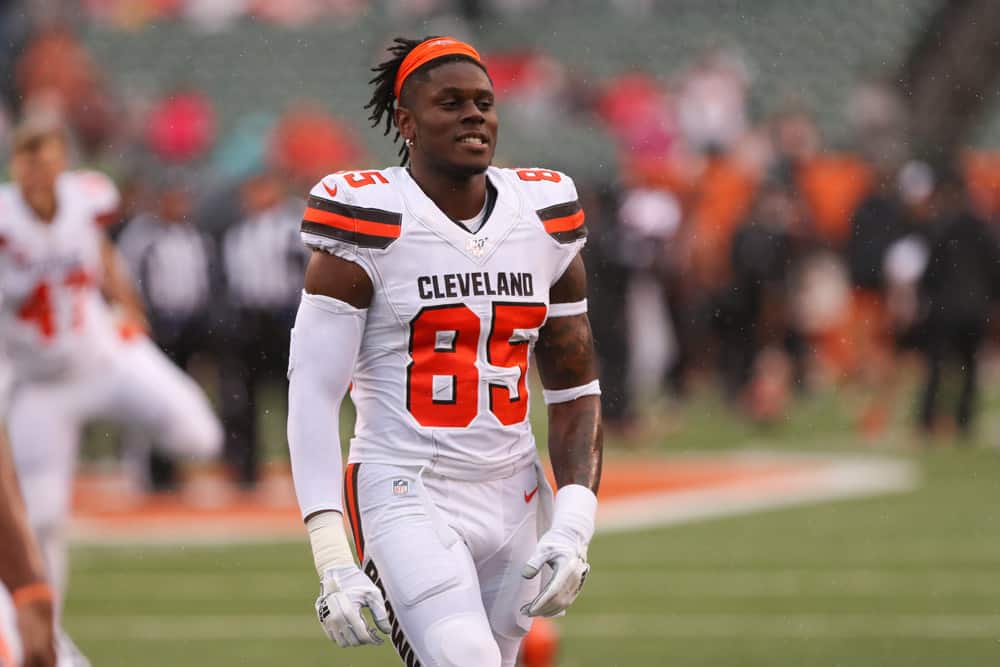 The 2020 NFL Draft has concluded and the Cleveland Browns have addressed multiple areas of concern over the last couple of days.
However, the Browns left some people confused when they selected tight end Harrison Bryant in the fourth round.
Cleveland already signed Austin Hooper to the biggest contract for a tight end ever during the offseason.
Plus, the Browns have former first-round pick David Njoku on the roster as well.
Despite some rumors that Njoku might be the odd man out, it sounds like the Browns plan to keep him involved in their offense in 2020.
What Should the Browns Do?
Having too much talent can sometimes be a good thing, but it could hurt the growth and development of young players.
Browns general manager Andrew Berry says he plans to keep Njoku on the roster and involved in the offense.
"We still have a ton of belief in David," Berry said of Njoku in his post-draft teleconference. "He's a guy with outstanding physical tools. We still think the future's very bright for him. We see David as part of our long-term plans".
Head coach Kevin Stefanski believes he can incorporate all three tight ends into an effective system.
"I really think there's a way to get all these guys on the field, sometimes at the same time,'' he said. "Sometimes not. There's versatility in that position. Being able to move guys around the formation is a very big deal. … Sometimes you go into a game and you like to keep them in their base scheme three linebackers on the field, keep them out of their nickel sub-packages, which can a lot of times bring some exotic pressure.''
It appears the Browns have no plans to move on from Njoku despite him being unable to live up to expectations.
Instead, Cleveland plans to use a three-headed monster at tight end in 2020.
New look #Browns offense:

QB: Baker Mayfield
RB: Nick Chubb
RB: Kareem Hunt
WR: Odell Beckham Jr.
WR: Jarvis Landry
TE: Austin Hooper
TE: David Njoku
LT: Jedrick Wills
LG: Joel Bitonio
C: JC Tretter
RG: Wyatt Teller
RT: Jack Conklin
——-
HC: Kevin Stefanski
OC: Alex Van Pelt

— NFL Update (@MySportsUpdate) April 25, 2020

Stefanski often used a similar type of format when he was the offensive coordinator in Minnesota.
The second tight end on the roster saw more targets than the No. 3 receiver during the 2018 and 2019 season.
Who is Harrison Bryant?
Bryant won the Mackey Award for leading the nation in receptions and yards by a tight end in 2019.
He spent four years at Florida Atlantic and Bryant's numbers got better each season.
Bryant made a name for himself during his sophomore season when he hauled in 32 receptions, 408 receiving yards, and five touchdowns through 10 games.
He came back and topped that his junior year with 45 receptions, 662 yards, and four touchdowns through 12 games.
Bryant went full beast-mode his senior season hauling in 65 receptions, 1,004 yards, and seven touchdowns during 13 games in 2019.
He is clearly a talented athlete that is ready for the next level, but do the Browns have room for all three tight ends?
Will This Strategy Work for Cleveland?
Hooper is coming off the best year of his career, so the Browns shouldn't have to worry about his production.
In 2019, Njoku was only able to play in four games due to a wrist injury that cost him most of the regular season.
He has not quite lived up to expectations since being drafted 29th overall during the 2017 NFL Draft.
Having Bryant on the roster heading into the 2020 season is an incredible luxury for Cleveland.
The Browns have a young talented athletic option behind Njoku if he gets injured or struggles to begin the season.
Whether this three tight end system actually works remains to be seen.
Although, having Bryant on the roster is a quality insurance piece that not many organizations can say they have at the moment.