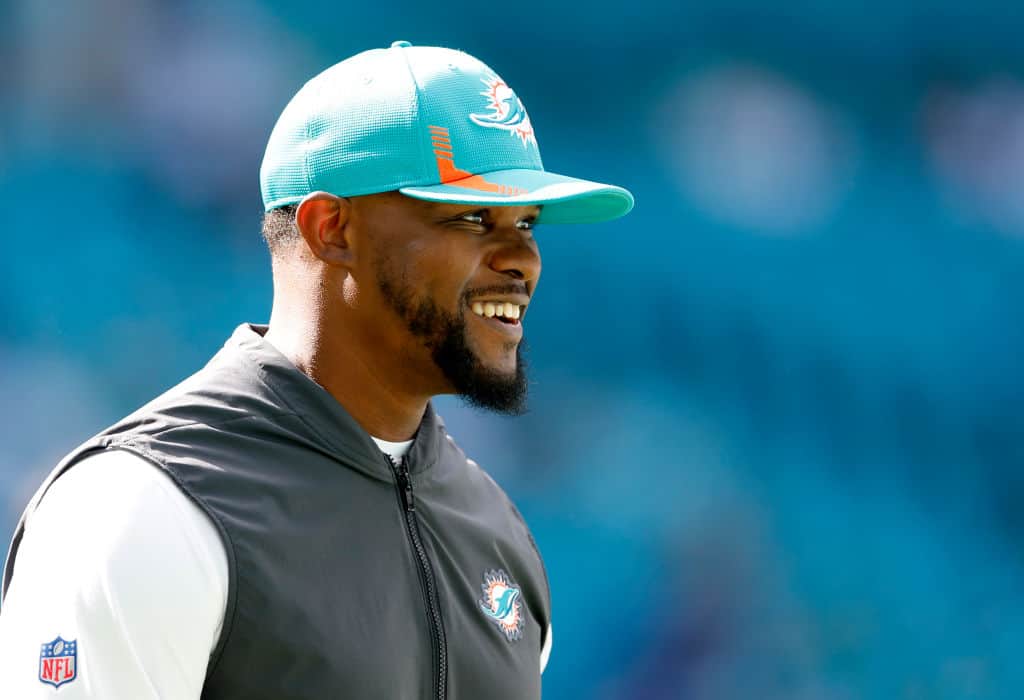 The Cleveland Browns know they had a defensive problem this season and want to talk with multiple candidates about becoming the team's 2023 defensive coordinator.
Fresh off the reports that the Browns asked the Patriots for permission to interview linebackers coach Jerod Mayo, ESPN's Adam Schefter is reporting that the Browns are also asking their AFC North rival, the Pittsburgh Steelers, for permission to interview Brian Flores who served as the team's linebackers coach in 2022.
Cleveland Browns requested permission to interview Steelers' LB coach Brian Flores for their defensive coordinator job, per source.

— Adam Schefter (@AdamSchefter) January 9, 2023
Flores Is A Former Head Coach
From 2019-2021, Brian Flores was the head coach for the Miami Dolphins.
Flores, 41, was viewed as an up-and-comer in the coaching ranks.
He initiated a class action lawsuit against the NFL citing racial discrimination, and he alleged that he was paid to lose games.
So Brian Flores was offered $$ to lose and said NO and is pointing to this to show a pattern… and Hue Jackson was like "they paid me to lose too"
ok… yes… but did u agree to tank for money? or did you lose 31 games in 2 years on accident? hahaha

— Johnny Workpants (@Manny_Bierce) February 2, 2022
Hue Jackson, former Browns HC, was briefly tangled in that lawsuit claiming he also was paid to lose games.
Jackson later walked back his comments.
The way that Hue Jackson made up allegations and piggybacked off of Brian Flores's claims for his own personal gain is disgusting! pic.twitter.com/Il6Vu5gqDp

— DynastyCLE (@DynastyCLE) May 2, 2022
Many wonder if his lawsuit will further limit his opportunities.
Will be interesting to see how many/if any head coaching interviews Brian Flores gets over the next month with jobs opening up. Also if he gets any calls to be a defensive coordinator. If he doesn't get any calls, we will see the true fallout from his lawsuit against the league.

— DolphinsTalk.com (@DolphinsTalk) January 9, 2023
As the Dolphins' head coach, Flores' record was 24-25.
Because the NFL is a small world, Flores has crossed paths with the Browns' other DC candidate Jerod Mayo as both were linebackers coaches and started their coaching careers at New England under Bill Belichick.
Coach Kevin Stefanski and GM Andrew Berry may not say much, but they will likely be asked about the DC candidates they have handpicked (and if there are more yet to be learned about) at their press conference at 3:30 on Monday afternoon.