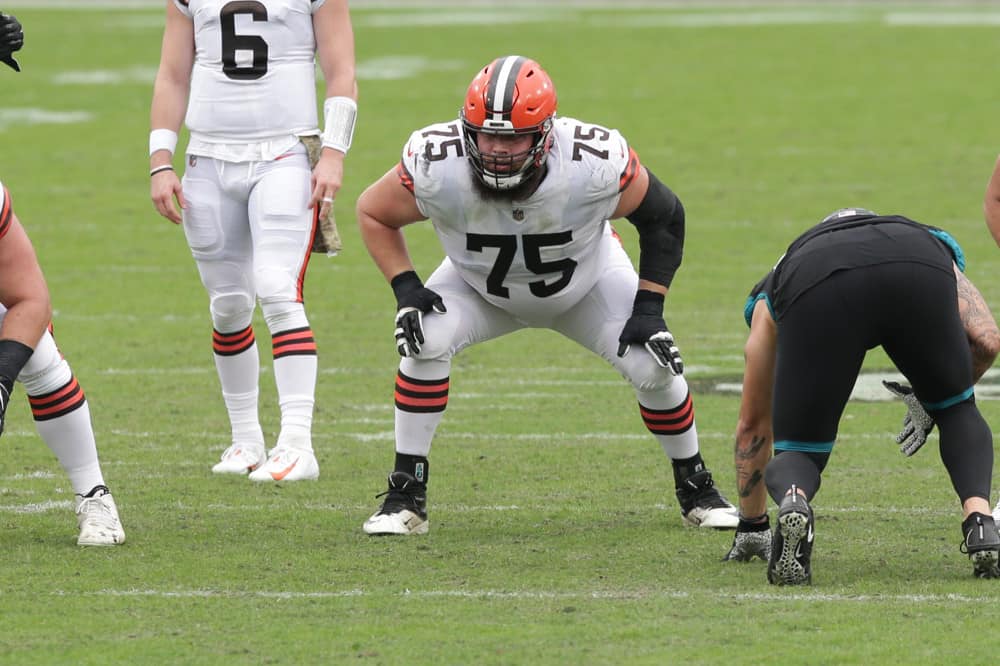 The Cleveland Browns are definitely inspired.
After beating the Steelers in Week 17 to clinch the first playoff berth in 18 years, the team ball was presented to Pro Bowl guard Joel Bitonio.
Joel Bitonio is the longest tenured player on the #Browns. Kevin Stefanski gave him the game ball after Sunday's win. Now they both test positive.pic.twitter.com/RCJmq41zSZ

— NFL Update (@MySportsUpdate) January 5, 2021
Approximately 48 hours later, Bitonio tested positive for COVID-19 and was ruled out for the playoff game.
Now QB Baker Mayfield and WR Jarvis Landry have spoken out about winning this game for Bitonio.
Baker Mayfield On Joel Bitonio
"I know we have other guys missing, but for Joel – somebody who's a great person, a great leader, a father, a great husband – to have put in his time here, endured a lot of things, the longest-tenured Brown and to not be able to play in the first playoff experience, it is very unfortunate. We feel for him. That would be the only thing taking away from the excitement."
Jarvis Landry on Bitonio
"He's important to our team. He's important to the Cleveland Browns and the history that we've accomplished this year. It sucks what he's going through to be able to be here for the time that he's been here and now be in this position and he can't even play the game because of the circumstances. This is definitely one for Joel, absolutely."
Among Bitonio's closest friends on the team is  JC Tretter who echoed the sentiments of Mayfield and Landry.
 "I feel for him. Obviously, with what he's gone through, what he's endured over his career and finally finding that success for the first time and then it being taken away at the last second, where he won't be able to be out there on Sunday, it's hard…It's tough because he, first off, loves playing football, loves the Cleveland Browns and this is just a terrible scenario for him and for everybody involved. I obviously feel for Joel. I've been close to Joel since getting here in Cleveland."
The Bitonio Factor
Joel Bitonio was drafted by the Cleveland Browns in the second round (35th overall) of the 2014 NFL Draft.
He is the longest-tenured Brown on the roster.
Bitonio made the Pro Bowl the last three years (2018-2020).
He has played in 95 games over his Browns career, on the field for 6,260 offensive snaps.
Bitonio lived through this organization at its absolute worst so it is extremely disappointing that he can't be on the field for one of the Browns' biggest accomplishments.
#Browns LG Joel Bitonio is a three-time Pro Bowler who has spent his entire seven-year career in Cleveland, playing for five different head coaches and enduring six losing seasons (including 1-15 and 0-16). They finally make the playoffs … and Bitonio is out with COVID. Brutal.

— Tom Pelissero (@TomPelissero) January 5, 2021
He had five head coaches.
In his first six seasons, the Browns won 24 games.
If the Browns beat Pittsburgh on Sunday, they will win their 12th game in 2020.
Who Will Replace Joel Bitonio?
Unfortunately, there is no one on the roster that possesses Bitonio's experience.
The options include 2017 UDFA Michael Dunn who has spent the majority of his time on practice squads for the Los Angeles Rams, Jacksonville Jaguars, and Miami Dolphins.
Another possibility is Kendall Lamm who has NFL experience but not at the guard position.
Diving into the practice squad pool is also a possibility, but to say that the situation is less than ideal is an understatement.
Besides letting Bitonio know how much he has meant to them, Mayfield, Landry, and Tretter's public comments also serve to fire up the player(s) who have to fill Bitonio's enormous shoes on Sunday night.
Depending on how his recovery and further testing goes, it is possible Bitonio could be on the field for the second round of the playoffs should the Browns advance.
Let's hope he gets that opportunity.