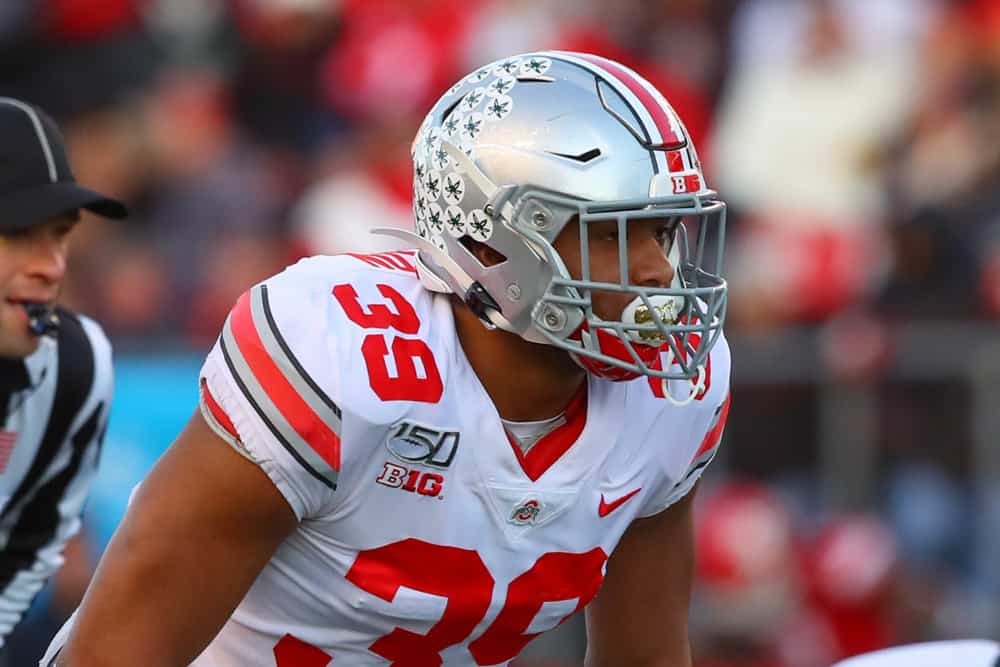 The NFL Draft is quickly approaching and the Cleveland Browns are currently sitting with the No. 10 selection.
It is rumored that Cleveland is looking to add at offensive line, but they aren't committing to anything yet.
While the offensive line does need an upgrade, the Browns could also benefit from adding depth at the linebacker position.
There's a good chance they use their earlier picks elsewhere, but should Ohio State linebacker Malik Harrison be an option for Cleveland on Day 2?
All eyes will be on Chase Young and Jeff Okudah, but Ohio State LB Malik Harrison is going to make an NFL team happy. The Columbus native is a stud. I bet his home state teams — the Browns and the Bengals — will consider taking him on day 2 of the draft.

— James Rapien (@JamesRapien) March 3, 2020
Who is Malik Harrison?
He was a top-50 recruit after starting three years at quarterback in high school.
Harrison wanted to play wide receiver in college, but moved to linebacker in order to get more playing time.
He didn't play much during his first season at Ohio State as he finished with 13 total tackles as a reserve player.
His sophomore campaign is when Harrison really started to make a name for himself at Ohio State.
He recorded 36 tackles, three for loss, and 1.5 sacks through 11 games during the 2017 season.
Harrison was given honorable mention All-Big Ten as a junior after tying the Buckeyes' lead with 81 tackles (8.5 for loss) and 2.5 sacks.
He finished out his senior year on a high note, earning third-team Associated Press All-American and first-team All-Big Ten.
Nice play in coverage by LB Malik Harrison…

Those long arms are so damn annoying! Can take a bad step and still impact the catch point pic.twitter.com/WD8XWuLBQr

— Ben Fennell (@BenFennell_NFL) March 4, 2020

Harrison finished with 75 tackles, 16.5 for loss, and 4.5 sacks through 14 games during his senior season at Ohio State.
Would Harrison Be A Fit for Cleveland?
The Browns have a fairly strong roster, but have a few areas of concern heading into the draft.
The offensive line, linebacker, and safety spot are the biggest holes for the Browns right now.
The organization is expected to target offensive line early in the draft, but it's hard to predict how the draft will play out.
Harrison played very well during his final two seasons at Ohio State and could compete for a starting job in Cleveland.
The organization is thin at the linebacker position, so Harrison would be an immediate upgrade for the team.
However, Harrison is not projected to go early in the draft, so the Browns could potentially wait until Day 2 to select him.
Malik Harrison shows off his speed & instincts.pic.twitter.com/6T04bwWEeq

— Chargers Brawl (@ChargersBrawl) April 11, 2020
Can Harrison Be Reliable in the NFL?
It's sometimes tough to predict if a player's game will translate well from college to the professional level.
Harrison has the desired combination of size, physicality and range that organizations are looking for at the linebacker position.
He has experience at all three linebacker spots and has the athleticism to spy mobile quarterbacks.
Harrison was someone who excelled at stopping the run game while at Ohio State.
He has strong instincts and plays well against play-action and misdirection as well.
Harrison still needs to make improves in man coverage and sometimes he takes ineffective routes to the ball.
Although, there are more positives than negatives when it comes to Harrison's game.
He is an above-average linebacker that could potentially start on many professional organizations.
Harrison would be a fit on the Browns roster and he'd be a solid third-round pick for them if they decide to go that route during the upcoming NFL Draft.