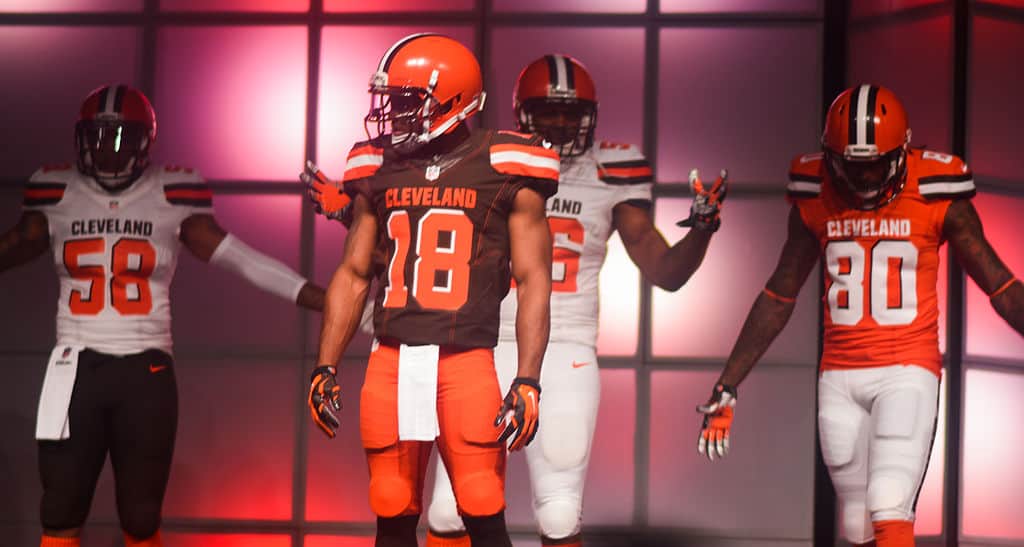 The Cleveland Browns have announced that they will unveil their new uniforms this Wednesday 4/15/20 at noon.
4.15.20. Noon ET.

All team proceeds from our new jersey sales will go to the "Hats off to Our Heroes" fund, which will aid those persisting in the face of adversity during the COVID-19 pandemic » https://t.co/ZVH9zDKwWh pic.twitter.com/KxehO1u2NT

— Cleveland Browns (@Browns) April 13, 2020

They also announced that 100% of the net proceeds from the first wave of jersey sales will go to COVID-19 relief efforts.
The Browns will donate jersey sales proceeds to the "Hats Off To Our Heroes" Fund.
"When finalizing our uniform announcement, we realized we had an incredible opportunity to further our support of heroes battling COVID-19 on the front lines for our entire community," said Executive Vice President JW Johnson in a release." We hope the excitement surrounding the new uniforms can help make a significant impact through the 'Hats Off to Our Heroes' Fund, and we greatly appreciate the support from our fans, retail partners and team to make this special way to give back to those leaders possible."
The Browns recently released a hype video that hinted at what their new uniforms might look like.
— Cleveland Browns (@Browns) April 9, 2020
The video showed the jersey numbers of Browns legends such as Clay Matthews, Bobby Mitchell, and Jim Brown.
Many have speculated that the Browns will return to a more traditional uniform in 2020.
My bet (hope) for the new Browns uniforms; inspired by the color rush theme of taking a bolder approach to classic pic.twitter.com/wER5YHki92

— J Dziak (@tenwatt) April 13, 2020
So the Browns uniforms are allegedly being revealed Wednesday, so here's my final mock-up based on the clues from the teaser video pic.twitter.com/4FvPd4NtwX

— Codey Dauch🎨 (@codeydraws) April 12, 2020
Ok got a little time to put Browns uniform teaser in photoshop.

Please excuse the colors, I pulled the exposure, offset & gamma to see the hidden light details.

Looks like:
– No shadow on number
– 5 sleeve stripes
– No Cleveland / browns on chest

Numbers look…sizable pic.twitter.com/Se2aDsDoOY

— Wreck This League (@wreckthisleague) April 9, 2020

Ian Rapoport of NFL Network, reported last month that Odell Beckham Jr. will be featured in the video.
Browns owner Dee Haslam spoke at the NFL annual meetings about the new uniforms.
"I think we got it right this time,'' she said.