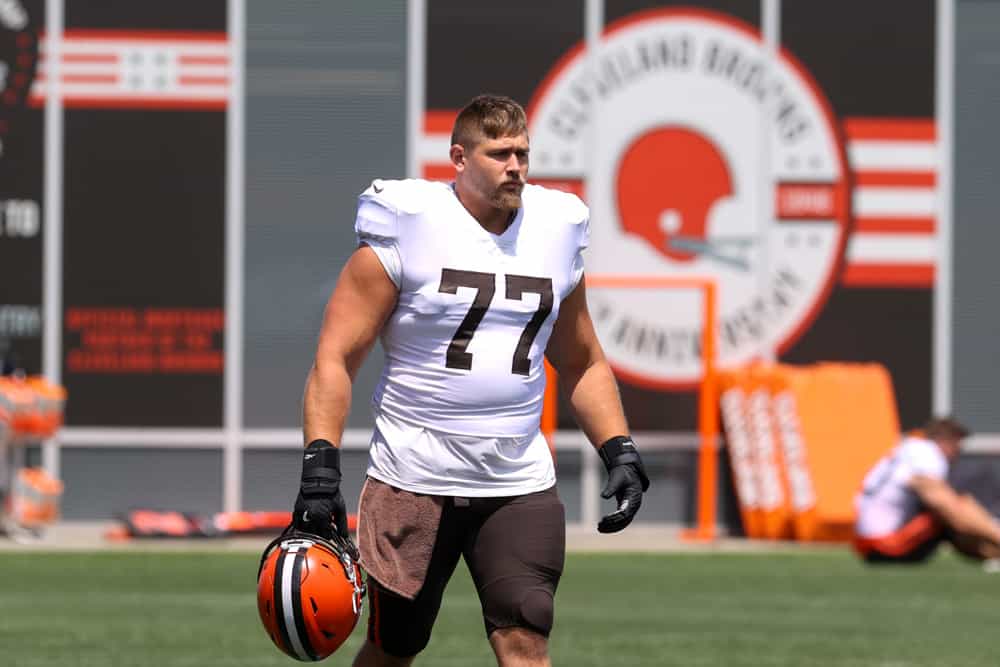 The Cleveland Browns have signed Guard, Wyatt Teller to a four-year extension.
Rumors have been circulating for months now about a possible extension for Teller and the deal is finally done.
This comes as extremely welcome news to Nick Chubb, Baker Mayfield, and Cleveland fans at large.
Per Mike Garafolo of NFL Network, the Browns have agreed with Teller on a 4-year contract extension.
The #Browns and G Wyatt Teller have reached agreement on a four-year contract extension, sources say. He was slated to be a free agent after the season. Now, he's under contract through 2025 in Cleveland, where OL coach Bill Callahan has tapped into his potential.

— Mike Garafolo (@MikeGarafolo) November 9, 2021
On a Brown's offensive line that has been struggling with injuries all season, Teller is one of the only linemen that has started in all 9 games and played every snap of the season.
This block by Wyatt Teller just guaranteed that his grandchildren will be driving Bentleys in 42 years. pic.twitter.com/pcKCj69nB5

— CamFrom🇨🇦 (@camfromcanada3) November 7, 2021
He's also been a huge part of Cleveland's success running the football.
The Browns are leading the league in total rushing yards at 1,442 and are second in rushing yards per game with 160.2, trailing the Baltimore Ravens by a single yard in that category.
Teller has been a huge part of Cleveland's success on the ground and is coming off of arguably his best game of the season against the Cincinnati Bengals.
#Browns G Wyatt Teller's @PFF grades the last two years: 92.9 overall, 93.6 run blocking last year; 89.8, 90.8 run blocking this season.

The clip below was from @gmfb last October as Teller, traded to Cleveland from the #Bills the previous summer, began to blossom. https://t.co/B4Egh8bQMH

— Mike Garafolo (@MikeGarafolo) November 9, 2021
Teller's numbers and rankings speak for themselves when it comes to his impact on both the running game and passing game.
He had some of the most impressive pancake blocks of the season in Cleveland's route of the Bengals on Sunday.
Wyatt Teller Contract Extension Details
Per Mary Kay Cabot at cleveland.com, Teller's extension is for four years and is worth $14.2 million per year.
The deal includes $28 million worth of guaranteed money, good enough to make Teller the second-highest-paid guard in the NFL in terms of annual money.
Teller had been signed to a four-year $2,714,124 deal that the Browns inherited when they traded for him with the Buffalo Bills in 2019.
He had been slated to earn a salary of just over $2 million this year, so I think it's safe to say that Wyatt will appreciate his slight raise in pay.
Originally a fifth-round draft pick by the Buffalo Bills, Teller has really come into his own with the Browns under the guidance of offensive line coach, Bill Callahan.
The extension will keep Wyatt Teller in a Browns uniform through the 2025 season, and hopefully beyond.