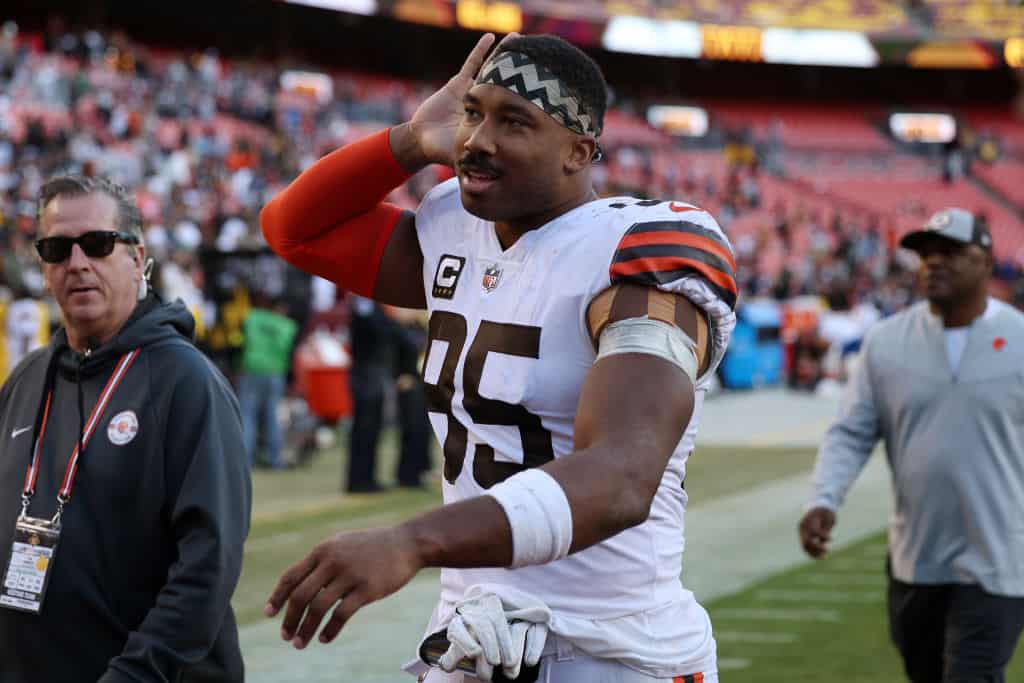 Myles Garrett put up a stat line Sunday that most NFL players can only dream of.
The Cleveland Browns edge rusher was lauded by analysts and fans for how he affected the Tennessee Titans offense.
But it wasn't enough to get recognized as the Week 3 Defensive Player of the Week.
And the Browns' social media crew had something to say about that.
when you somehow don't win defensive player of the week with 3.5 sacks, 5 QB hurries, 5 tackles, 3 TFLs and a forced fumble 🤔 pic.twitter.com/ux4mCVwh9S

— Cleveland Browns (@Browns) September 27, 2023
Alongside a photo of a seemingly annoyed Garrett, the team laid out the statistical argument.
There were 3.5 sacks, 5 tackles, 3 TFLs, 5 QB hurries, and a forced fumble.
Terrel Bernard of the Buffalo Bills won the week in the eyes of the NFL with a big day of his own.
Myles Garrett has 2.5 sacks at half. Monster. pic.twitter.com/ujuj39FvAh

— ESPN Cleveland (@ESPNCleveland) September 24, 2023
Buffalo and Cleveland each held their opponents to one field goal of offense on the day.
Bernard is a second-year player and his first DPOW comes just a week after his first career interception.
Maybe the voters decided to go with the younger player because Garrett already won several times over the years.
Two plays from Sunday should have clinched the award for Garrett, including the last play of the first half.
Tennessee had the ball deep in the red zone and wanted a shot at the touchdown before settling for a field goal.
But Garrett pushed the tackle into Ryan Tannehill's lap before sacking the passer as time expired without the field goal.
I'm not sure I've EVER seen this before!

Myles Garrett forces the Titans into a delay of game penalty, because they're sending 2 offensive players wherever he aligns… WOW!

Garett has 3.5 sacks on the day. #DawgPound pic.twitter.com/2WrjTGqTod

— Emmanuel Acho (@EmmanuelAcho) September 24, 2023
The second play was the focus of multiple social media posts after Tennessee put two tight ends on Garrett.
Garrett kept switching sides, with the tight ends dutifully following him until the play clock ran out.