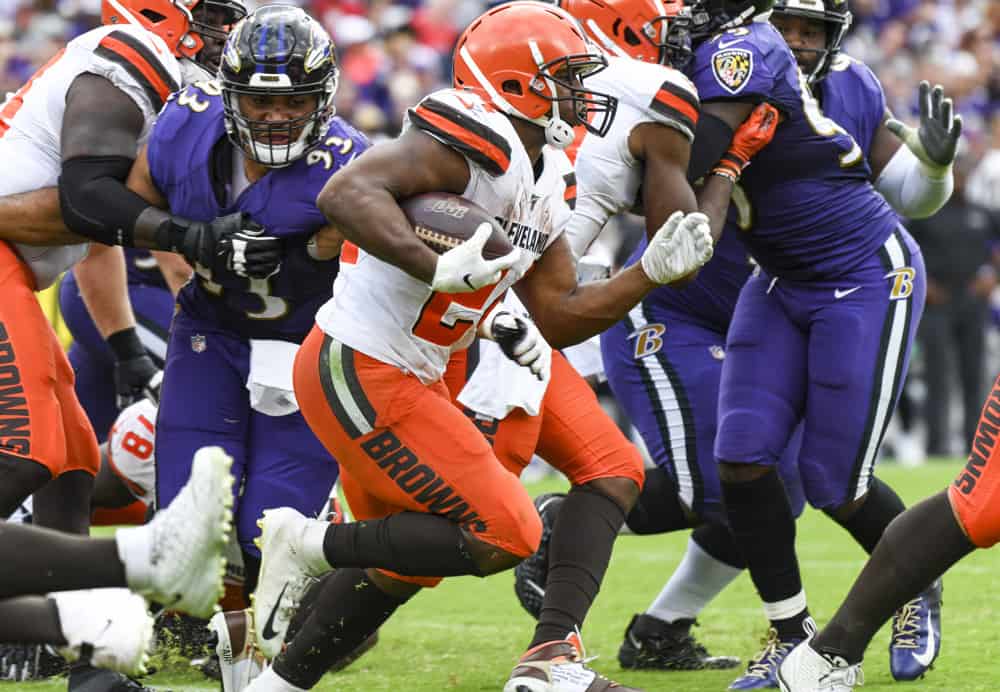 The 9-3 Cleveland Browns are currently on a 4 game win streak and looking to avenge a 38-6 week 1 loss to the Baltimore Ravens.
Baltimore started the season at 5-1, but have struggled since.
They snapped a 3 game losing streak with a Week 13 win over the Dallas Cowboys.
The Browns are 11-32 all-time against the Ravens.
Who will prevail in this matchup on Monday night?
Let's take a look at our writer's bold predictions for this Sunday's matchup.
Writer: Rocco Nuosci

Who's excited for the iconic Monday Night Football theme to ring throughout homes of northeast Ohio this week?
Browns fans certainly are as they have a chance to knock off the Baltimore Ravens on primetime television.
It won't be easy, and Monday night matchups with the Ravens in the past have been… less than ideal.
Today marks 64 days until the NFL season starts. Let's remember "The Kick Six" where Will Hill would return a 64 yard fumble return from a blocked field goal for the game winning TD against the Browns in 2015. Ravens would win 33-27 pic.twitter.com/4wuIf7hb1N

— Heart of NFL (@HeartofNFL) July 3, 2019
Baltimore dominated the first game this season, but I expect more of a fight from the Browns this time.
Different Team?
It's clear to anyone who watches the Browns each week that the team is well ahead of where they were in the opener.
But just how far have they come?
The win over Tennessee was good, but ended with some sloppy play.
The first half of that game is a blueprint for this team reaching its ceiling.
Baltimore is different from week one too, however.
They fizzled out in recent weeks, but made a nice statement with a dominant win over the lowly Cowboys.
Still, the Browns are playing a better brand of football than Baltimore right now.
It just comes down to keeping it that way on Monday.
Too Banged Up?
One problem the Browns face is injuries.
They have a couple of key guys that remain questionable ahead of this week.
#Browns head coach Kevin Stefanski says CB Denzel Ward (calf), WR KhaDarel Hodge (hamstring) will not practice again today. Both players "are progressing"

(Side note: Stefanski says Dumb & Dumber is one of his favorite movies ever) pic.twitter.com/sgwmkxAdLc

— Daryl Ruiter (@RuiterWrongFAN) December 11, 2020
#Browns Kevin Stefanski on where they're at with Wyatt Teller being able to come off the reserve/COVID-19 list: "We're right where we need to be, we'll see where we are near the end of the weekend."

— Camryn Justice (@camijustice) December 11, 2020
There's been a "next man up" mentality on this team all season.
I don't expect that to change Monday, regardless of who is available for coach Kevin Stefanski.
My Prediction: Browns 24, Ravens 17 
Writer: Pat Opperman

Browns fans started the 2020 season debating whether Kevin Stefanski and his analytics skills could guide the team to a .500 record.
Then, at 5-3, talk of a wild card started and snowballed along the way to 8-3.
This week, at 9-3, and with the Steelers showing vulnerability, fans openly discuss division title scenarios.
It can all come crashing down with a bad loss to the Ravens and a Steelers rebound in Buffalo.
Or the hopes of Cleveland fans can hit another crescendo at 10-3.
And why not?
What we have seen so far in Cleveland is not just an improved team, but an improving team.
Stefanski offered no clue of how the Browns would come together during that first game played so long ago in Baltimore.
Since then we've seen Baker Mayfield manage games, and not lose some games.
Last week, we saw him take control and win a game against the Titans.
This week, a confident Mayfield wins another.
It might not be as emphatic as last week's first-half assault, but it will be as big a statement.
Mayfield will have to share more of the credit with the Browns' rushing attack and the defense this week.
But he is still the key to another victory for the surging Cleveland Browns.
My Prediction: Browns 27, Ravens 19 
Writer: Mark Bergin

The Browns' Week 13 victory over the Titans might have been the team's best win in at least a decade.
Their Week 14 matchup on Monday Night Football against the Ravens might be more telling.
Remember, the Ravens smashed the Browns 38-6 in Week 1 of the 2020 season.
The Ravens (7-5) are in a must-win game Monday night if they hope to keep their season alive.
Baltimore's rushing attack is not near the same level as the historic 2019 season, which is especially glaring considering the retirement of Hall of Fame guard Marshal Yanda and the season-ending ankle injury to left tackle Ronnie Stanley.
The key in beating the Ravens is forcing Lamar Jackson to complete passes outside of the numbers.
While Jackson had 13 carries for 94 rushing yards and a touchdown against the Cowboys, he went 12-of-17 passing for 107 yards, two touchdowns and one interception.
Imagine the reaction for any other quarterback with such a dismal passing performance, especially against the lowly Cowboys defense.
Including the playoffs, Jackson has surpassed 300 passing yards in two games during his NFL career.
Monday night's matchup comes down to whether the Browns can contain Jackson and force him to make perimeter throws from the pocket.
My Prediction: Ravens 31, Browns 24 
Writer: Jake Luppino

On Monday Night Football, the Cleveland Browns will look to inch one step closer to the playoffs.
A win over the Ravens would not only be a confidence boost, it will also ensure Cleveland a playoff spot.
Although they will not clinch with a win, they will hold the tie breaker over the Ravens, Titans and Colts.
Also keep in mind, at 11-1, the Pittsburgh Steelers will be taking on the red hot Buffalo Bills this weekend.
The Browns still have one game remaining with the Steelers at the end of the season.
If Pittsburgh loses and Cleveland wins, that game could potentially be for the division.
But, back to Monday Night.
The x-factor will once again be Baker Mayfield.
X-Factor: Baker Mayfield
Last week against the Titans, many thought it would be Nick Chubb versus Derrick Henry.
Well, Baker Mayfield stole the show.
He finished the game completing 25 of 33 passes for 334 yards and 4 touchdowns.
With Nick Chubb being the focal point of this offense thus far, the Browns were able to come in and attack the Tennessee secondary.
Granted, the back end of the Titans defense is weak, but, it was good play calling that led to some wide open touchdowns.
The Ravens are a top defense in this league and will crowd the box to stop Nick Chubb.
Cleveland will need to develop a similar game plan as they did last week and try to be more aggressive early in the game.
With no Odell Beckham Jr., Jarvis Landry has really stepped up and been the number one wide out.
In a very close divisional matchup, I think Cleveland avenges their Week 1 loss in a close game.
My Prediction: Browns 27, Ravens 24 
Writer: Wendi Oliveros

Cleveland Browns players and fans had this game circled on their calendars since the Browns fell to the Ravens in Week 1 by the score of 38-6.
The Browns opened 2020 with a new coach, free agent and draft signings, and a lot of promise so it was disheartening to watch the Week 1 game.
Fast forward to Week 14.
The Browns are on a 4 game winning streak, and the Ravens lost 3 of the last 4.
These teams are in different places; I think the Browns are peaking at the right time while the Ravens are sputtering to a halt.
While you can never count them out with a healthy Lamar Jackson on the field, I think the Browns win this game.
How will they do it?
The same way they've won the past 4.
1. Good running game
Chubb and Hunt have been nothing short of fantastic these past few weeks.
The run game sets up the rest of the offense.
2. No turnovers
I don't want to jinx Mayfield with stats so I will just leave it as he's played cleanly.
He must continue to do so, no interceptions.
3. Great play calling
Baker catching a Jarvis pass and Kendall Lamm's touchdown are just a couple of gems that made it out of the playbook last week.
Creativity continues to be important in an effort to catch the Ravens defense unprepared.
And an added one for the Ravens game is:
4. Contain Lamar Jackson
In his first game back from suffering from COVID-19, Jackson looked like a track star against the Cowboys defense which is not admittedly as deep or talented as the Browns.
But it's still a tall order to keep the reigning NFL MVP from defeating the Browns with his arm or his legs.
My Prediction: Browns 31, Ravens 24  
Writer: Ben Donahue
I apologize in advance.
That noise you hear is yours truly eating a large plate of humble pie.
Last week I wrote that the Browns/Titans game was a "prove it" game for Cleveland.
My belief was that the Browns would not prove that they could beat Tennessee.
Oops!
In spanking the Titans 41-35, Cleveland put the NFL on notice that they are for real.
Until Sunday, the most impressive win was the Week 5 victory over the Colts.
All the other Browns victories came against teams they were supposed to beat.
Their convincing triumph on Sunday was proof that the organization can hang with (some) of the big boys and are a team to be concerned about come playoff time.
As it stands now, Cleveland should make the postseason as a Wild Card, at least.
In my opinion, the most exciting part of last week's game was Baker Mayfield's play.
For the first time this season, Mayfield cracked the 300 yard passing mark.
He also tied Otto Graham with four touchdown passes in the first half.
If he can consistently stay at this level of play, Mayfield will slowly but surely prove he belongs in the NFL.
QB @bakermayfield is our first QB since Otto Graham (December 2, 1951) to score 4 touchdowns in the first half. pic.twitter.com/ByzSSjtEIF

— Cleveland Browns (@Browns) December 6, 2020
Enter this week's opponent, the Baltimore Ravens.
After their first meeting in Week 1, it looked like the same old Browns and the same dominant Ravens.
Since then, both teams have switched roles.  Cleveland has gone 9-2 and Baltimore has gone 6-5.
Worse for the Ravens, they have been knocked for running a very vanilla offense that has not taken advantage of quarterback Lamar Jackson's skill set.
It probably doesn't help the Ravens that Jackson is their leading rusher as well as passer.
Baltimore basically has a three-headed hydra at running back with Gus Edwards (487 yards), J.K. Dobbins (451 yards), and Mark Ingram II (260 yards).
Combined, the trio has nine touchdowns.
In other words, if the Browns defense can keep Jackson in check, maybe use a "spy" for scrambling purposes, the Ravens rushing attack is kept to a minimum.
Because Jackson has missed playing time this year due to injuries and Covid concerns, Ravens quarterbacks have thrown for 2,189 yards on the season.
By comparison, Mayfield has thrown for 2,442.
Jackson does have receivers Marquise Brown, Willie Snead, and tight end Mark Andrews to throw to.
Both Andrews and Snead found the end zone in Week 1 with Andrews scoring twice.
Cleveland's passing defense gives up 256.9 yards per game.  So, obviously, this is an area of concern.
If the Cleveland pass rush can get into Jackson's head and disrupt the timing with his receivers, we should see a different result on Monday night.
The keys to this game for the Browns will be stellar offensive line play, an unrelenting pass rush, keeping big Ravens pass plays to a minimum, and containing Jackson.
If Cleveland can do all that, and just play their game, they should be alright.
I sense an upset, at least by Browns standards.
My Prediction: Browns 28, Ravens 24