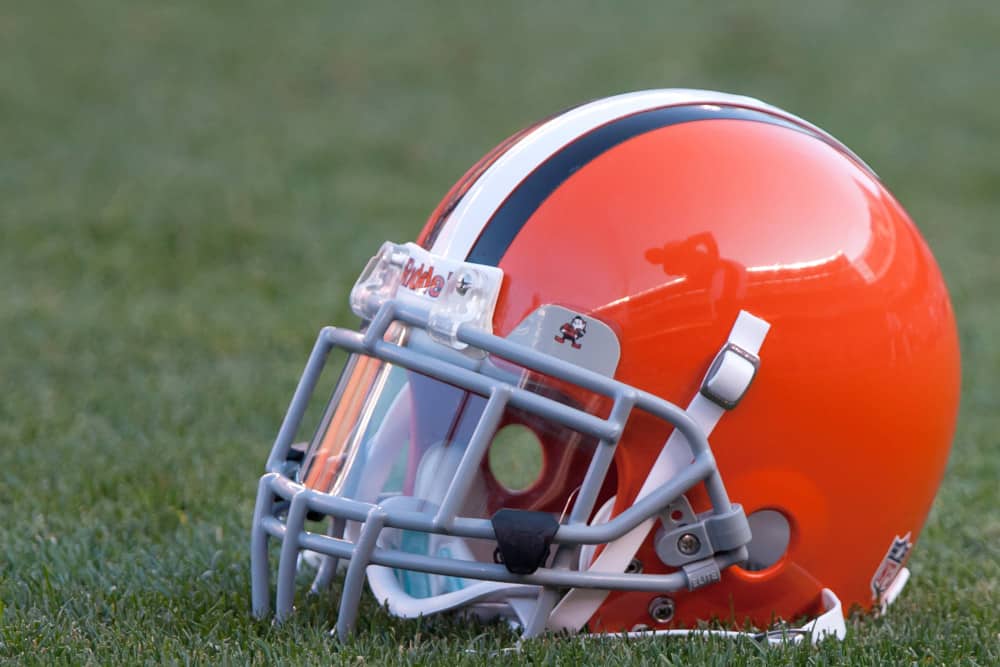 Wednesday´s flashy social media unveiling of the Cleveland Browns new uniforms drew rave reviews.
Now, it looks like there might be an encore on the way.
On Cleveland @Browns_Daily today with Beau and Nathan, guest Paul Lukas from https://t.co/MoFIySWxq3 said he would not be surprised if the #Browns add the orange pants later this year or next year. I love the new uniforms!, but adding the orange pants would be brilliant! 🏈🐶🤙 pic.twitter.com/36etkL62fC

— Gridiron Browns (@Gridiron_Browns) April 16, 2020
Executive vice-president and owner JW Johnson visited WKNR 850 AM for a spot on the "Cleveland Browns Daily" radio show.
During that appearance, Johnson admitted the Browns´ big day was a little tinged.
And it wasn´t an orange-enough tinge.
"Did people like the orange pants?' I didn't realize that. I didn't know that that was something that was a big deal. Aw man, I guess we missed on that one," Johnson said, seemingly sarcastically.
Orange pants weren´t always a part of the Browns´ classic uniforms, which the team aimed to pay homage to.
But they were part of the uniforms in the early 1980s, an era many Browns fans remember fondly.
"I know orange pants have been part of the Kardiac Kids and a lot of tradition. But I don't know, we'll see. We'll have to just stay tuned and see what happens there," said Johnson.
How Did the Browns Drop Their Orange Pants?
Jimmy and Dee Haslam first broached the topic of new uniforms in 2017.
Their first memo to the league and the Nike uniform representatives included photos of two quarterbacks.
Brian Sipe was pictured beneath the bullet point, "Take it back to the studs."
Brian Sipe #17
Vintage #Browns pic.twitter.com/AYCWHwm7JN

— Vintage Browns (@VintageBrowns) August 9, 2019
Sipe was not only the Kardiac Kids quarterback in 1979-1980.
He played almost his entire career (1974-1983) during the Browns "orange pants" era (1975-1983).
How did Nike and the team miss on the orange pants in their 2020 throwback project?
There has been no official word from Nike.
"We've got the best fans in sports and we want to make sure that they're happy," Johnson said. "We want our players to be happy and we went through extensive research and worked really closely with Nike, with the NFL.
Orange has proven to be a difficult contrast for reading jersey numbers in the past.
But pants should not provide such a challenge.
Browns Looking to Add Pants to Their Uniforms
The NFL has rules about new uniforms, including a five-year commitment to each new design.
But JW Johnson told the Cleveland Browns Daily crew that it is possible to add the orange pants.
And he seems open to the idea.
"We'll have to just stay tuned and see what happens there. If we can find a way to talk Nike into getting us some orange pants, we'll get to work on that. We'll see what we can do."
There are indications that Johnson and the Browns are already working on the situation.
But it is unclear if orange pants will find their way onto the field before this season or somewhere down the road.
Whenever it happens, it will perfect an excellent uniform update in the eyes of many Cleveland Browns fans.
True to ourselves.
True to our loyal fans.
True to who we'll always be.https://t.co/VwRW3sfRSx pic.twitter.com/HbQYZQEu9N

— Cleveland Browns (@Browns) April 15, 2020