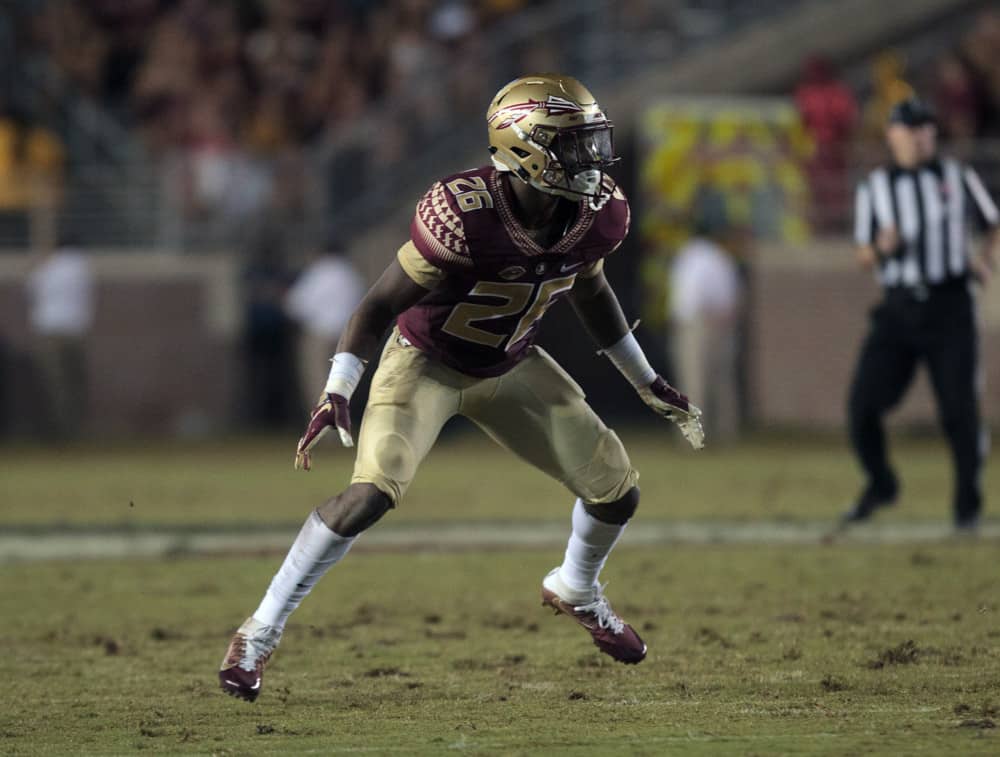 Most football fans recognize the name Asante Samuel.
The former NFL corner had an incredible 11-year career, earning four Pro Bowl selections and winning two Super Bowl rings.
His son, Asante Samuel Jr., will be looking to start his own storied NFL career soon.
The draft prospect out of Florida State continues to create conversation for himself as the draft grows nearer.
The next great cornerback out of @FSUFootball?

Asante Samuel Jr. is making his case as a top @NFLDraft prospect. @godschild3_ pic.twitter.com/NKEARuSy69

— NFL (@NFL) March 24, 2021
As virtual meetings between organizations and draft hopefuls continue, Samuel Jr. is one of the names on the radar of the Cleveland Browns.
#FSU CB Asante Samuel Jr. has recently/will meet virtually w. #Rams, #Bills, #49ers, #Browns, #Steelers, #Broncos, #Giants, #Ravens & #Panthers.

Prev reported: #GB, #SEA, #ATL, #MIA, #PHI, #LAC x2, #TEN, #NWO, #Washington, #ARZ, #CIN, #DET, #KC, #LAR, #CHI, #SF and #Cardinals.

— Justin M (@JustinM_NFL) March 30, 2021
Should Andrew Berry take a closer look at Samuel Jr. and try to bring him to Cleveland?

Like Father, Like Son
Second-generation athletes almost always get extra attention just from name recognition alone.
For a quick modern MLB comparison, Vladimir Guerrero Jr. is the prime example.
Him, along with Cavan Biggio (son of Hall of Famer Craig Biggio) and Bo Bichette (son of former All-Star Dante Bichette) have created unruly amounts of buzz around the Blue Jays.
Toronto finished just third in their own division last year.
The point is, when you see that "Jr." tagged next to a guy's name, and the "Sr." was a halfway decent player, that guy is going to get extra attention.
Florida State CB Asante Samuel Jr.'s draft stock is on the rise: https://t.co/rWKKgj9GRF pic.twitter.com/F11g6tKpeM

— 247Sports (@247Sports) March 31, 2021
A theme for all these types of second-generation players remains the same though: build a legacy of their own.
No one wants to be the guy who is a shell of what their father was.
That's a tall task for Asante considering the career Samuel Sr. had.

Collegiate Background
As mentioned, Samuel Jr.'s draft stock seems to continue to rise since finishing his Seminole career.
One of the major plusses for scouts is his ability to play both man and zone defense.
With defenses always trying to counter the high-octane offenses in today's NFL, playing both at a high level is a highly desirable trait from front offices.
Asante Samuel Jr's Man vs. Zone Splits for 2020 per SIS pic.twitter.com/DizN72jDz2

— Erik Turner (@ErikJTurner) March 28, 2021
Another item to look at for Samuel Jr. is his ability to just be by the ball.
We all know turnovers are a big part of the game, with many defenses taking a "bend but don't break" mindset.
The Browns had this at points last year, giving up chunks of yardage but finding a way to create a drive-killing turnover.
To do that, you need guys who have a nose for the football and a desire to make a play.
Samuel Jr. is the right man to do both of those things.
He tallied three interceptions in just eight games played in 2020 and led the ACC in passes defended in 2019 with 14.
Asante Samuel Jr. on what separates him from the CB Draft Class🎙️⬇️ pic.twitter.com/7OyhQaHhWN

— PFF Draft (@PFF_College) March 30, 2021
Where He Gets Drafted
Samuel Jr. is being viewed as a late first-round or early second-round pick right now.
In all likelihood, he won't fall to the 59th pick (Cleveland's second-round selection).
So, Berry will either have to take him at 26 or make a trade to move up from 59.
Some may have other preferences than cornerback with that 26th selection.
Asante may not even fall that far.
There are several other teams that have conducted virtual meetings with Samuel Jr. and have expressed interest.
The Pittsburgh Steelers have the 24th pick in the first-round, have interest in Samuel Jr., and are looking for help in their secondary.
✅ Obvious NFL bloodline

✅ Steelers clearly taking an interest at Pro Day

✅ Zoom interview on top of that

Asante Samuel Jr has a decent shot to put on the Black and Gold https://t.co/Jy2edKvapX

— Nick Farabaugh (@FarabaughFB) March 30, 2021
We'll keep an eye on how Samuel Jr.'s draft stock rises or falls in the coming days.
Not much will change at this point though, and it will be interesting to see where he lands on draft day.
Signs point toward him being a fun second-generation talent to watch for years to come.