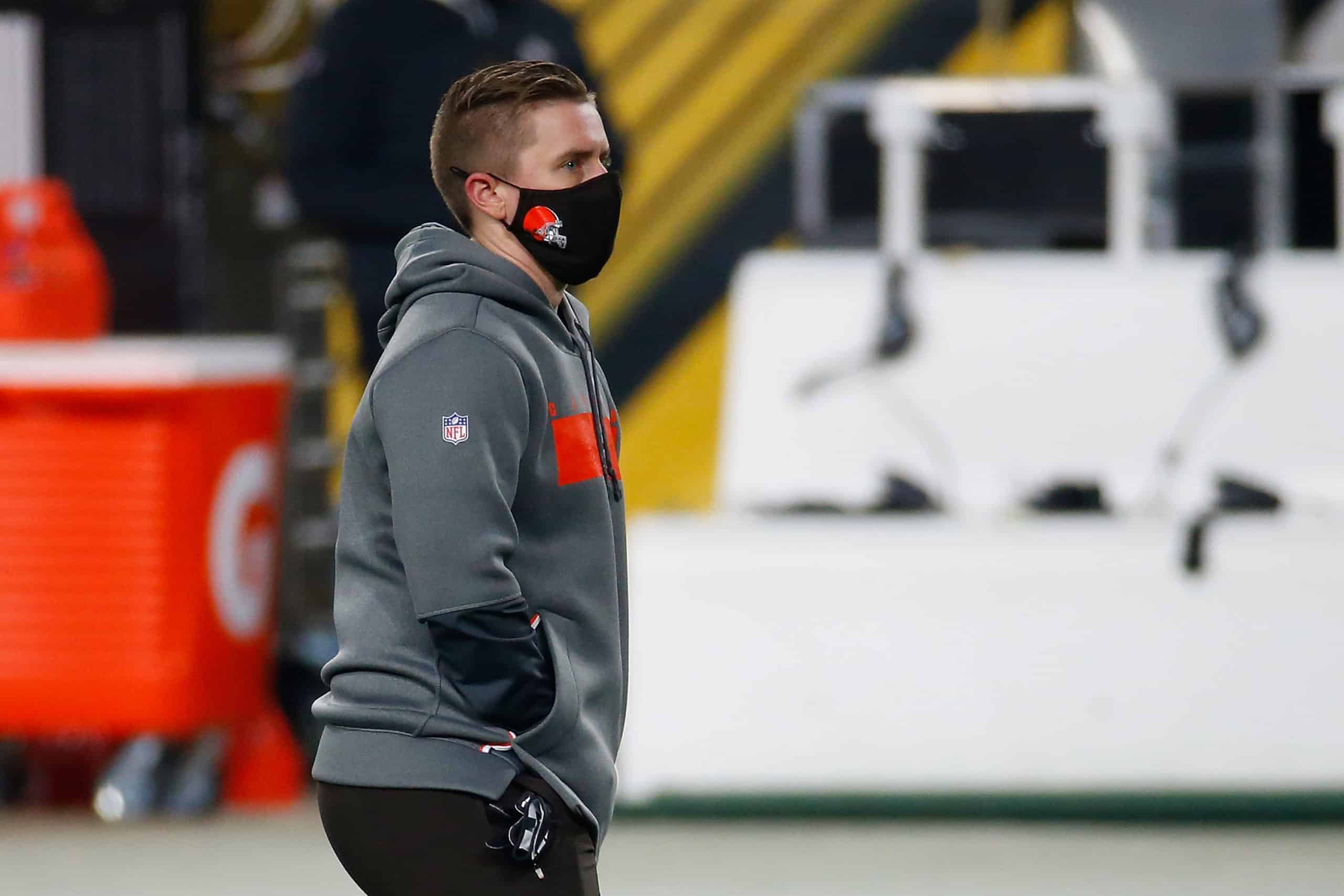 On June 9, the Cleveland Browns suspended chief of staff Callie Brownson after her June 8 court appearance.
Brownson pled no contest to operating a vehicle under the influence (OVI) charge.
She was stopped by police on May 27 after midnight in Brunswick.
Brownson was driving 20 miles per hour over the speed limit and registered a .215 blood alcohol level.
This is over two times in excess of the Ohio legal limit of .08.
#Browns Chief of Staff Callie Brownson was arrested on drunk driving charges on May 27th, it is reported that she blew a. 0.2150 compared to the legal .08 limit (Via @MaryKayCabot ) pic.twitter.com/UcITOyOOQc

— MoreForYouCleveland (@MoreForYou_CLE) June 8, 2021
Coach Stefanski addressed the issue at his Wednesday, June 9, Zoom press conference.
What Stefanski Said
Stefanski announced that Brownson was suspended from her position.
It is unclear what the duration of the suspension is.
Stefanski did say that she would not lose her job.
#Browns Kevin Stefanski said Calllie Brownson's drunken driving conviction won't cost her her job

— Mary Kay Cabot (@MaryKayCabot) June 9, 2021
"She's very remorseful. I'm disappointed, she's disappointed. We'll work through all of the particulars.''
Among those particulars that Stefanski did not address is who will be filling her position on an interim basis.
More Penalties Likely
Brownson faces a potential fine, jail sentence, and suspension of her license under Ohio law.
In addition to the suspension by the Browns, the NFL could also impose a punishment.
Brownson Has Been A Trailblazer
This is a sad detour from what has been a promising NFL coaching career for Callie Brownson.
Coach Stefanski hired her in 2020, and she has been integral to the team's success.
Last season, she served as an interim position coach in two of the Browns' games.
The first was against the Jacksonville Jaguars where Brownson filled in for Drew Petzing whose wife was giving birth.
This marked the first time a female coach worked in a regular-season game, and it has been subsequently commemorated at the Pro Football Hall of Fame.
#Browns coach Callie Brownson's sideline jacket and an autographed game ball are on display at Pro Football Hall of Fame. Brownson became the first female to serve as a position coach in a game on Nov. 29 at Jacksonville. pic.twitter.com/9wqEKy1kB4

— Tom Withers (@twithersAP) December 14, 2020
The second time, she replaced wide receivers coach Chad O'Shea, who tested positive for COVID-19, in the pivotal Week 17 regular-season finale against the Pittsburgh Steelers.