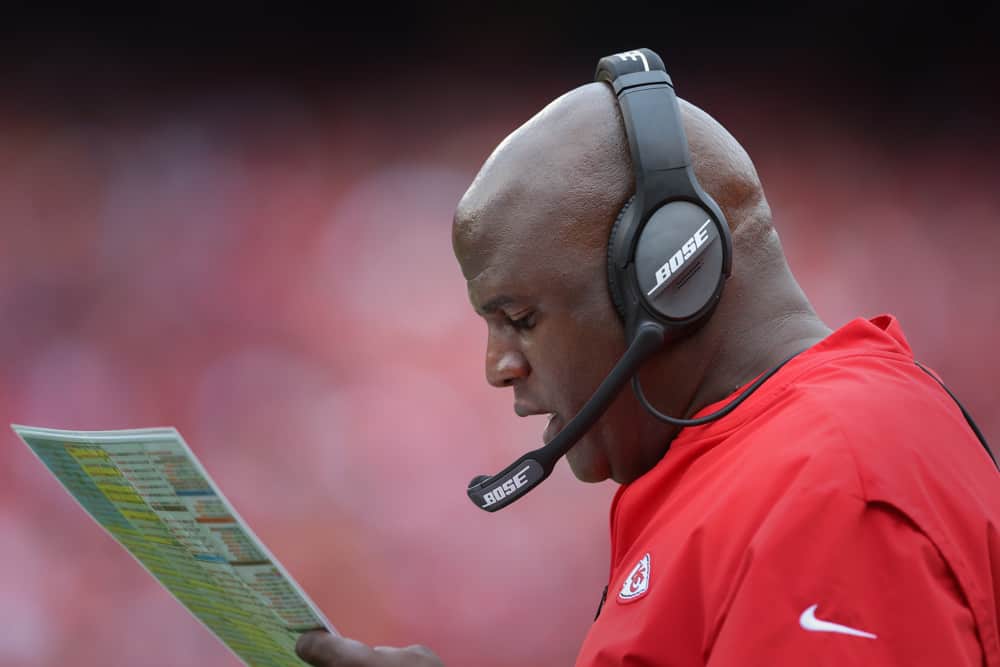 With the Cleveland Browns parting ways with Freddie Kitchens on Sunday, the search for a new head coach in Cleveland is on.
A flurry of different names has emerged as potential candidates for the Browns.
Chiefs offensive coordinator Eric Bieniemy is one of them.
The Browns already have requested to interview Bieniemy, along with a handful of other names around the league.
#Browns coaching search has 7 legit candidates:
Mike McCarthy (interview Thursday)
+ requests to interview:
Patriots OC Josh McDaniels
Ravens OC Greg Roman
49ers DC Robert Saleh
Bills OC Brian Daboll
Vikings OC Kevin Stefanski
Chiefs OC Eric Bieniemy

— Daryl Ruiter (@RuiterWrongFAN) January 1, 2020
So, Who Is Eric Bieniemy?
Eric Bieniemy has been with the Chiefs organization since 2013.
He initially served as their running backs coach where he helped developed and mentor one of the best backs of the decade, Jamaal Charles.
In 2013, Charles led the NFL in rushing touchdowns and was second overall in terms of yards from scrimmage.
Charles would eventually become the all-time leading rusher in franchise history.
In 2018, Andy Reid promoted Bieniemy to his current offensive coordinator role.
It's no secret he has had success with this Chiefs offense and quarterback Patrick Mahomes.
The Chiefs had the top offense in the NFL in 2018 and a top ten offense this past year.
Chiefs Head Coach Andy Reid and QB @PatrickMahomes boast about Eric Bieniemy as the OC emerges as a head coaching candidate in Carolina and New York. #ChiefsKingdom pic.twitter.com/pYCXKItuo2

— Rob Collins (@RCFOX4KC) December 30, 2019
There was no Kareem Hunt in Kansas City and Tyreek Hill missed a chunk of the season, making his performance as OC that much more impressive.
Prior to Kansas City, Eric bounced between the NFL and division one college football as an offensive coordinator and running backs coach.
Collegiately, he was with Colorado, his alma mater, as well as UCLA.
He also spent a couple of years with the Minnesota Vikings organization as their running backs coach from 2006-2010.
His time in Minnesota, of course, was spent working with Adrian Peterson, who led the NFL in rushing yards in 2008.
One year prior, Peterson and Chester Taylor combined to form the top rushing attack across the NFL as the duo rushed for 2,634 yards.
Both the Chiefs and Vikings respective franchise records for yards per carry averages were set under running back groups led by Bieniemy.
Looking at his resume, it is clear Bieniemy knows how to make the most of the talent he is given.
With one of the biggest issues for the Browns this past year being the inability to get consistent production from their top talent, he could be a great fit in Cleveland.
With the NFL's leading rushed in Nick Chubb on the roster, it makes one wonder what Bieniemy could accomplish with the ground game as Cleveland's head coach.
If Kareem Hunt returns next season, we could see a repeat of what Minnesota did in 2007 with Taylor and Peterson.
Of course, Cleveland is not the only team interested in Bieniemy.
Both the New York Giants and Carolina Panthers will be interviewing him this week in an attempt to fill their own head coaching voids.
Chiefs OC Eric Bieniemy has a dance card of HC interviews over the next few days.

Panthers on Thursday
Giants on Saturday

Bieniemy interviewed for four different HC jobs last year and got none. He spent time in the off-season preparing for his next swing at an opportunity.

— Peter Schrager (@PSchrags) January 1, 2020
There are concerns with Bieniemy as well.
He does not have any previous head coaching experience in the NFL.
Now, he would not be making the jump from running backs coach to head coach like Freddie Kitchens did this past season, but reason to worry over inexperience is still there.
However, it seems Chiefs head coach Andy Reid believes he is more than ready to become an NFL head coach.
Andy Reid on Eric Bieniemy, 4 weeks ago: https://t.co/pTCRvYULa5 pic.twitter.com/AbIXZImn5d

— John Ellis (@OnePantherPlace) January 2, 2020
As mentioned, there is a lot of interest around the league for Bieniemy.