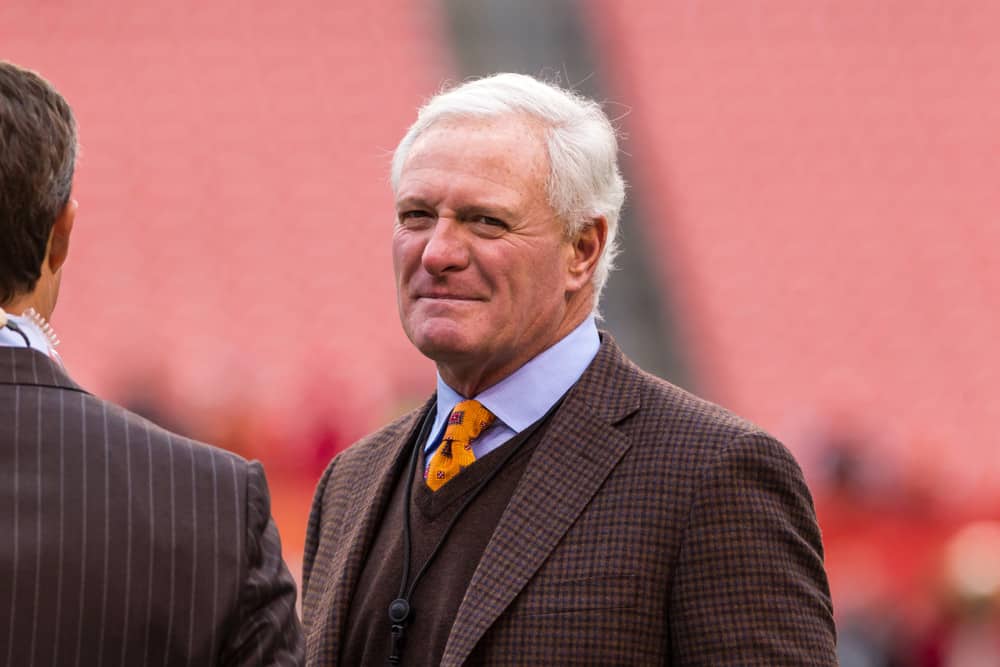 In what's become a biannual tradition in Northeast Ohio, the Cleveland Browns are once again running a coaching search.
The team which has cornered the market on front-office turnover has opened the new year with yet another housecleaning, looking to fill vacancies after moving on from coach Freddie Kitchens and GM John Dorsey.
This time, it seems Browns owners Jimmy and Dee Haslam are taking a slightly different approach to a routine they've clearly memorized by now, handing the reins to chief strategy officer Paul DePodesta.
The job title for Paul DePodesta — #Browns chief strategy officer — has not changed, but after a few days of mixed messages to candidates from the organization, DePodesta is now the one running the head coach hiring process for the Haslams, source said. Should be more directed.

— Ian Rapoport (@RapSheet) January 1, 2020
On the surface, this seems like a wise move.
DePodesta has made two coaching recommendations since joining the team in 2015, but was twice tuned out by ownership.
Each man he thought would be a fit has since gone on to have success outside of Cleveland.
Knowing this, now would be the perfect time to just let DePodesta run the show and prove he knows how to pick the right people.
If only it were that simple.
Additional updates on this situation just make it seem like Cleveland's chief strategy officer may find himself ignored by the Haslams once again.
#Browns ownership is leading the coaching search, I'm told; Chief Strategy Officer Paul DePodesta is running the process

— Mary Kay Cabot (@MaryKayCabot) January 1, 2020
Again, allowing DePodesta a louder voice makes sense.
However, as long as the Haslams are deeply involved in the search, it's extremely difficult to believe they'll listen to him.
They certainly have enough evidence proving DePodesta is worth hearing out.
After all, he recommended Sean McDermott as Cleveland's new head coach in 2016, and Kevin Stefanski when the Browns were on the hunt for a coach last winter.
The former has since guided the Buffalo Bills to two playoff appearances in the past three years.
The latter helped the Minnesota Vikings offense finish in the top ten in both total points and points per game last season.
Likewise, the Haslams have plenty of proof showing their gut can't be trusted in these situations.
They ignored the recommendation for McDermott, instead hiring Hue Jackson.
They went against his preference for Stefanski, leaning towards Dorsey's recommendation for the far more inexperienced Kitchens.
As you know by now, the results in each instance were brutal.
Enough so that you'd think ownership would mute the urge to make the final call and trust DePodesta.
However, that's not really what the Haslams are known for.
Since taking over the Browns, Jimmy and Dee have spent their time seeking advice from anyone they can find.
In doing so, the vision for the team becomes muddled, and key decisions are bungled because too many people have an influence in making them.
The Haslams reputation in NFL circles is that they talk to way too many people and seek advice on how to run their franchise. They've yet to figure out, in the NFL, nobody wants to help you. You either know what to do or you don't.

— Daryl Ruiter (@RuiterWrongFAN) December 31, 2019
Knowing this, can you really trust the Haslams to change course this time?
Do you really believe they'll run a coaching search, then give DePodesta the final say on who to select?
Consider this scenario.
The Haslams are reportedly big fans of New England Patriots offensive coordinator Josh McDaniels, who has accepted a request to interview for the Browns' opening.
Barring a miserable meeting, it's safe to say he'll remain a favorite of ownership throughout this process.
.@MaryKayCabot on @BullandFox: "I've heard they really do love Josh McDaniels…he wasn't coming in there with John Dorsey as the GM." #Browns

— Keith Britton (@KeithBritton86) December 31, 2019
What happens if DePodesta disagrees?
What happens if he raises concerns about McDaniels, while also recommending Cleveland hire a different candidate?
Will the Haslams hear him out, ultimately choosing to put personal preference aside in order to go with the man DePodesta proposes?
History says no.
History says DePodesta's insight is viewed by ownership as a "nice to have," as something to temporarily ponder before ultimately taking a different route.
After all, the Haslams wasted no time in ignoring him upon his arrival in Cleveland, hiring Jackson literally one week after bringing DePodesta in to guide the Browns' strategy.
Back then, there was little proof the Haslams were wrong to go with their gut.
We've received plenty of that since.
Which is why there would be no excuse for them to tune DePodesta out again.
The Haslams passed on his first recommendation, then watched the Browns win three games in three years with their choice.
They trusted Dorsey over DePodesta when the former recommended a coach with barely any legitimate experience, and it played out exactly how you'd expect.
For the Haslams to endure all of that and decide, once again, to ignore the man they're now allowing to run the process would be insanity defined.
It'd also be incredibly predictable.