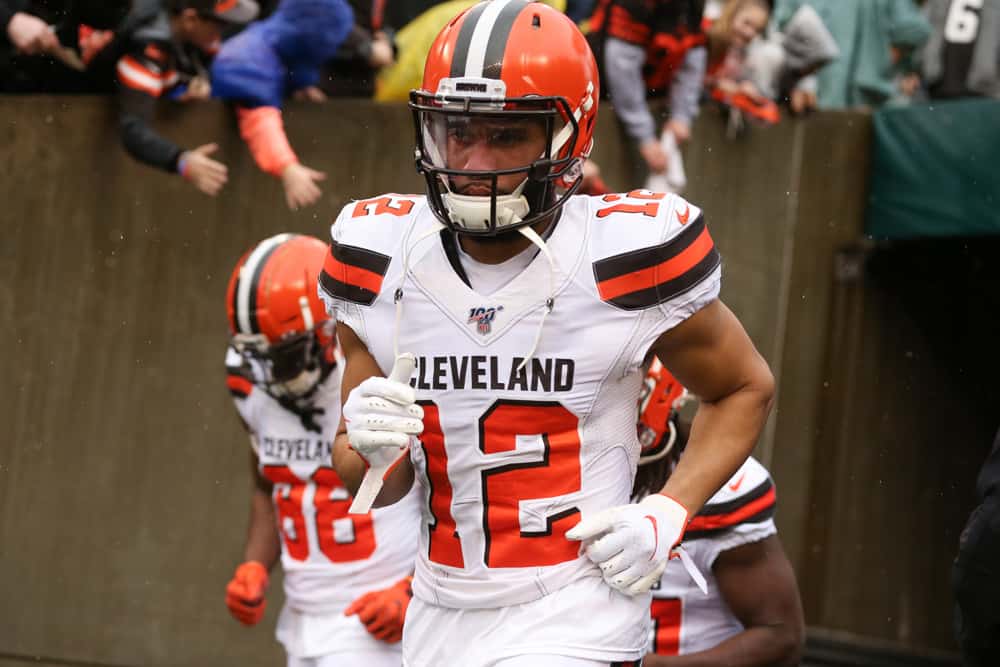 Looks like Cleveland Browns receiver KhaDarel Hodge will remain in northeast Ohio for at least a little while longer.
On Wednesday, the Browns wideout agreed to sign a contract tender from the team that was originally offered back in March.
Browns WR KhaDarel Hodge signing his tender today, per source. @BrownsByBrad first

— Jake Trotter (@Jake_Trotter) May 26, 2021
The tender is worth $2.133 million according to Brad Stainbrook of the Orange and Brown report.
#Browns WR KhaDarel Hodge has signed his tender to remain in Cleveland, per source

— Brad Stainbrook (@BrownsByBrad) May 26, 2021
The move doesn't swing the expectations of the team drastically one way or the other, but it's nice to keep some familiar faces around the locker room.
Hodge's Role
With a stacked wide receiver room already, don't expect Hodge to fly up the depth chart this offseason.
His 11 catches for 180 yards ranked 215th among all NFL receivers last season.
Safe to say his role falls well short of "prolific".
That's fine for quarterback Baker Mayfield, however, who already has his top targets set for 2021.
As we saw in 2020, however, expect the unexpected.
It wasn't too long ago the Browns were playing in a game without any receivers.
Hodge was out too, but the point is that depth is needed.
Hodge has also been involved in special teams and is one of the more reliable guys there.
Having someone who can catch a deep ball and then lay someone out on the ensuing kick-off is valuable.
Khadarel Hodge

The Prairie View A&M University product!#DawgCheck pic.twitter.com/dycnRlOYmo

— Cleveland Sports Fans (@CLE_SPORTS_FANS) November 15, 2019
Khadarel Hodge puts on tackling clinic vs. De'Anthony Thomas
#Ravens vs #Browns pic.twitter.com/ZGk6bm0mjB

— Browns Replay (@BrownsReplay) December 22, 2019
Teams who want success at a high-level need role players who are constantly ready when called upon.
Injuries and other unforeseen circumstances can shake up a roster before, or even during a big game.
If one of the top wideouts on the depth chart goes down, Mayfield and Kevin Stefanski will need others to turn to.
Hodge can be that guy and will have the chance to prove it again in 2021.
Lost in the Mix?
Again, it's crowded within the Browns receiver room. Odell Beckham Jr. (when he returns from injury) and Jarvis Landry hold down the top two spots.
Presumably, Rashard Higgins will come in at third behind them.
After that, it gets messy.
Donovan Peoples-Jones impressed in 2020 and stepped into a more prominent position towards the end of the season.
He saw at least three targets in his final four games and went for over 50 receiving yards in three of those contests.
THE ROOKIE DONOVAN PEOPLES-JONES GAME WINNER🔥

— PFF College (@PFF_College) October 25, 2020
JoJo Natson and Ryan Switzer are also on the depth chart but shouldn't be too serious of a threat to Hodge.
Newly drafted receiver Anthony Schwartz, who recently stirred up some fans with his Cedar Point roller coaster rankings, might be Hodge's main competition.
The former Auburn Tiger was one of the fastest receivers heading into the draft and was taken by the Browns in the third round.
As John Ross showed us in his time with the Bengals, however, speed doesn't always equate to success.
The backup receiver preseason battles should be fun to keep an eye on.