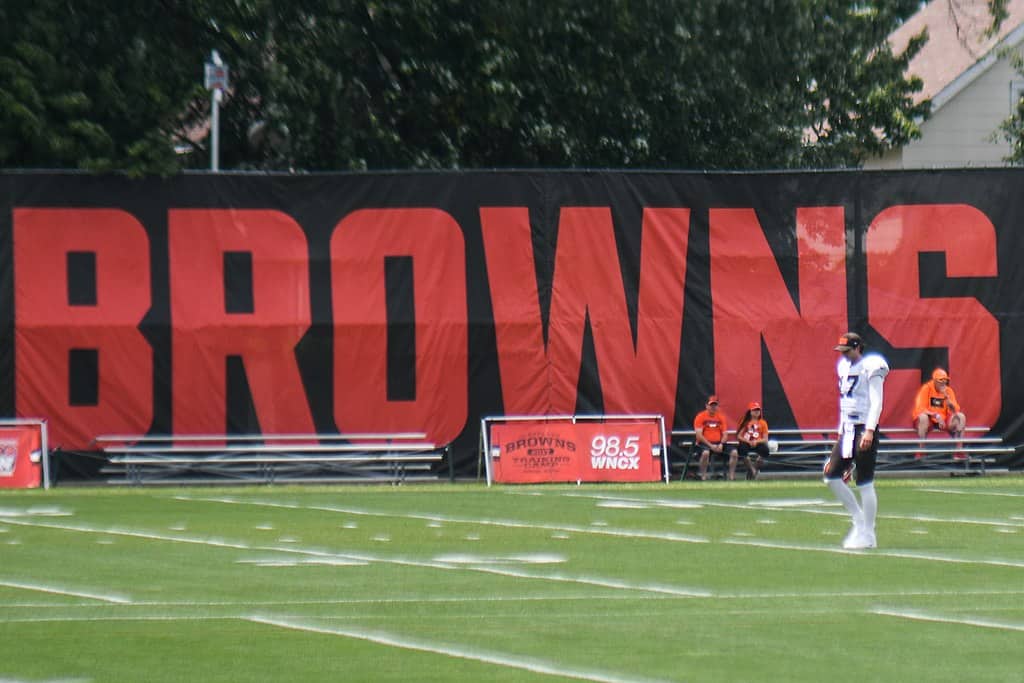 Diehard Ohio football fans are watching for an announcement from the Cleveland Browns.
This after the NFL announced the Browns can allow fans into training camp starting on July 31.
Always a hard ticket to come by, last year's Covid-induced absence makes the 2021 event even more special.
Cleveland's camp will officially open on July 27 when veterans report to Berea.
#Browns and other #NFL teams told by league today they're permitted to have fans at training camp; They're also one of 30 teams approved for full stadium capacity https://t.co/uNwk00FSYj

— Mary Kay Cabot (@MaryKayCabot) May 25, 2021
Fans can participate in the revelry starting the following Saturday.
The NFL and the NFLPA continue to negotiate parameters for fan interactions.
Local Covid restrictions, due to be largely diminished in Ohio on June 2, will guide the fanfare.
But fans should not be surprised if they are not as close to the field or the players.
Autograph sessions may also be limited or adjusted for player safety per NFLPA concerns.
Waiting on Cleveland Browns Announcement
Most teams have not announced specifics about their training camp attendance plans.
All but 2 teams have permission to operate stadiums at full capacity by opening day.
But there are still questions about vaccination requirements and other matters.
One thing for sure is the stands will not be filled with cardboard cutouts or feature tarp-covered sections.
New #Browns numbers for 2021. 🤩

10-Anthony Schwartz
20-Greg Newsome II
23-Troy Hill
25-Demetric Felton
28-JOK
39-Richard LeCounte
42-Tony Fields II
43-John Johnson III
54-Anthony Walker
55-Takk McKinley
66-James Hudson III
90-Jadeveon Clowney
93-Tommy Togiai
97-Malik Jackson pic.twitter.com/0TyPPMVBPX

— The Hottest Take Sports Podcast (@Hottest_TakePod) May 23, 2021
Cleveland's training camp ticket distribution might include lotteries and contests as in past years.
Fans who can't score a spot to watch want to know if the "Browns Live: Training Camp" show will return.
The Browns streamed the show across various platforms with a narrative about how things were going last year.
It doesn't replace the excitement of watching the events live.
And social media will be full of amateur videos, opinions, and rumors.
But the official show provided some coaching insights during the Covid-lockout camp.
NFL Starting Camps in Unison 
As per the current Collective Bargaining Agreement, veterans on most teams report July 27.
That is 47 days before the start of the season and a few days before fans are introduced to the sites.
Pittsburgh and Dallas report on July 21 to prepare for the Hall of Fame Game on August 5.
Likewise, Tampa Bay reports earlier, on July 24, because they kick off the season on Thursday, September 9.
🚨🚨 IT'S HERE! ⏲️ NO MORE WAITING! The 2021 Schedule is HERE! https://t.co/GVBJTjk9q4 >> View Now and and tune in to "Schedule Release '21" on NFL Network at 8 p.m. for a full breakdown. pic.twitter.com/4hLjlsEpuA

— Cleveland Browns (@Browns) May 12, 2021
Besides training camp practice and fan sessions, the Browns have one home preseason game.
Cleveland has yet to announce the date of their contest with Jacksonville.
Browns fans are anxious to catch their first glimpses of a heralded free-agency haul and draft class.
Odell Beckham Jr. also bears watching as he returns from the knee surgery that ended his season early.
Cleveland's first regular-season home game is slated for September 19 versus the beleaguered Texans.
That follows an opening weekend contest in Kansas City.