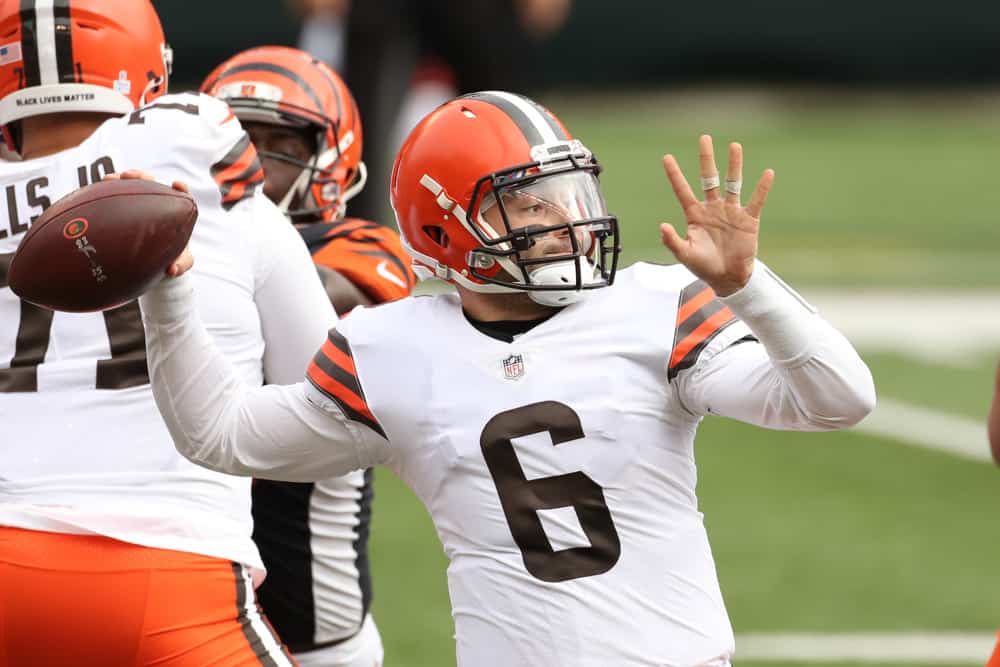 There were plenty of concerns about Baker Mayfield heading into the 2020 season.
However, the Cleveland Browns believed in him and Mayfield stepped up and delivered.
He put together the best season of his professional career and gave hope to Browns fans everywhere.
Last season was a turning point for Mayfield.
The 2021 campaign will be Mayfield's chance to cement himself as the undeniable franchise quarterback in Cleveland.
Buy
It's not difficult to imagine Mayfield making the Pro Bowl after watching how he played last season.
He should've arguably made it last season, but was snubbed.
It's fine though, the 25-year-old will have plenty of chances to make the Pro Bowl throughout his career.
There are likely some doubters that will say Mayfield's performance last season was a fluke.
In theory, that is a fair analysis because plenty of players have one-hit wonder seasons.
However, Mayfield looked like a different quarterback in 2020 compared to his first two seasons in the league.
.@BakerMayfield ➡️ @AustinHooper18… Touchdown @Browns!

📺: #PITvsCLE on CBS
📱: NFL app // Yahoo Sports app: https://t.co/EMdqIO97si pic.twitter.com/oUU9JqU11F

— NFL (@NFL) January 3, 2021
It was his first year in new head coach Kevin Stefanski's system, which apparently Mayfield fits in perfectly.
He helped lead the Browns to an 11-5 season and a playoff victory over the Pittsburgh Steelers.
Mayfield finished the regular season with 3,563 passing yards, 26 touchdowns, and eight interceptions in 16 games.
Those are arguably Pro Bowl numbers, but there were plenty of other deserving quarterbacks as well.
In 2021, Mayfield should have more confidence in himself and a better understanding of Stefanski's system.
There can certainly be a case made that Mayfield will be a Pro Bowl caliber quarterback next season.
Sell
On paper, everything seems to be coming up roses for Mayfield.
However, fans should remember how Mayfield came into the NFL in 2018.
He put together a record-setting rookie campaign and was horrendous the following season.
There can be an argument made that then-coach Freddie Kitchens was part of Mayfield's downfall in 2019.
Before the 2020 season, Mayfield had a bit of a turnover problem and did struggle at times last year.
Today marks Baker Mayfield's 11th career game with multiple interceptions.

Only Jameis Winston (13) & Philip Rivers (12) have more such games since Mayfield entered the league in 2018. pic.twitter.com/AqNpLy9biW

— ESPN Stats & Info (@ESPNStatsInfo) October 18, 2020
Honestly, Mayfield's first half of the 2020 season was fairly mediocre.
Although, he turned a corner during his five-touchdown performance against the Cincinnati Bengals in late October.
It was smooth sailing for Mayfield after that performance, but will he be able to find the same momentum in 2021?
Hopefully, this new offensive scheme under Stefanski has helped Mayfield turn the page.
Although, consistency has always been an issue for Mayfield, so we'll see if that changes next season.
Verdict: Buy
The 2020 version of Mayfield looked much different than the quarterback we saw during his rookie season.
He looked more knowledgeable and comfortable in the pocket last season.
Mayfield wasn't making rookie mistakes and kept the turnovers to a minimum.
The Browns offense is absolutely stacked with talent, so it's tough to struggle with this unit.
It certainly seems that Stefanski has helped transform Mayfield into a franchise quarterback.
Mayfield played terrific during the second half of the season and looked strong in the playoffs as well.
It wouldn't be shocking if Mayfield made the Pro Bowl in 2021 and possibly for many years to come.